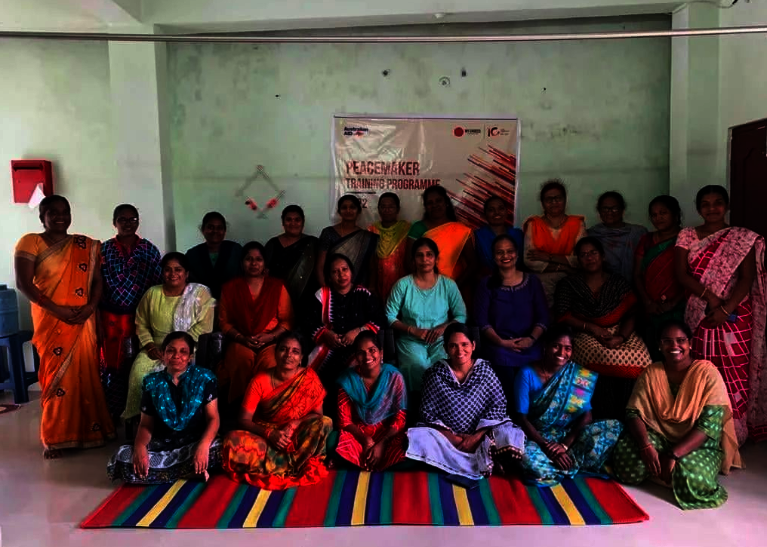 Rooted in a persistent unequal balance between men and women, boys and girls, historically women and girls have been taught to accept, tolerate and even rationalize domestic violence and to remain silent about such experiences. We recognize the need for comprehensive and multi-layered approaches to this complex social problem that targets whole populations, with our strategic four-pillar approach: Prevent through awareness, Provide support through interventions, Protect survivor's safety and Prepare men to be allies.
With the generous contributions of friends and supporters from across the world and many through the GlobalGiving platform, we were able to conduct various programmes/initiatives covering four pillars and impacted hundreds of women and children to choose lives to live free from abuse, violence and exploitation.
We equipped and empowered 15 women through the PeaceMakers training programme during June 2022. PeaceMakers are local community women who want to be the facilitators of change in their communities. We train and prepare them to be at the forefront in challenging gender-based violence and creating meaningful change.
We have adopted the robust framework – Gender Equality and Women's Empowerment Framework Spheres of Impact –across all our initiatives, projects and programmes to deepen the understanding of the nature of gender-based violence, strengthen engagement and ensure sustainability. As a first step, we have initiated action research in five counselling centres in the state of Telangana; we have rolled-out surveys, and organised in-depth interviews and focus group discussions to gather an understanding of current knowledge, attitudes and perception of domestic violence. This initiative is helping us to build a solid relationship with the community and identify key allies within the community. The research phase will end by the end of October 2022.
Our Impact: Nikita found her strength because of friends like you
Nikita thought that her father loved her growing up and so he showed his love by touching all parts of her body. She was too young to understand the complexity of the kind of violence when she experienced it for the first time. Little did know that she was sexually abused by her father. It carried on for almost five years. She became silent, stopped talking to her friends and became anxious even to step out of the house. She felt some sort of an object. It was a heavy blow when her mother didn't believe it.
Every passing day was a devastating experience for her, pushing her into the hole of helplessness. She felt utterly powerless and the constant abuse forced her to run away from home. But her parents found her within a few days and her father's acts of violence and abuse became worse. Nikita mustered the courage to leave the house again, but to find herself as a domestic help at her relative's place. She swept the house, cleaned utensils, cooked food, washed clothes, tended to plants and much more from dawn till midnight without a single day of rest. Her physical condition got hit and she felt helpless again. She couldn't take it anymore and took a train to Hyderabad.
She met an old woman who was kind enough to her in the train. She loved talking to the old woman and after some time, she requested that she would go along with her. When the old woman explained the legal consequences of taking her without her parent's consent, Nikita wasn't willing to understand. So, the old woman decided to take Nikita to the Begumpet police station.
Because of My Choices Foundation's long-term relationship with the Telangana Police Personnel, they called our Lotus Safe Home and enquired about the availability for Nikta. She couldn't bring herself to talk about what happened to her when our Safe home social worker met her. After concerted efforts from our counsellors, she began to open up. Once we have gathered information, our counsellors informed her parents. Nikita's eyes were filled with fear and her scars ran deep and so she wasn't yet ready to meet her parents. So, the video call was arranged and she continued to stay at Safe Home.
Nikita's healing process was long and tough, but our counsellors stood with her. Our team continued to work with her through intensive counselling sessions and she grew stronger day by day with her grit and determination. The strength and courage Nikita received at our Lotus Safe home empowered her to redefine the choices for her and her child.
Her self-esteem and confidence came back and she felt alive for the first time in many years. She wanted to be an independent woman and conveyed her interest to the OPM team. We helped Nikita enrol in a skill development programme and completed it successfully. Today, Nikita is a happy and independent young woman, working as a Customer Service Associate in one of the renowned hospitals in Hyderabad, India.
We wouldn't have been able to help Nikita without the donors like you. You are the ones who gave Nikita a source of strength to find their path to a free and dignified life.