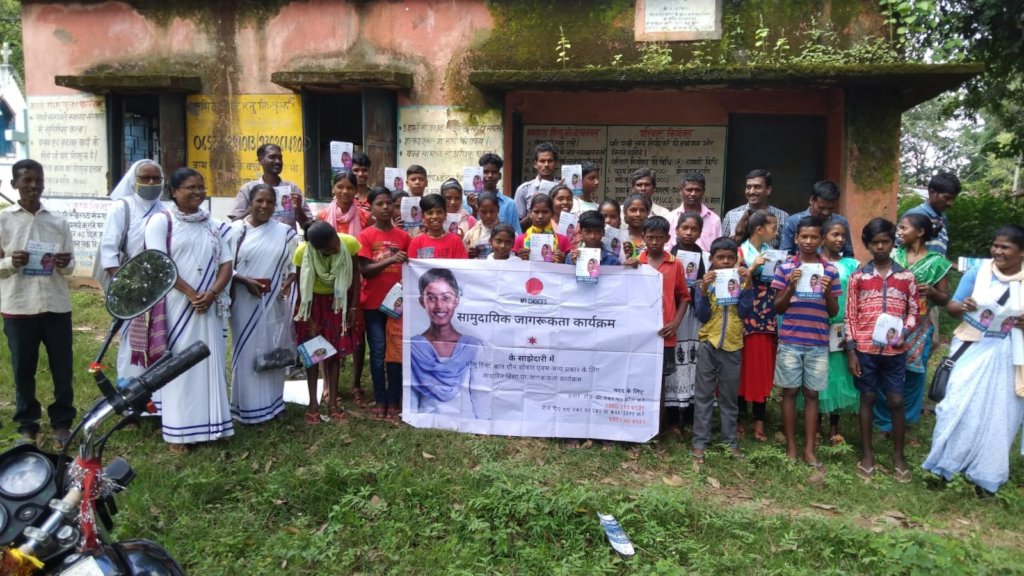 The period of COVID-19 has challenged each of us to think differently to reach out to those in need of help and support. We opened up our counselling centres and started offering both telephonic and in-personal counselling. We began online counselling sessions for women and families. Simultaneously, our army of PeaceMakers - local women trained to be first responders to domestic violence - reached out to women in their communities and ensured that the negative impact of lockdown was minimal. As of August 2021, our team has assisted more than 11,000 families to live free from violence and abuse.
Despite the struggles of the pandemic and the repeated lockdowns, survivors are reaching out to Operation PeaceMaker of My Choices Foundation for help from various sources. Our team assisted the women by:
helping them file complaints in the police station
helping them get access to medical services
assisting them through the process of acquiring a pass to move out of their homes in a time of crisis
helping them reach shelter homes
helping them get access to groceries and essential items
providing telephone counselling and legal advice
We are also conducting continuous follow-ups to ensure survivors are safe.
Feedback from survivors:
"My Choices Foundation gave me a variety of legal options about my situation which proved beneficial. They also provided the best support and guidance when I was at my lowest and helped me boost my confidence. Today, I am much stronger and better equipped to protect myself" - Homemaker|36
COVID-19 has impacted not only one's physical but also mental and emotional health. People are dealing with loss at an unprecedented scale. To help deal with loss and grief in their lives, we also started COVID-19 counselling for people who are feeling anxious, depressed or going through grief. Through this voluntary initiative, we are trying to support families affected by the pandemic and help them through this difficult time.
Awareness Programmes
The pandemic restricted field activities and hence we moved our operations online. We conducted webinars to create awareness about gender-based violence, mental health, toxic masculinity and much more. Specific WhatsApp groups were created to continuously engage with our beneficiaries and provide access to information about gender-based violence and necessary services. Slowly we have started entering the field with full precautions to conduct our awareness programmes and to reach the larger communities. As of August 2021, we have impacted more than 2,24,455 people through our awareness programmes.
Feedback from beneficiaries:
"I appreciate the work you and your team are doing nowadays. The posts you are sharing are really helpful. Posts related to COVID-19 safety are very helpful. Thank you for sharing didi, I will share with others." - Firdous
The emotional wellbeing of Police personnel during the pandemic
It is difficult to maintain a healthy lifestyle and also be worry-free when someone is going through the COVID-19 crisis. The uncertainty and worries related to the spreading of infection to other family members, especially elderly parents, pregnant staff or family members of the infected staff and disruption of routines, our lifestyles can impact our mental health. Rachakonda Commissionerate (Hyderabad, Telangana) under the leadership of the Rachakonda Commissioner of Police Mr Mahesh Bhagwath IPS initiated a Quarantine follow up for the staff of the Commissionerate who were tested positive for COVID-19 (mild and moderate cases). Staying isolated in homes can have varying impacts on every individual. To prevent any debilitating impact from this situation, we conducted regular follow-ups with all the staff members who were going through anxiety or serious health situations during this difficult time. Our team conducted follow-up calls to 307 police personnel daily until all of them tested negative. We conducted 2761 sessions with the police personnel to help them through these uncertain times.
Feedback:
"My special thanks to the MCF team who succeeded to imbibe confidence at my depressive state once occurred."- Constable from the Rachakonda Commissionerate team.
Capacity Building for Counsellors
We firmly believe in upskilling our counsellors regularly while also providing them with safe spaces to relax and recuperate from the stressful and traumatic events they hear about daily. Capacity building and training are key elements to equip our counsellors with knowledge and skills in diverse areas that support them in their work. It improves the quality of counselling practices and emphasizes the importance of self-care while helping clients, looking to free themselves from domestic violence.
Our team attended three capacity building programmes conducted by Dr Sukriti Kushwaha, Chief Psychologist and Director of Programs at Emancipation India Foundation -
Trauma-Focused Cognitive Behavioural Therapy
Suicide Assessment and Intervention
Anger Management
Feedback from our counsellor:
"The best of the training is the mix of theory and practice. I have thoroughly enjoyed all the exercises and when I applied, it showed great results. It helped to understand and solve our client's problems as well as ours."
Training Programme
The Women's Wing of the Telangana State Police is launching a new project where women who dial the emergency number 100 in situations of distress will be redirected to an app for assistance. Volunteer Counsellors will be assigned to women who call through the app who will assist the caller. We are one of the training partners for this initiative. As a training partner, we have successfully trained 30 counsellors who will be assisting the callers through the app. This initiative will help to address domestic violence and cybercrimes prevalent in the community.
PeaceMaker Support
Our PeaceMakers are playing an indispensable role in providing support to the community during the COVID-19 pandemic. Some of our PeaceMakers have years of training with us which encourages them to go above and beyond their roles. PeaceMakers have been proactive in leveraging their position in the community to assist people in need. Through their assistance, we were able to identify women and families who required help and assisted the PeaceMakers with essential resources. They contacted all our beneficiaries to identify women who required assistance, pregnant women who were unable to access necessities or families infected with COVID-19 struggling for essential supplies. Our PeaceMaker coordinated with local authorities and the My Choices Foundation team to ensure help was provided. We assisted in the form of distribution of ration, providing monetary assistance through our Lotus Fund and a haven through our Safe Home.
Our PeaceMakers play a vital role in our ability to reach the vulnerable communities in Hyderabad and Warangal. To help them continue their great work, we conduct drives to provide them with safety kits which include - N95 Masks, surgical masks, gloves, face shields and sanitisers. We distributed 40 safety kits among our 40 PeaceMakers who are actively involved in creating meaningful changes in the lives of women, children and families. Armed with the safety kit, the PeaceMakers are again entering the field safely and interacting with the community members to create awareness about domestic violence and the assistance available through counselling and helpline.
If you are a victim of domestic violence, please know that you are NOT alone. We are here for you.
If you are being subjected to domestic violence or are in an abusive relationship please call- 1800 212 9131, if it is unsafe to call leave us a message on WhatsApp/text- 9333 40 4141
Links: