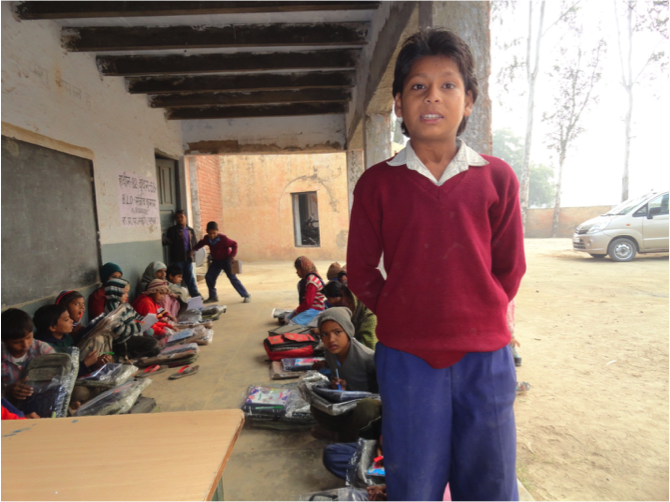 Since the beginning of the 2014 academic year, 30 students have been coming from their homes surrounding the brick kilns and traveling on transport provided by Lotus Outreach to school in the Bhanguri village in Hathin block. This past December our program manager Suraj delivered supplies to these students as he also heard from Sushil, one brilliant young student with a high view of education--
On December 16th with temperatures on an early winter day dipping way below average, these children of itinerant migrant laborers were very happy to receive winter sweaters, school bags and stationery. Amongst them were some very young children that braved the biting cold to attend school in the morning, but as always, were willing to come as they enjoy their days at school so much.
Among them was 12 years old Sushil, who has been attending school on Brick Kilns Buses regularly for the last four years. Sushil is very intelligent and serious about education. His teacher asked him to tell us his views about education and his future plans.
Sushil very enthusiastically told us, "I would have been making bricks today instead of coming to school if the transport was not available to children from brick kilns like myself."
He also opined, "Education is very important for children as they are like animals without it."
He further said, "Through my devoted teachers, along with formal education I am learning good manners and moral values at school." He also told us in great detail about the road safety measures he has learned in the school during a campaign started by the Police Department in the State.
There are hundreds of parents of children in our program who have praised the efforts of Lotus Outreach. This program has made an indelible mark on the lives of hundreds of students vulnerable to child labor in the absence of the opportunities we have given them. Please keep supporting bright students like Sushil and give the gift of education!!
Links: