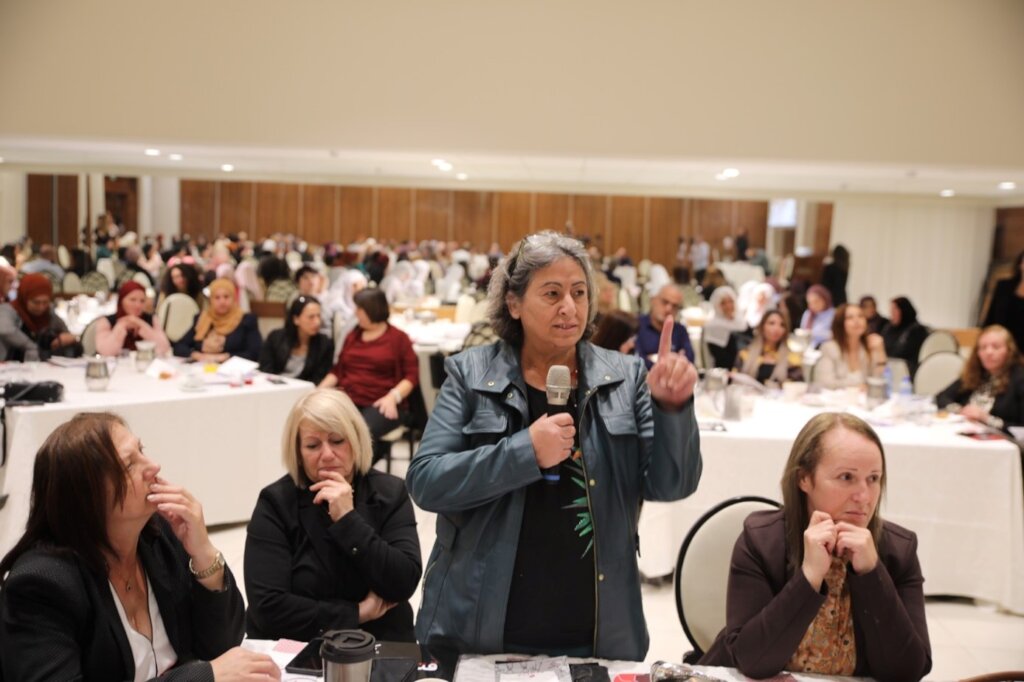 Dear Friends,
All of us at Kayan wish you a happy and inspiring new year! We would like to thank you wholeheartedly for the support you have given us in 2022 to help us take meaningful steps towards ending violence against Palestinian women in Israel. We hope you will join us in 2023 as well in our efforts to create a safer world.
2022 was marked by the 5th national elections within 4 years. Right wing parties were elected to be part of the new Israeli government, which has already announced its intention to pass laws changing the judicial system in Israel and deconstructing the balance of powers, and allowing racist parties, excluded from being elected to the Knesset until now, to run for election.
At the same time, municipal elections in Arab localities will take place in the coming year. With the shift towards nationalism and racism within Israeli society, we have seen an increase in organized crime and violence, and worsening conditions for women interested in participating in local politics, who face systematic political violence and exclusion from political spaces.
Although the political and societal climate is becoming more hostile to our work, we persevered and celebrated many successes in 2022, which you can read about below.
Kayan's emergency and support hotline: Throughout the year, Kayan provides support and counselling to women in danger. We provide the women with emotional support and information about possible actions to take to get to safety, and if possible, take action against their aggressor or the perpetrator. Women in all kinds of situations reach out to us, for example victims of domestic violence, economic violence, sexual harassment, other mistreatment by their partners or families, and more. In 2022, Kayan received 1,612 calls, and dealt with 332 cases. Of these cases, 32,5% were cases of violence, and 18,3% cases of sexual harassment or assault. Most of the time, a woman requires our assistance with a particular case for a period of several months and across a number of calls. On average, one case spanned 5 calls. In 43% of the cases, the woman took a subsequent action, such as going to the doctor, filing a police report or opening a court case.
Raising awareness among youth: In 2022, we wanted to put a strong focus on investing in the next generation, and making sure that Palestinian youth are aware of how regularly violence against Palestinian women takes place, and how they can help combat the phenomenon in the present and the future. Some of Kayan's youth work is organized and carried out by Kayan's local women's groups, which builds bridges between generations, and allows the youth to hear our message directly from members of their own community.
Throughout the year, we regularly conduct youth workshops in schools throughout the region, for example in Haifa, Arabe, and Kabul. Other times, we hosted youth in our office. Besides the workshops, we involve youth in other activities, such as a youth planned Iftar (breaking the fast) during Ramadan, and youth joined our local women's group in hosting a tour to Ein Hod and Teret el Carmel, two demolished villages. We also now have two youth members in our General Assembly. In addition, youth were directly involved in the planning of the 16 Days Campaign Against Violence Against Women (read below).
16 Days Campaign Against Violence Against Women: In December, we carried out our version of the Global 16 Days Campaign Against Violence Against Women. This year, we shed light on the sectarianism, sexism and organized crime that dominates local politics, driving women away from the decision-making table and excluding women's issues, such as addressing violence against women, from the political agenda. The campaign included workshops for youth and for adults, rallies, theater and art events, discussion panels, and exhibitions. Across the board, over 2200 people participated in the events.
Reaching a wider audience through social media: In order to make waves beyond our direct reach, we launched a number of social media campaigns this year. Not only do we post updates about our activities and invitations to events, we regularly carry out social media campaigns, raising awareness about specific issues. Our first campaign this year, "Boycott the killer," which we carried out together with the Fada coalition of Palestinian Women Against Violence, aimed to raise awareness and social responsibility toward combatting femicides across borders, reaching 304231 people. In the light of judicial systems indifferent to violence towards women in Israel, Gaza, and the West Bank, the campaign aimed at putting an end to impunity by boycotting the murderers while embracing the families of the victims. Another campaign centered around the 16 Days Campaign, making sure those unable to attend the events of the campaign are made aware of the importance of integrating women's issues into local politics.
Combatting femicide: In 2022, 12 Palestinian women were killed, oftentimes by a partner or ex-partner. Kayan shares the story of each murdered woman on social media, including whether legal proceedings have been initiated, and follows up with court cases. In some court cases, for example in the case of Wafaa Abahra, who was murdered by her ex-husband in 2020, Kayan took an active role, including attending ongoing court hearings, supporting victim's family members, submitting letters to influence the police and relevant attorneys, and follow-up on needed actions.
All of these activities wouldn't have been possible without your support and your partnership in ending violence against Palestinian women in Israel. We sincerely appreciate your support, which makes long-term change possible.
Gratefully,
The Kayan team
Links: