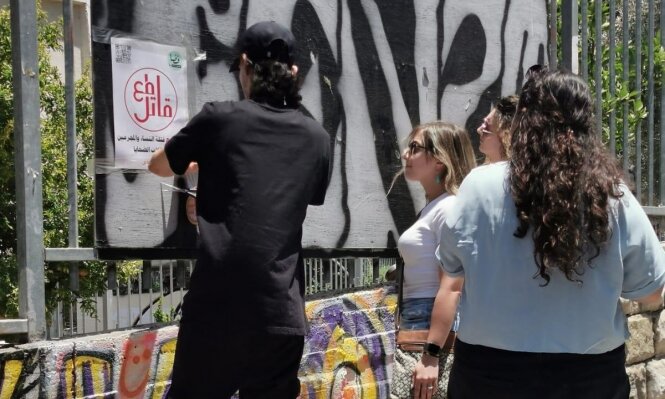 Dear Friends,

We want to thank you for continuing to support Kayan - Feminist Organization and to update you about the work we have been doing to support ending violence against Palestinian women in Israel.

Kayan's holistic support hotline: During the last four months, we assisted women in about 70 individual cases through our holistic support hotline. Often, a single case requires intensive emotional and legal support. About 41% of women who reached out had been sexually harassed or assaulted, while 39% of women were confronting violence of some sort – including domestic violence. So far, 45% of women who contacted Kayan for legal consultations have proceeded to take further action in claiming their legal rights - either by turning to the police, the court system or by requesting free legal services from the state. Each case has averaged about 9-10 calls. Each case receives holistic support and extensive follow-up to ensure the woman has the information and guidance they need to take action. It needs to be noted that most consultations are related to more than one overlapping issue and dimensions of violence. In addition, often a single case requires intensive emotional and legal support. Furthermore, we present the number of cases (and not the number of women) as some of the cases span over a longer period (more than one year).
Kayan continued to work with the volunteers, including lawyers, that were recruited during the last year, in order to meet the increase demand. In addition to offering practical assistance (i.e. informational, legal), Kayan's hotline continued making sure that women are fully heard and can obtain legal and emotional support.
Investment in our future: During the last months, we continued investing in youth, convinced that they could transform patriarchal society and deliver a better future for all of us. The local grassroots women's groups' decision to target youth is clearly reflected in their increased engagement. This is evident through is a strong connection that has been established between local women's groups and youth in their communities. They meet frequently, and currently are planning our upcoming 16 Days Campaign of Activism. In addition to our work with the youth groups in two localities, we have started collaborating with another new youth group. We are also pleased to share how youth are continuing their engagement in decision-making, representing 2 General Assembly members. As we look back on the months, youth activism and leadership have been successfully established and need to be strengthened for long-term success.
Paradigm shift – Boycott the killer: Another great achievement that illustrates the strength of our Fada Coalition's is our 2021 June campaign. The campaign initiated a paradigm shift with its slogan Boycott the killer. The social media campaign aimed to raise awareness and social responsibility toward combatting femicides across borders, reaching 304231 people. In the light of an indifferent judicial systems in Israel, Gaza, and the West Bank, the campaign aimed at putting an end to impunity by boycotting the murderers while embracing the families of the victims. The numbers of grassroots women activists reaching audience via media and social media illustrate a high level of visibility to subvert traditional gender stereotypes, to change their community's perceptions and attitudes towards women.
Kayan's work on femicide: Kayan continues to track and publicize Palestinian women's murders and court hearings related to femicides in Israel. Moreover, Kayan has been assisting in several cases, such as attending ongoing court hearings, submitting letters to influence the police and relevant attorneys, and follow-up on needed actions. Furthermore, we have launched a project whereby our in-house lawyer attends trials and provides legal advice and emotional support to the families of femicide victims. We believe that only if we continue targeting femicide holistically, we will achieve a paradigm shift in society – as our Fada Coalition's slogan already postulated during its 2022 June campaign: To boycott the killer, and to support the families of the victims.

We thank you for your support and partnership in ending violence against Palestinian women in Israel. With your support, grassroots change is possible.
Gratefully,
The Kayan's Team
Links: