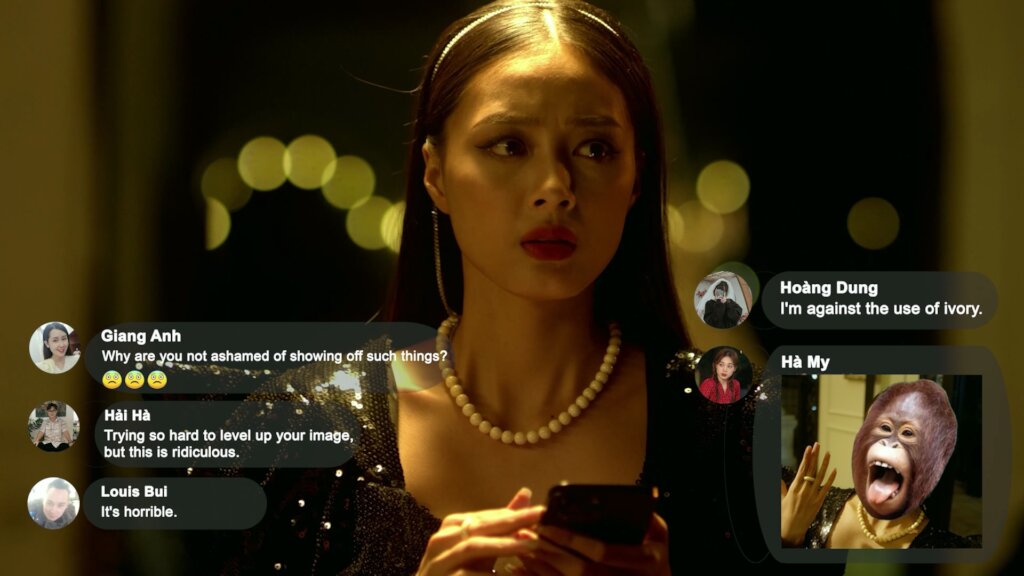 ENV's Wildlife Crime Unit logged a total of 90 ivory-related cases in the first quarter of 2023, with 79 of these being ivory internet crime cases.
These were possible thanks to reports to the ENV Wildlife Crime Hotline by members of the public, as well as internet ivory crime surveys and geographical surveys carried out by ENV.
Top 3 notable cases from Q1 of 2023:
12-month prison sentence for an online ivory supplier
On July 14, 2022, Vung Tau City Police responded to a public report via the ENV Wildlife Crime Hotline and confiscated several wildlife products, including African elephant (Loxodonta africana) ivory pendants and African elephant (Loxodonta africana) ivory bracelets, from an online seller. On March 21, 2023, Vung Tau City Court sentenced the online supplier to 12 months in prison.
13-year jail sentence and an additional VND 50 million fine for smuggling ivory and other wildlife products
On January 12, 2022, Da Nang City Customs cooperated with relevant authorities to inspect a container and found 214 African elephant (Loxodonta africana) tusks weighing 456.9 kilograms among other wildlife products at Tien Sa Port. The shipment was transported from Nigeria to Vietnam and declared as cashew nuts. ENV provided support to law enforcement authorities during their investigation and the subsequent prosecution in February, when the subject was sentenced to 13 years in prison – 10 of which relate to his wildlife violations – as well as receiving an additional VND 50 million fine.
Shop owner fined VND 195,750,000 for selling wildlife products
In May 2023, following an ENV report, Dak Lak Environment Police confiscated 115 products from a local shop, including suspected ivory rings and elephant tail hair rings. The Dak Lak People's Committee fined the shop owner VND 195,750,000 for illegally selling 37.1 grams of ivory.
Dak Lak enforcement campaign
On March 2023, ENV and Dak Lak provincial authorities conducted a joint enforcement campaign targeting key retail establishments in Lak town, one of three major ivory hotspots in Dak Lak province. As a result, 324 suspected ivory products were seized and are currently being identified.
Dak Lak ivory ID training
On March 2023, as part of ENV's efforts to reduce consumer demand and sale of ivory products in Dak Lak, ENV organized an ivory identification training course for authorities in charge of handling wildlife crimes. Officials were trained on how to identify real and fake ivory products, as well as on the use of relevant legal provisions in handling ivory-related violations. The ID training was conducted with the aim of equipping the Dak Lak authorities with ivory identification skills, thereby strengthening their ability to combat ivory crime.
Communication and public awareness
On March 28, ENV released a Public Service Announcement (PSA), Luxury Party, challenging the belief that elephant ivory is a symbol of luxury and good fortune. The film follows a glamorous woman, who is famous and well-liked by the public, as she attends a fancy party. The host presents her with elephant ivory gifts, which she subsequently flaunts on social media. Instead of bringing her more popularity, her reputation is tarnished by promoting the killing of endangered elephants. The PSA was distributed and broadcast by 54 national TV channels. In addition, the PSA was aired at Buon Ma Thuot Airport and featured on the Dak Lak Provincial People's Committee website, as well as on the Dak Lak Department of Information and Communication website.
This PSA comes in tandem with ENV's Elephant-friendly Business Campaign, launched in 2022 in Dak Lak. The campaign is ongoing, and establishments are displaying their 'Elephant-friendly Business' status at their premises to inform customers and visitors that they do not support the sale of ivory and to raise awareness on the issue.
The scale and transnational nature of wildlife trafficking networks in Vietnam make the fight against ivory crime challenging.
ENV will continue to work to improve public awareness in Vietnam's biggest ivory hotspot and elsewhere, as well as to support law enforcement in tackling ivory crime, provide assistance in the prosecution of these cases, and create deterrence value to discourage similar crimes in the future.
Thank you for your support and for keeping our mission possible.