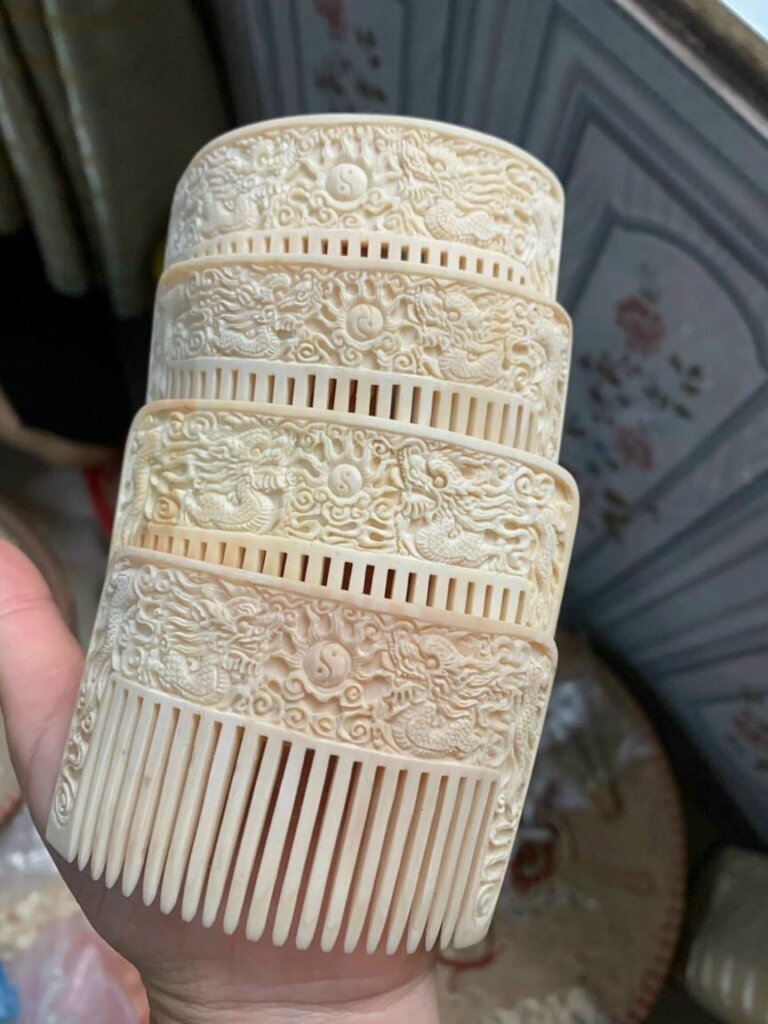 ENV's work tackling the ivory trade in Vietnam continues, working to strengthen laws and policies relating to ivory, supporting the enforcement of wildlife protection laws, sharing key information with authorities, carrying out surveys on businesses, conducting internet crime research campaigns, raising public awareness not to consume ivory and handling public reports of ivory crime.
So far in 2022, ENV has logged 375 cases involving advertising, selling, possession, or transport of ivory or ivory products, comprised of 769 individual violations. One major part of our efforts to end the ivory trade in Vietnam includes tackling internet crime, which comprised 81% of all cases, with 332 cases reported during the first nine months of the year. With internet crime, we log the violating account in our database and take action to get the link removed, account deactivated, or report to the police, depending on the severity of the crime.
Some of these internet crime cases included:
The deactivation of a Facebook group with 5,882 members in June, which was being used to sell ivory products, as well as tiger claws, bear claws and bear canines.
In June, authorities arrested an online trader that ENV had been tracking for a while, whose accounts we kept deactivating, with a total of 19 new accounts created until investigations led to his arrest. The subject had previously advertised ivory products, amongst other wildlife, and in June was caught with 3 bears claws
An administrative fine of VND 1,500,000 was given to a subject for illegally advertising wildlife products on Facebook in April. Phu Thien District Police in Gia Lai province responded to evidence provided by ENV on an online trader that had been on our radar since August 2020 for advertising bear claws, as well as tiger and ivory products.
In August 2022, ENV's investigations yielded information resulting in Go Vap District Police confiscating three bear claws, three suspected ivory pendants, and five ivory earrings in Ho Chi Minh City. The subject had first been reported to ENV by a member of the public in December 2021.
Another aspect of our work is monitoring and logging gold and jewelry shops, and other establishments, where ivory is suspected of being sold, and passing information onto the authorities on places to be checked. Some key searches carried out by authorities recently included:
Confiscations of ivory products in Gia Lai province by the Provincial Market Surveillance Department, in response to ENV's reports. They successfully confiscated 146 elephant ivory products from two local jewelry shops and fined them each VND 12 million.
In July, authorities in Kien Giang province inspected and seized ivory products from two gold shops, totaling 37 ivory bracelets, 9 elephant ivory rings, 32 ivory beads, and 10 elephant ivory pendants.
Collaborating closely with authorities is a key part in tackling complex international ivory trafficking networks. In Dak Lak province, the elephant ivory hotspot of Vietnam, ENV has worked with authorities to tackle the sale and consumption of ivory in the province. This culminated in Dak Lak People's Committee releasing a correspondence on May 30th, 2022, instructing numerous government agencies, provincial and district authorities, and media outlets to collaborate on tackling the issue of ivory crime. Due to the wild elephants in the province, and elephants kept for tourist purposes, many of the tourist shops sell ivory products, such as jewelry and other trinkets. We work together to ensure this is not only discouraged but also handled effectively according to the law.
On July 8th, 2022, ENV held a prosecution training with Dak Lak courts, with about 33 judges in attendance, from the Dak Lak Provincial Court and 15 district or city courts within the province. This was the first prosecution training ENV has ever held in the province, and marks a big step in Dak Lak's mission to deal with ivory and other wildlife crimes effectively. ENV's policy and legislation team implements prosecution trainings across Vietnam, giving prosecutors and judges insight into handling wildlife crimes, especially where legislation can be complex and punishments unclear.
On October 21st, 2022, in collaboration with ENV, the Department of Information and Communications sent a text message to their 2.17 million Dak Lak subscribers calling on the public not to consume ivory products, and to report wildlife crimes to ENV's hotline. The text message read: "Do not trade or consume ivory products. Report violations related to ivory and other wildlife to the toll-free hotline 1800-1522" (see below). This outreach is key in raising public awareness in the province.
In wider news concerning the global illegal ivory trade, in which Vietnamese traffickers were implicated:
On June 22nd Da Nang police arrested in a subject in connection to imports of about VND 300 billion (almost $13 million) worth of wildlife products, including 456 kg of ivory. The subject has been identified to be part of a complex wildlife smuggling ring from Africa to Asia, also caught with 138 kg of rhino horn, 3.1 tonnes of lion bone, and 6.23 tonnes of pangolin scales.
In August, three high-level Vietnamese traffickers were arrested in Nigeria for smuggling ivory and other wildlife products, along with 5 other individuals. This particular group was busted with 397.5 kg of pangolin scales in their possession; however, they have also been linked to shipments of ivory, rhino horn and other products from Africa to Asia.
These large-scale cases demonstrate the progress Vietnam is making as a country in upending these complex ivory trafficking networks and ensuring criminals are brought to justice.
It is thanks to supporters, like you, that we can continue to tackle the ivory trade in Vietnam head-on, working to stop the demand for and sale of products that directly lead to the killing of African elephants.