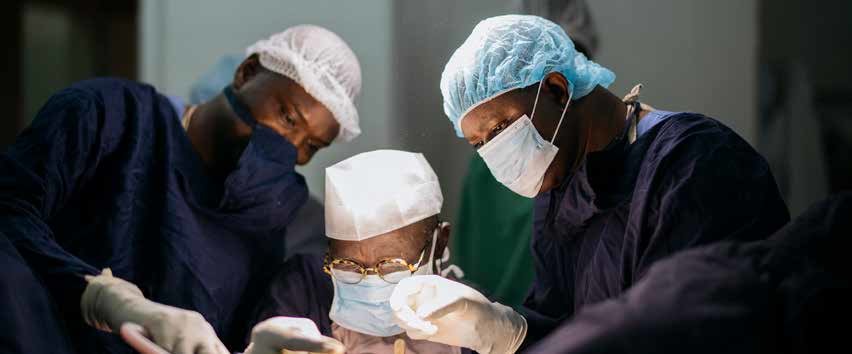 Obstetric fistula is a devastating, disabling condition that often disproportionately affects the poorest women. The condition remains the least-supported cause of maternal morbidity, though it has drastic effects on women, families, and societies.
In Mali, fertility rates are high and use of modern contraceptive methods is low. These conditions combined with a prevalence of early marriage and low rates of facility-based births put up to 2,400 women at high risk for obstetric fistula each year.
Women living with untreated fistula are often shamed, isolated from their communities, and left to live in poverty. Fistula can be treated and often cured, but many women don't know this—and fistula services and treatment are difficult to come by in Mali, especially for complex cases.
That's why IntraHealth has worked to make fistula repair services available at more health facilities staffed with trained health workers empowered to diagnose, treat, and prevent the condition effectively.
"This is a sickness that is accompanied by a lot of suffering, but I was able to be healed. You shouldn't let it keep you from living your life and doing your usual activities. Be patient. One day you can be healed." -Awa D
Meanwhile, efforts to increase community knowledge around the condition reduced stigma related to fistula.
"Before, there were rumors and myths about fistula being a curse. A lot of people didn't know it was related to childbirth, but thought it was witchcraft. Now, they know it's a health issue." -Demba T, Fistula Mali Project Director
These key strategies helped ensure the project's success:
IntraHealth developed a new mentorship approach to train surgical teams. Between June 2014 and April 2018, this approach built the capacity of 25 fistula surgeons who conducted over 1000 fistula repair surgeries in Mali throughout the course of the project.
IntraHealth's technical approach focused on strengthening the health system at all levels by working with Malian civil society organizations and NGOs.
To ease the burden on hospitals with limited space, IntraHealth worked with local foundations to build and equip three new welcome centers for patients during the lengthy hospital stay required before and after surgery.
The lives of many women and girls suffering from fistula were transformed for the better due to these and other important interventions. Women were able to rejoin their communities and lead productive lives.
"I have regained my dignity," says Oumou S. after receiving fistula repair surgery. "I never thought that it could end. But I am thankful."
This project has come to an end, but the work is far from over. Visit IntraHealth's website for more information on our continued work to support women and girls in Mali.