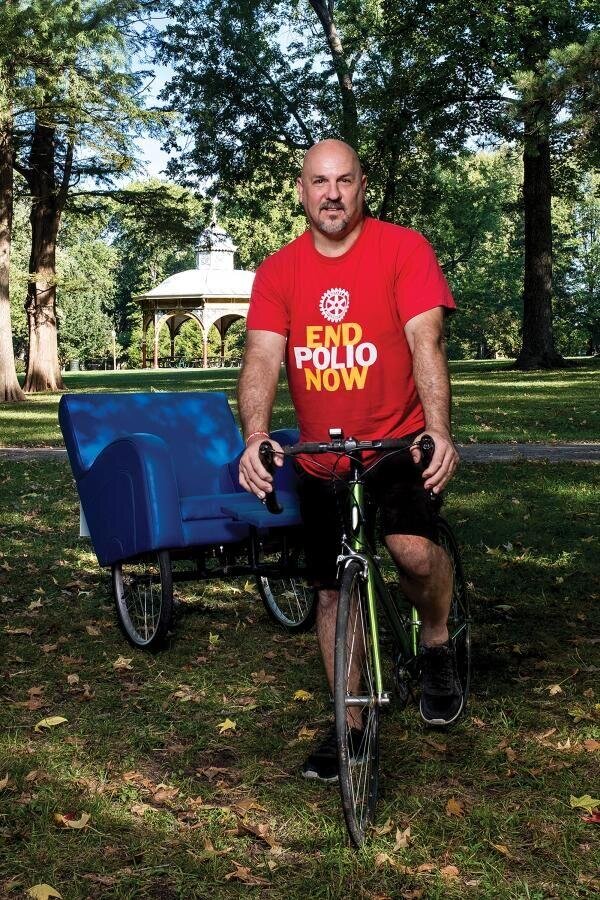 On May 3, 2022, Ralph Zuke, member of the St. Louis Civilians Satellite Rotary Club set off on his homemade 'Barcalounger Rickshaw' for a 31-day journey to Houston to raise funds for Rotary's PolioPlus program aimed at eradicating polio. The disabling and life-threatening disease is easily preventable by the polio vaccine.
A retired high school health teacher and carpenter, Zuke fashioned his 113-pound rickshaw out of a 1950s-style recliner. Zuke arrived in Houston on June 3, to attend Rotary's 113th annual international convention, taking place June 4 – 8, 2022 at the George R. Brown Convention Center. Along the way, he collected donations for the cause, giving rides, and meeting local elected officials, Rotary clubs and others, sharing the story of Rotary's quest to eradicate polio. He cycled all day and rested in the homes of Rotary members along the way or motels sponsored by local Rotary clubs.
Along his 703-mile trek, Zuke offered his Rotarian host families and other people short rides in the rickshaw, sometimes pulling 50 or 60 passengers in a day. "It was one of the most incredible experiences I've ever had," he says. "I met the most incredible people."
Ralph completed the same trip in advance of the Rotary convention in Toronto in 2017. On that 22-day trip, he had aimed to raise $22,000 — symbolizing the 22 cases of polio reported in 2017. With pledges from Rotarians and people he met along the route, Zuke raised just under $24,000. The 2-to-1 match from the Bill & Melinda Gates Foundation brought the total to nearly $72,000. Zuke's fundraising effort is just one of thousands of creative projects that Rotarians undertake every year to help raise funds for polio.
For more than 30 years, Rotary has been the driving force in the effort to end polio worldwide, having launched its polio immunization program, PolioPlus, in 1985. With its partners in the Global Polio Eradication Initiative, including the World Health Organization, UNICEF, the U.S. Centers for Disease Control and Prevention, and the Bill and Melinda Gates Foundation, Rotary has achieved a 99.9 percent reduction in polio cases, with just six cases of wild polio reported in 2021 compared with 350,000 a year in the late 1980s.
Rotary members have contributed $2.4 billion and countless volunteer hours to protect nearly 3 billion children in 122 countries from this paralyzing disease. Today, just two countries continue to report endemic transmission of wild poliovirus: Afghanistan and Pakistan. With the infrastructure Rotary International helped create to end polio, the international non-profit organization has built a lasting global health legacy that is now used to protect millions of people from other diseases such as COVID-19.