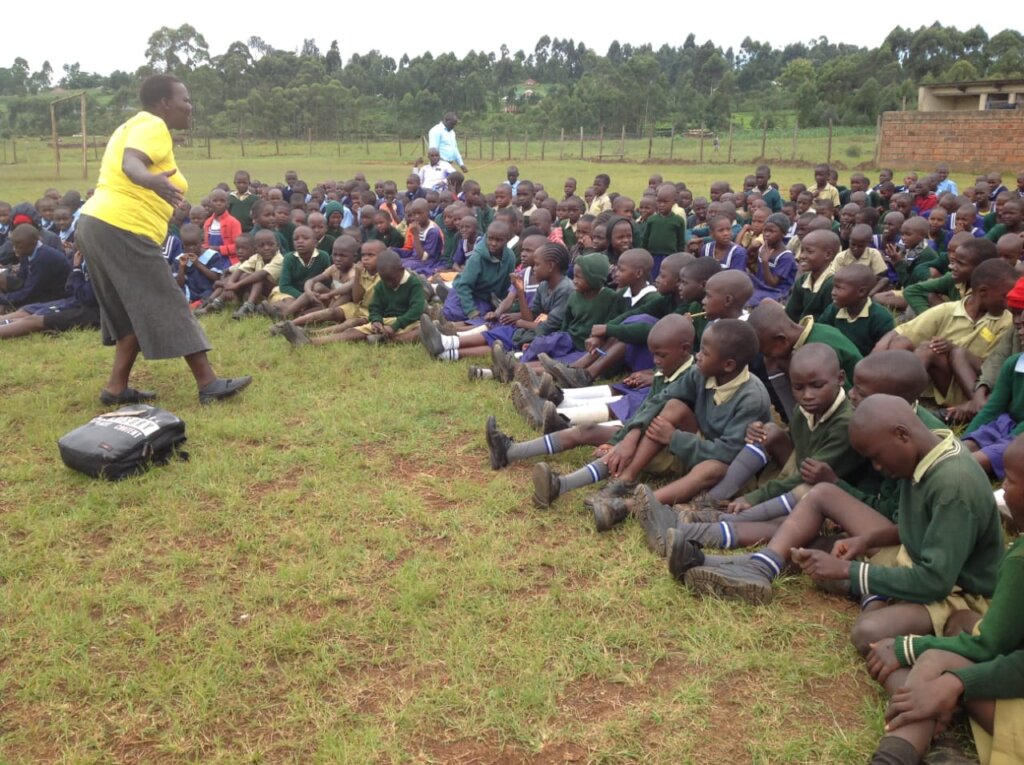 DEAR HFAW FRIENDS, SUPPORTERS AND PARTNERS ,
HFAW as an organization would like to extend our appreciation for the support you accorded to us in the month of April that enabled us achieve our objectives of transforming communities within Nyamira County to end FGM. HFAW managed to reach Nyambaria primary school with a population of 482 learners among which 238 were males 244 females. The team introduced their agenda of ending the FGM practice that leads to early teenage pregnancies among school going children. During the interaction it was noted that more learners had varied information and ideas on FGM and as a result, they could point our clearly the challenges faced by the survivors.
However, both teachers and students took part in the discussion and our plan to sensitize them on why FGM should be abhorred bore more fruits. The response was overwhelming and much ground was covered and at the end we had more anti FGM ambassadors than we had anticipated. Additionally, 96% of the school population committed to further the anti FGM campaigns to the community and also in the places of worship. According to our assessment, the meeting was successful because we surpassed our targets beyond our imagination. Our success is attributed to the great reception from both the pupils and teachers and their understanding of our agenda and showing the willingness to join in the anti-FGM campaign. We are optimistic that with adequate financial support from you our partners, it's a matter of time and FGM will be completely eliminated.
HFAW staff encouraged the young girls to report to the police when being threatened to undergo the cut. Bwari, a pupil at Nyambari primary school reported to us that they were told when they undergo the cut, they become grownups and they took the statement serious because according to their understanding FGM is a rite of passage embedded in their culture. She was overcome by emotions when she recalled the events of that fateful day. "I couldn't breathe because a piece of clothe was stuffed in my mouth, while five women pinned me on the ground as they mutilated me. My mother could not defend me because she was forced by the older women to surrender me to the perpetrators of the act," she painfully narrated. HFAW staff responded to Bwari by pointing out that FGM is illegal according to the law, it's a violation of the rights of women and girls because of the many challenges that come with the cut. She further pointed out that there are alternative rites of passage that do not involve the cut and the kind information they are subjected to as this has proved to be the main cause of early teenage pregnancies. It was observed that the learners were enthusiastic and actively participated in the discussions and requested the team to go back for more sensitization sessions.
Because of your support to HFAW, we have been able to reach hard to reach neighborhoods and with more support from our friends and partners, we will be able to make FGM a thing of the past through transformed mindsets by our ambassadors and community health workers in Nyamira county. One girl saved from FGM is worthy the effort. Ones again, thank you very much.
Kind Regards,
Maureen Asutsa , HFAW communication officer.