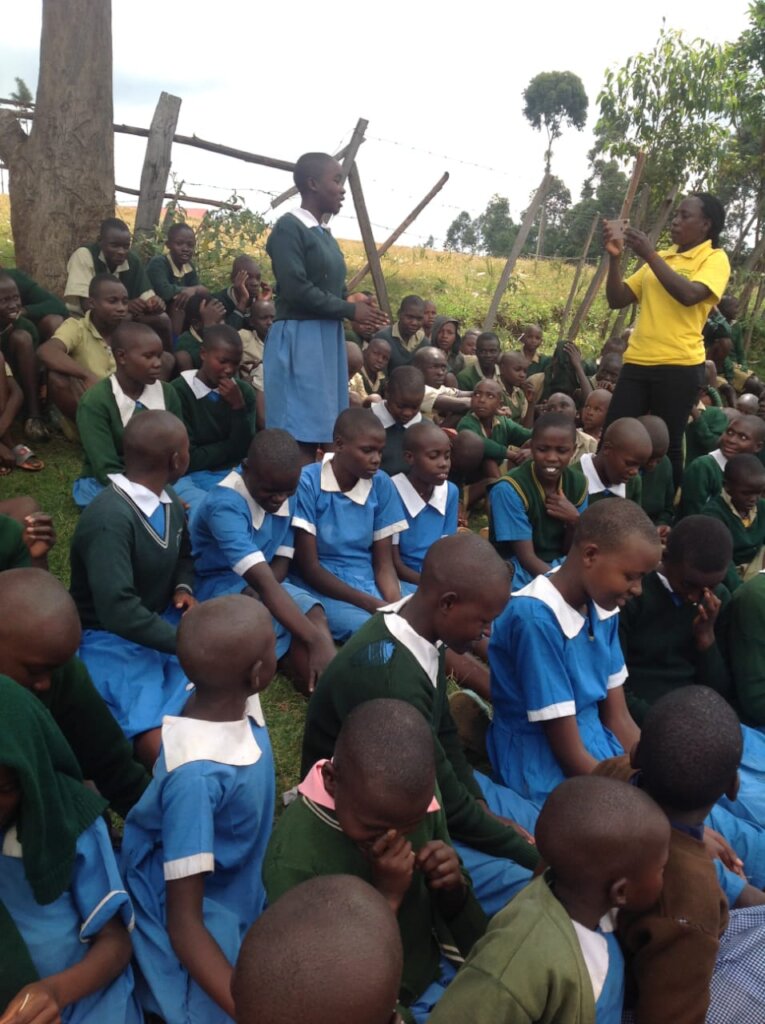 Dear friend and partner,
Our August school outreach managed to reach pupils in two schools. One being Kiamogiti primary school which had a population of 207 students, (106) girls and (101) boys and the other Geteni primary schools with a population of 283 pupils, (133) boys and (150) girls. The two target schools are located in hard to reach areas of Nyamira County but with your support we managed to deliver the much needed information. Our main objective of conducting the school advocacy was to sensitize the students about child abuse, FGM and its effects and where to seek help in case of abuse. Our community health promoters are trained in dialogue and while at it with the pupils; each of the schools manifested a unique challenge.
At Kiamogiti primary school, FGM is so normal that at first the pupils could not understand why the practice must end. While at Geteni primary school, there was already a young mother and a pregnant pupil among the children. Our work is much needed and your support is not in vain. The two outreaches culminated with a local vernacular radio campaign at Egesa FM radio where the voices of two children and one community health worker were amplified to reach the larger community (over 1 million listeners).
The sessions
The session at Kiamogiti primary school started with posing a question to the children by Joyce, who is HFAW staff and a community health and human rights promoter.
"Do you think FGM must end in our community" asked Joyce
There were mixed answers of both "yes" and "no" from the pupils. One pupil raised his hand and said "I do not understand why FGM must end, it is OK, normal and must happen to every girl in my community" said Kevin
The facilitators took the opportunity to correct the erroneous norm of the practice as normal and by the end of the session the boy had changed mindset and even boldly talked against it on radio saying,
"Girls do not be lied to by men with kangumu (a type of donut) and 5 shillings then you get pregnant. If you come across any FGM act, kindly call 116. You can even borrow a phone from neighbor as the number is a toll-free." said Kevin.
"FGM is a practice whose time has passed. Children, you should refuse if your parents want the cut on you since it affects girl's lives" added Hope from Geteni primary school.
Our early pregnancy message this time landed on ears of a young mother and pregnant pupil among the children in Geteni primary school. Our outreaches are highly needed with information to prevent such cases.
We are grateful for your assistance in ending the practice of FGM and early pregnancies in our community. Please share our work with your family and friends and invite them to be part of the difference you and HFAW are making in our community.