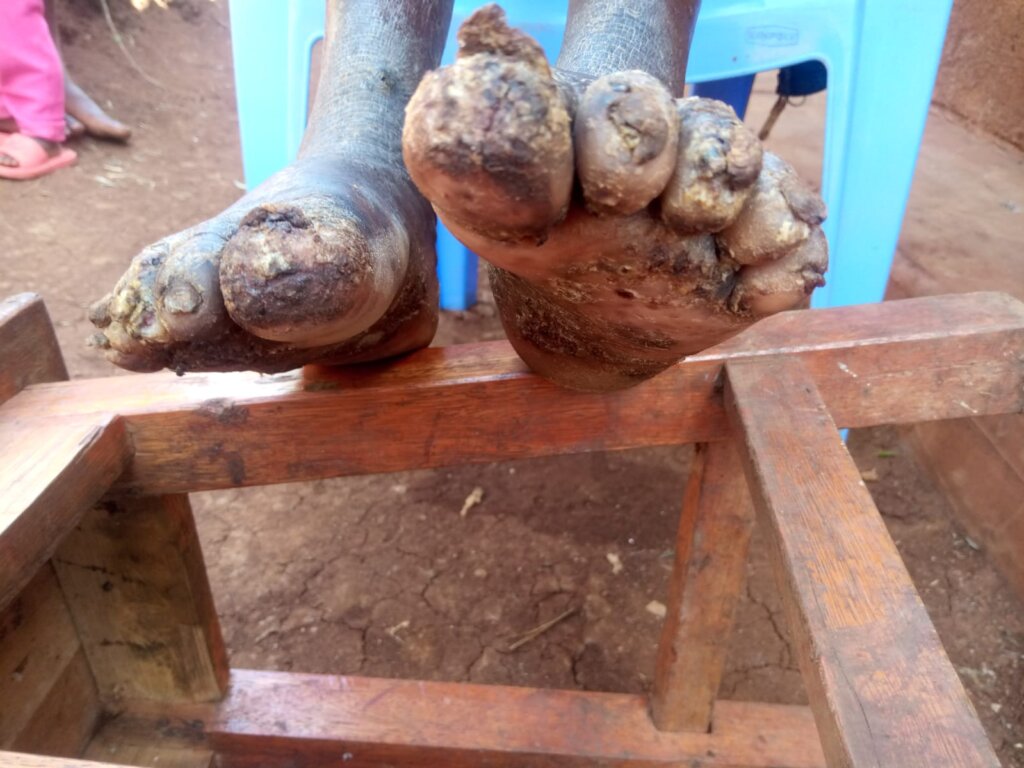 Dear Friend and Partner,
The first time our anti-fgm advocacy at Nyamusi Primary School in Nyamira County came to a standstill. There were 327 students among them 162 males and 165 females. We got a warm welcome and we were about to begin our work, only to notice that many students had torn uniforms, looked desperate and literary miserable due to poverty. Over 10 students were jigger infested. Our advocacy program was difficult to deliver. We planned to be back with medicines and other equipment to counter jiggers. This ended up opening an easier anti-FGM advocacy process.
Second round arrival at the school we found that still students were in a bad state because, due to myths and misconceptions, they were stigmatized as cursed due to jiggers. Many people think that jiggers are a curse. They were glam in rags with no shoes and innerwear, barefooted, and extremely low self-esteem. We were also informed that girls are most vulnerable to FGM in the surrounding village.
With the help of a public health officer and health assistant from a local community clinic whom we invited we cleaned their legs, sanitized them, applied medicine and vaseline, and sanitized them. In total we sanitized ten students with jiggers, provided them with new shoes and uniforms, and their self-esteem greatly improved. After sanitizing, we taught them about effects of FGM, the root causes, the impact not only on the girl child but the whole community. The positive response was overwhelming. Both students and teachers committed to be antifgm and anti-jiggers ambassadors.
'I want to work like you to end FGM and jiggers, said Beatrice, one of the students who got shoes and school uniform.
Teachers were grateful and committed to continue treating the students until the jiggers were completely eradicated out of the school.
"I will teach people about the effects of FGM so that they can abandon the culture." Alois Nyasumi primary. 'I want people to know that jiggers are caused by unhygienic conditions, not a curse. He said.
The head teacher reiterated that ending FGM should begin with ending jiggers. That jiggers are widespread in the village which is the origin. The children who live with grandmothers are most affected. Even their grandmothers are affected by jiggers.
Friends, we are grateful for your ongoing donations. Because of you we had a chance to address one of the most disturbing issue, jiggers in modern times. Jiggers hurt children and their grandmothers. It is hard to close our eyes. It is even harder to campaign against FGM when members of the community are hurting. Please continue with your donations and share widely so that our work to counter jiggers and FGM can be possible. Please share with your family and friends and let them know why this is important.