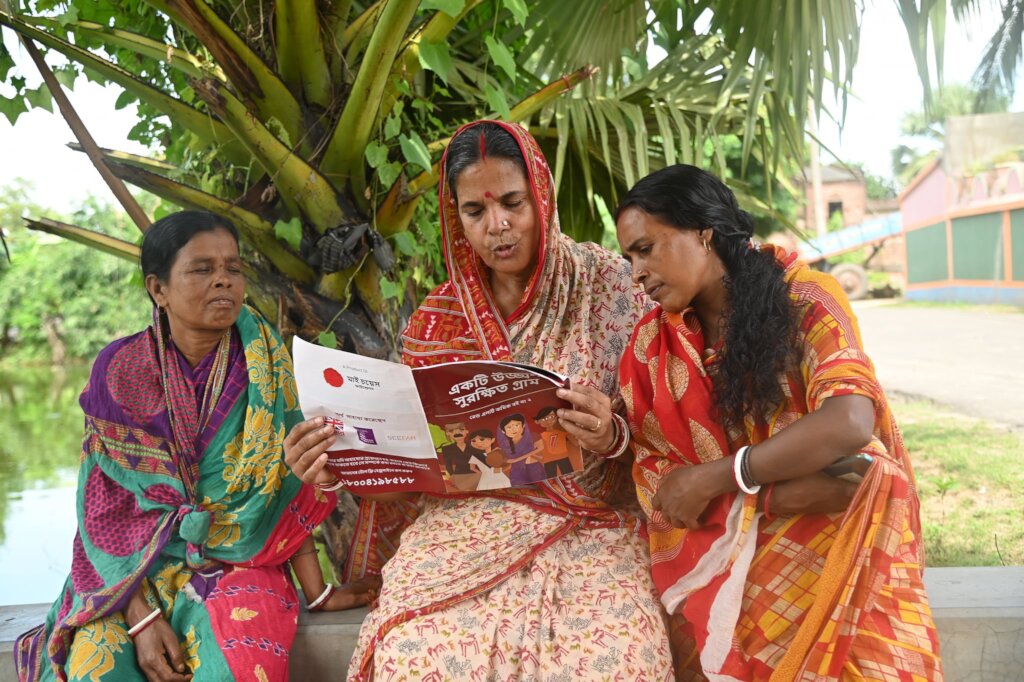 2021 has been a year of a fearless perseverant journey for My Choices Foundation. We continued to adapt and marched on to empower women and girls to make choices to live a life free of violence, abuse and exploitation - by conducting sex trafficking awareness programmes at high-risk villages in the remote corners of India to ensure the safety of children from being trafficked. As of December 2021, we have reached more than 6,000 villages in India educating and empowering more than 2,800,000 women, girls, men and boys about sex trafficking and ways to prevent it.
We made inroads into new territories - the first Safe Village Programs were conducted in Chhattisgarh and Odisha - making us active in 10 states of India as we prepare for our 10-year anniversary celebrations in 2022.
My Choices Foundation makes inroads into Chhattisgarh with our Safe Village Program
During the sunny mid-afternoon on Saturday, 4 December 2021, villagers happily welcomed the team of My Choices Foundation. Our team found shade to begin a meaningful exchange. When our Program Director, Vivian Issac, explained the purpose of the visit and what the Safe Village Program is all about, villagers paid careful attention to anti-trafficking messages. It instilled their curiosity and they had questions. This also helped our team to rediscover the passion and the intent of the work we do – as it happens in each of the Safe Village Programs – to create a safe living and thriving environment for every girl in the nation of India.
As a part of the Safe Village Program, comic books were distributed and our engaging flip charts were a huge success too. The messages of Good Fathers, Informed Mothers, Guardian Girls and Smart Boys resonated with the villagers. It was an active and participatory discussion. As people made sense of the messages, two families came forward and said that two boys and one girl had gone missing two years ago. We gathered as much information possible to file a police complaint and with the help of our stakeholders are making efforts to get the children back home.
Our first Safe Village Program in Odisha
It was a long journey to Hanumal village, Odisha where we conducted our first Safe Village Program in the state. The hospitable villagers treated us with a warm cup of tea and their lovely smiles. In partnership with our Implementing Partner, we made efforts to gather people from the surrounding villages. It wasn't an easy walking journey on the hilly terrain, but 60 people – fathers, mothers, boys, girls and even grandfathers and grandmothers showed up.
With the help of the translator from our Implementing Partner organisation, we introduced the My Choices Foundation and our vision to be there in the village. They listened attentively and asked questions. It showed the curiosity and interest of people who want to protect their children from any harm. Comic books were distributed and story narration took place with engaging flip charts in the local language.
Here's a moment that welled up our eyes(in each Safe Village Program): 17-year Malati who trekked eight kilometres along the muddy roads and bumpy hills to attend our Safe Village Program said, "I will be forever grateful for you to visit this place. You have made an effort, acknowledge our existence and talk about safety, which is kind of rare these days. I am going to talk about all your messages to my Mother and Father as soon as I reach home. I will also share it with my neighbours. It is highly needed to keep ourselves and our children safe from traffickers. Thank you very much. Please visit us again."
If you spot any signs of trafficking or child marriage please give us a missed call on 1800 419 8588 and our team will respond to assist you.

Links: