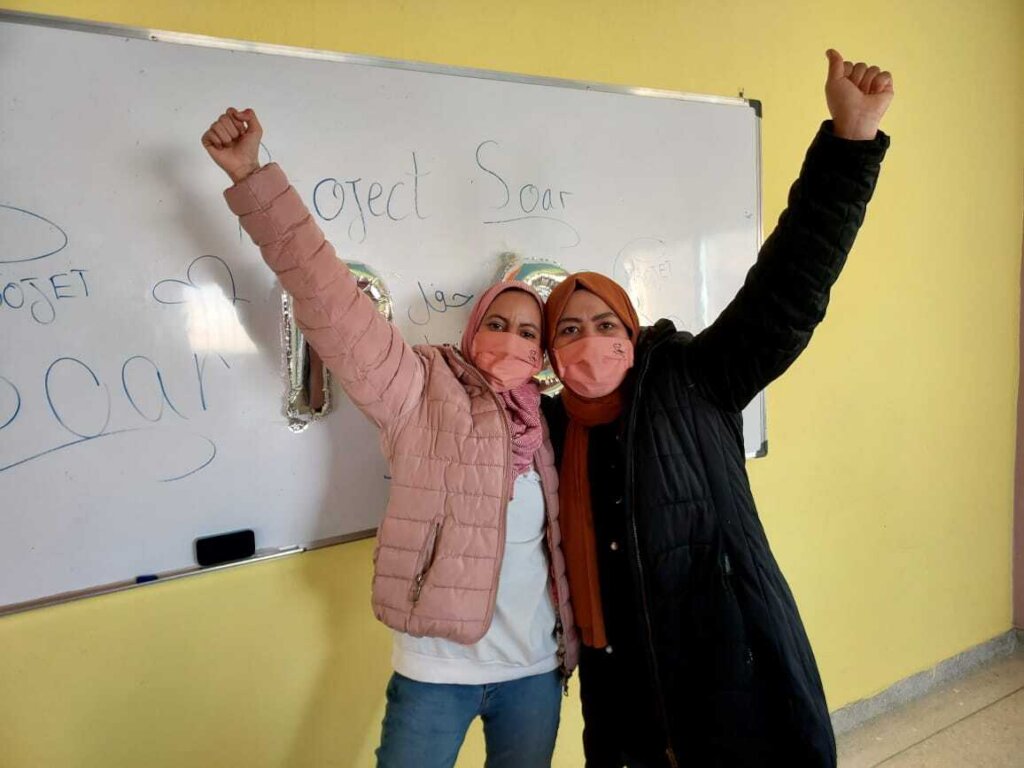 Hi Friends!
Project Soar is sending gratitude to you, our dedicated supporters, and positive wishes for continued good health and happiness for you and your loved ones.
Our incredible Soar Facilitators have been leading many exciting initiatives and activities for teen girls over the past four months. In February we launched a new project called the BIGGER Movement (Building a Greater Girls' Rights Movement), which aims to close all legal loopholes to child marriage in Morocco by 2025. In April, we conducted a week-long advocacy training led by 6 Soar Facilitators and our partner Mobilizing Rights Associates (MRA). Soar Facilitators are, and have always been, at the very core of the Soar feminist movement. Many Soar Facilitators wish to empower girls in their own communities since they themselves have faced challenges and setbacks because of their gender. We reached out to Kaltouma El Mostaghni, a new and resilient Soar Facilitator this year in Ouarzazate, Morocco, to learn more about her powerful story to share with you:
In 1998, Kaltouma was a child bride at 15 years old, forced to drop out of school. Unfortunately she endured intimate partner violence which later led to a divorce. Twenty years after her school drop-out and re-building her life, she returned to school and passed her Baccalaureate exam. This was just the beginning. Kaltouma is now pursuing a law degree and is enrolled at Ibn Zohr University in Agadir in the faculty of Legal, Economic and Social Sciences. Her ultimate goal is to help protect girls' education and fight child marriage. Recently she updated Soar Program Coordinator Kaoutar Arhenbou that she passed all of her exams of the first semester with flying colors!
"After 20 years of suffering, I had to make a change. Now I want to help Soar Girls avoid underage marriage and dropping out of school." - Kaltouma
Kaltouma is not only a brilliant student with an important objective, but also a great Soar Empowerment Facilitator helping 18 Soar Girls from underserved areas in her community of Ouarzazate to understand their Value, Voice, Body, Rights and Path. This week she is currently facilitating the 23rd of 25 weekly Soar empowerment workshops. She has also helped the girls launch their own Soar Club, and during the 2021/22 academic year she has organized 2 Soar Community Dialogues with her co-facilitator and the girls in her squad. 98 community members and stakeholders in total have attended their dialogues which addressed themes of women entrepreneurship in Ouarzazate as well as the community issue of child marriage. Kaltouma planned guest speakers at the events including female entrepreneurs, law students, and the Vice-President of the Commission for Equality and Equal Opportunities in Ouarzazate as well as the Vice President of the Regional Council of Tinghir. Their second dialogue also connected two of their Soar Girls with writing opportunities with the Association of Women Writers of Morocco in the Draa-Tafilalet region. These dialogues are bringing key community leaders in the same room with Soar Girls to push the needle for better girls' education outcomes to protect them from child marriage.
Women leaders like Kaltouma are truly vital to the mission of Project Soar. We will continue to amplify the stories, commitment and energy that facilitators like Kaltouma bring to their communities as Soar Facilitators.
We are close to our campaign goal thanks to all of you. Your generosity has supported 76 facilitators to deliver the Soar program to over 1,150 girls in two cohorts since we launched this campaign in July 2020. Facilitators like Kaltouma remind us why it is so important to support local women to be role models, mentors and advocates for teen girls in any community.
Stay tuned for more stories from these incredible women, and never doubt you are making a difference!

Warmest Wishes,

The Project Soar Team