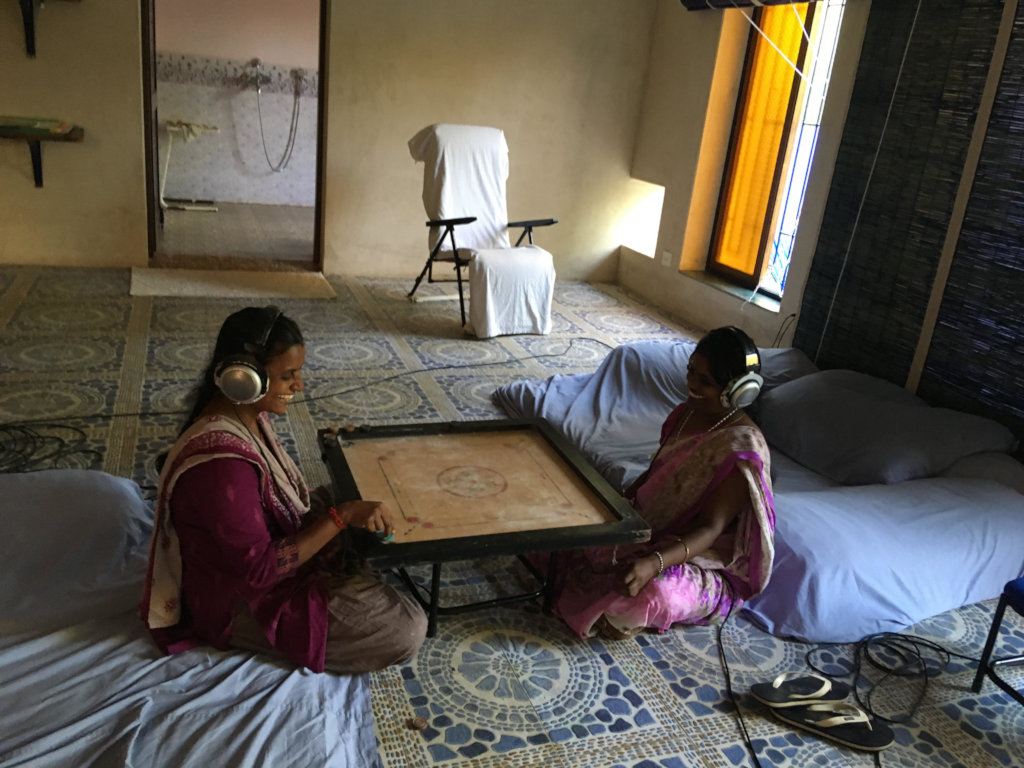 Dear friends: all of you who gave to our project :
We have fabulous news!
The GlobalGiving English Women's first batch started. There were 5 of them, and one dropped out due to inability to commit the time. But the four others continued. They did the entire one month of daily listening training, two hours a day Monday to Friday... They did the entire Tomatis process of listening to English as babies in the womb (the intra-uterine listening rich in high frequency sounds), in what we call the "Passive Phase". Then, a three-week break.
They just got back yesterday (Monday) to start the "Active Phase".
All report being able to understand English much better than before, and their ability to speak has vastly improved!
In fact, one of them, N., floored me completely today : She hardly ever opened her mouth and had this huge blockage towards speaking English. And she was excruciatingly shy. You could feel that something wanted to get past her throat, but it just wouldn't. I'd had her in class some years ago in our old building as well. Today: gosh, you should have heard her speak! Wow. I couldn't believe how she answered my questions easily. Turns out she went to the Auroville Entry group today, which vets people who want to join Auroville. She described to me the questions they asked and reported her answers. She was speaking English!!! When I commented on how her English had improved, and asked her how she felt, she said "I am so happy," with the biggest smile! I know how frustrated she was earlier, that no matter how much she tried and how many classes she would attend and how much time she would work with the software on our mediatheque, she still could never speak English. So that big huge blockage has dissolved! She is speaking now, even before the Active Phase!
The other younger one, M, also extremely shy earlier, was laughing and repeating the Active Phase exercises, as were R and J.
But what is the most flabbergasting information : We did our regular English level test which allows us to determine whether someone is a Beginner, Intermediate or Advanced student. This test is basically a Grammar-based test. We'd done this just before the start of the program. We redid the tests after the one month Listening Training and the 3-week break, just before they got back on Monday. Their performance was significantly better! What is remarkable is that they did not attend a single grammar class, nor work on the computers in this time. The improvements in grammar were entirely due to the Listening Training alone!
Which just goes to prove what Dr. Tomatis said in the 1950s : that babies learn language, including grammar, in the womb! By re-creating those womb-like conditions sonically, through our Tomatis machine, we can help people assimiliate (rather than "learn") the language, break down blockages, get over the need to mentally translate all the time, imbibe grammar "naturally", gain confidence enough to start speaking and have the speech flow!
In the world of education, this is revolutionary and ground-breaking!
We do have videos of them reading and also answering a few basic questions before they started the program, and now, just before the Active Phase. The difference is remarkable and we'll put the videos up on our Youtube channel in a few days. It's SO exciting!
https://www.youtube.com/channel/UCeTIG0y-sBMlyywZNdZcAng/videos
We'll keep you posted about their progress in the Active Phase.
ALL THIS BECAME POSSIBLE THANKS TO ALL OF YOU!
None of this could have happened without you and your donation to the project.
So, an enormous Thank You!
By the way, in other news : have a look :
- Computer link :https://transsolar.com/news/newsletter-june-2019-online
- Mobile link : https://mailchi.mp/133413f0a158/tsnewsletterjune2019?e=dd883081c1
One of the world's leading Climate Engineering firms, focussing on constructing buildings and climate responsive eco-cities, is studying our building as a Climate-Responsive building!
Please do us the pleasure of writing back if you see this and read this! We'd LOVE to hear what you think about all this. Do you think your money was well spent???? Hoping to hear from you soon!
Links: