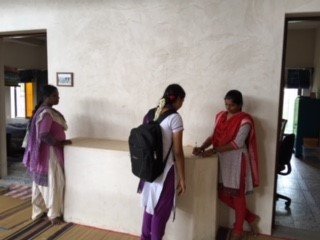 GLOBAL GIVING SEPTEMBER 2018 REPORT
Hello everyone!
We have been very busy here at the Lab trying to get everything ready for the Collective Listening Training for Women and Girls and the New Tomatis classroom. Unfortunately we've had a few setbacks getting those headphones here from Germany. The VAT cost is rather high, and combined with transport and import costs, the amount required over and above what we raised thanks to all of you, is huge. Just the VAT part @ 19% is $1210, not counting the rest, which is about an additional 35%!!!! So we have been trying to find a way we can import them without having to go through that, like we said before. It really does matter a lot, because if we have to alter our order to lose several headphones, it cuts down the number of students we can host in our program.
So we are trying to find a solution, and even though it seems like we have, it is very time-consuming and taking much longer than what we planned. We can't ask anyone coming from Europe to bring the headphones; we need to find Indian residents only! We have received only two headphones so far. The rest are ready and waiting for us in Germany. We thought we would have everything here by September!
Mita is actually about to go to Germany on her way to Switzerland to present our research at an international Tomatis practitioners conference - and while she's there she plans to look into other ways to resolve our headphone situation.
So you see, the VAT and taxes situation has thrown a wrench in our plans, and it's proving to be a bigger wrench than we first thought. We are going to have to wait until we can work this out. Hopefully we can get started by October or November.
Still, in the meantime, we've been working towards creating an active listening group for the women & girls. Many of whom are taking advantage of our free Saturday Tomatis listening sessions for our regular Lab students. They've been coming very regularly, each Saturday. We've also had some wonderful Tomatis Language experiments with our own team to prepare the project. (Photos hopefully attached).
For the conference we have been continuing with some of our Tomatis Research on the frequency patterns and other parameters of different languages. This is similar to some of the research we did before the project. We've also been studying the best way to configure a Tomatis Classroom. We are really looking forward to getting these headphones here so we can finally put all of it together and start the group Tomatis listening training work.
Other than that the Lab is doing fine. We have a new teacher, Annabel, who is teaching French and Spanish. We also have a new experimental class called 'Isogloss' where students study every language in the world as one language. (All at once). Of course we are continuing to offer our Tomatis programs. Some of the kids have been showing major progress. And the adult testimonies we are getting really reflect the power of this therapy. It can change a lot. So new things are happening in the Lab, and the past few weeks have been an exciting time.
We are working very hard to get those headphones here! We will let you all know the moment we get started. Of course, if you have any ideas at all for us, which could help us out of the import difficulties, we are all ears!
Thank you all so much for your patience and your continued support.
All the best,
The Language Lab Team (Mita has just reached Europe!!)