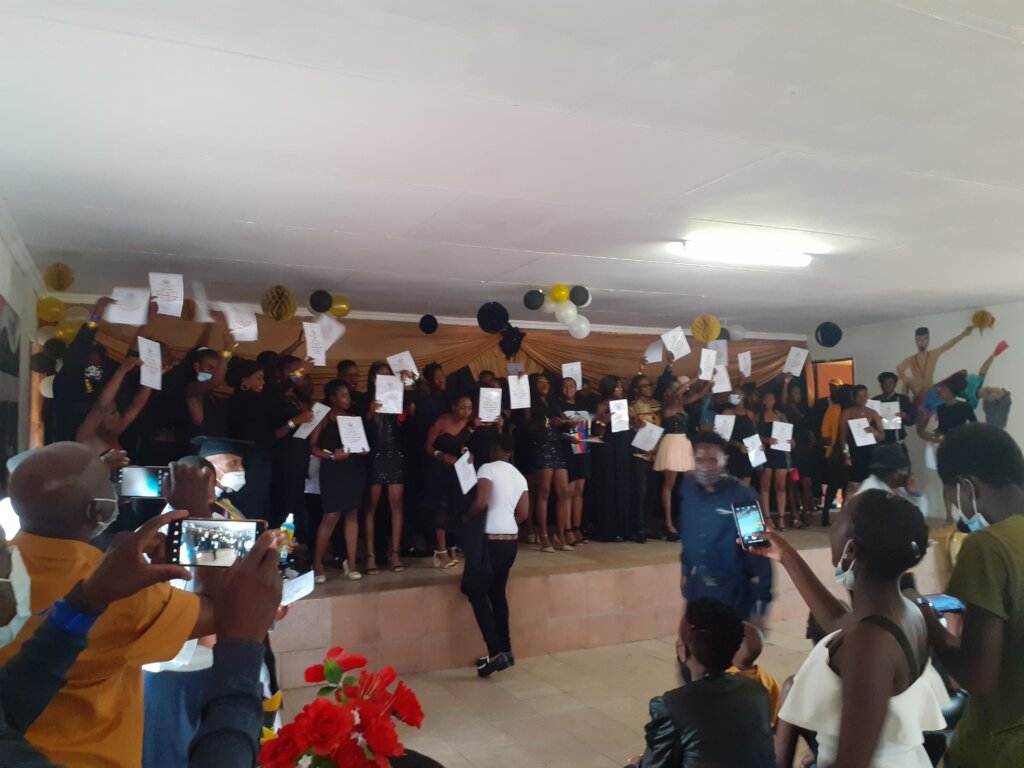 REPORT OF THE BOKAMOSO LIFE CENTRE (BLC), AS OF DECEMBER 31, 2021
Institutional Collaboration
Since the Centre's last report, posted in September 2021, the Centre has continued to establish partnerships with other like-minded institutions to expand it programming.
Examples include:
Vaal University of Technology (VUT) to introduce and train youth about the importance of technology and to offer skills training to enhance access to potential employment opportunities in the technology field.
Training programs include:
Mobile Literacy (completed on November 18, 2021)
Digital Age/ Fourth Industrial Revolution.
Digital Opportunities, managing network connections, etc.
Understanding mobile applications, and many more.
2. University of South Africa, is overseeing a competition on scriptwriting (e.g. story telling and poetry)
Alexandra Art Academy: This partnership offers a collaborative approach to the development of an enhanced Theatre and Drama Education curriculum that includes accreditation and skills development programs in the business of the arts, research and individual finance management.
Tembisa TX Art Academy: to provide a new performance platform for Bokamoso youth as well as curriculum and training in stage management and stage set design.
Tshwane University of Technology (TUT), to help train Bokamoso program facilitators, 'Train the Trainer'. This partnership focuses on Theatre and Film Production. The university's Brethrenbach Student Theatre is offering a performance platform for Bokamoso youth that provides opportunities for them to explore the Theatre space. The 'HELLO' programme was created for this purpose.
The South African State Theatre: This collaboration provides a new platform to display plays (Drama) and offers enhanced mentorship to BLC youth.
Childline, is currently offering Life Skills training to nine Bokamoso Youth at their offices, with opportunities for job placement, following completion of the training program in early childhood development. These employment opportunities are designed to offer BLC Youth hands-on experience to build their confidence and self esteem, by applying their newly acquired knowledge and skills.
(Note, as of this report, two Bokamoso youth who have graduated from this program have already been placed at an organization called Early Child Development (ECD) for six months with a stipend.
Teacher Assistant, to train Bokamoso youth to be teacher assistants: This is a government initiative to create employment opportunities for unemployed youth to assist qualified Teachers at various schools. Youth who have completed this training have also been employed as COVID-19 Compliance Officers.
(Note: as of this report, three Bokamoso alumni have been placed as Teacher Assistants at various schools for six months with a stipend.
GOMACC (Gauteng Organisation For Community Of Arts and Culture Centres), to train Bokamoso youth on Digital Media Development. In addition, GOMACC has pledged to donate musical flutes. GOMACC has also committed to assist the Bokamoso Life Centre with funding applications and accreditation that will permit BLC to issue certificates that are recognized by different Media Houses for job opportunities throughout the country
(As of this report, several Bokamoso youth who have completed the program, have produced a short documentary [Please see the attached]).
Fundraising
Efforts are well under way to identify additional resources for funding Centre programmes. Since the last report filed in September 2021, applications for funding have been submitted to:
National Lottery Commission.
Department of Social Development.
U.S. Embassy in South Africa
U.S. Chamber of Commerce members in South Africa
Corporate members of the South African Chamber of Commerce
Basetsana Scriptwriting Camp.
The much anticipated BLC-inspired and sponsored camp finally got underway in three segments:
First group : 24-30 November 2021.
Second group. : 15-21 December 2021.
Third group. : Mid January 2022.
Bokamoso Life Centre's annual Youth Development Program. Graduation.
The annual graduation ceremony took place on 02 December 2021. A total of 49 youth graduated.
Endreport