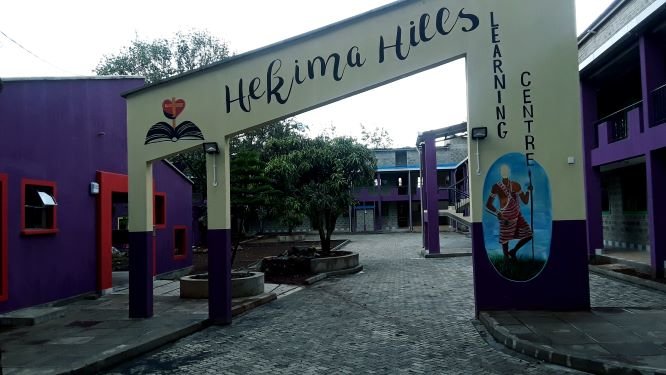 As Hekima Place enters 2021, we are excited to share the news of the expansion of our objectives to "educate and empower girls in Kenya" through the opening of the Hekima Hills Learning Centre. In an atmosphere of love and security, Hekima Hills Learning Centre (HHLC) students will dream of the future, experience possibilities far beyond their beginnings, and find the pathway to a life that is self-sufficient and uniquely theirs. Hekima Hills Learning Centre is a private, faith-based primary school that provides a safe, nurturing, and intellectually stimulating environment for every student we serve.
The goal of HHLC is to provide a comprehensive education where children of all ages can develop academically, socially, physically, spiritually, and emotionally to ultimately contribute to the betterment of their families, communities, and the larger society. To do so, we will:
Create a curriculum that encourages critical thinking and learning while recognizing the importance placed on the Kenyan Certificate of Primary Education examination (and eventually, the Kenyan Certificate of Secondary Education as well).
Prepare well-rounded young people for a life of personal responsibility and community service by promoting high moral and ethical values.
What started as a vision 5 years ago, moved into a successful capital campaign. Our grand opening last January 2020 had 40 students representing Hekima Place and from the nearby rural villages and surrounding towns. But the opening was short lived due to the COVID-19 pandemic and new restrictions that were imposed by the Kenyan government. When the government announced that schools could resume in January 2021, we were astounded by the response. HHLC reopened with 90 students and within 3 weeks we were at near capacity in our PreK – 4th grade classes with 133 students!
When at full capacity, HHLC will serve approximately 300 students, PreK through 8th grade. Thanks to the incredible generosity of so many donors, construction of was fully funded. Now the task remains to financially support the teaching staff, operational support team and most importantly, the students.
Because of you, Hekima Place and HHLC will continue to provide life transforming support and encouragement to the children we serve! We will continue to care for and educate children who may not otherwise have had the chance to grow up in a loving home or attend a school like HHLC. Through your prayers and financial support, we will continue to protect, care for,
and educate. Your gift allows provides more clothes, food, shelter, and education…it provides hope and love.