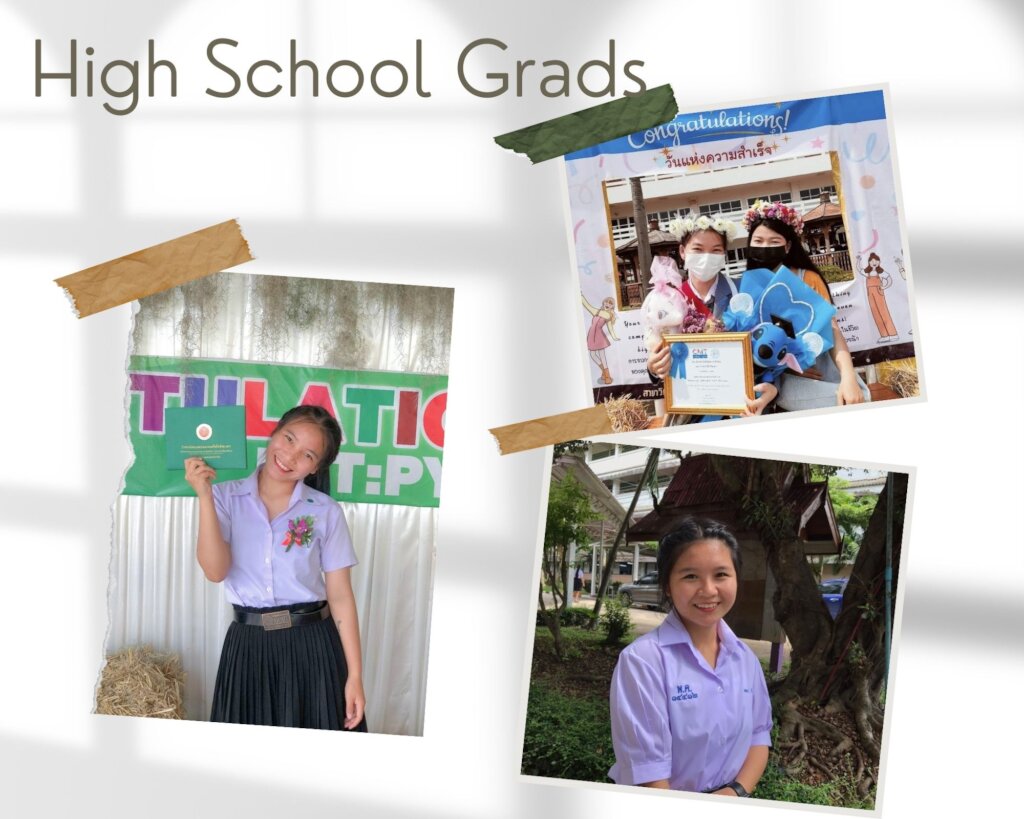 Here is an update on our students and graduates in our higher education program. The K-12 school year ends in March, the universities end later, in May or June. All our students have managed to learn and complete their studies both online and some in-person, due to COVID restrictions. The Thai economy is opening very slowly, but our graduates have been finding jobs to support themselves and send some funds home. At the same time, they are building their networks, with hopes of finding jobs in their chosen fields.
This year, we have three high school graduates and two upcoming university grads. We have 7 graduating from 9th grade and starting high school
High School
"Jiu" graduated from Phrao High School and is accepted and registered at Payap Nursing School in Chiang Mai. She joins 'Naan", who is finishing her first year.
"Preaw" graduated from Phayao Technical College at the high school level, in agriculture. She recently won a Province-wide prize for her juice products. She plans to continue in agriculture science. She is looking at work/study programs abroad and will know later in April where she is going.
'Nipa" completed the vocational high school program in Tourism and is planning to continue for two more years to receive a vocational college certificate.
"Pokpong" is finishing 11th grade and started an internship at a metalworking shop in Chiang Mai.
"Nuey", finishing 11th grade, won a provincial prize for her video on life in her mountain village.
University
"Tanqua" graduates from Asia Pacific International University School of Nursing and is reviewing job options upon graduation.
"Joy" is graduating from Chiang Mai Rajabhat University in Tourism, with Chinese and English. She is targeting the hotel industry.
Graduates
"Nit" received her national social work license and was accepted at a leadership development program in the US. She's waiting to hear from graduate schools as well.
"New" passed the mid-level hospitality Chinese language exam and has been promoted at the Chinese restaurant where she works.
A few of our graduates finally had graduations ceremonies, postponed due for 2 years due to COVID - "Mit" and "Ann".
Please note that all names included are "nicknames" created to protect the privacy of our children.
Thank you all for continuing to invest in our students! You've supported 26 students over this last year.