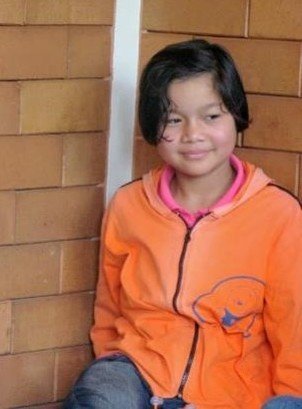 From being "afraid to cross the busy streets" – according to her friends – to charting a path for herself in tourism, New has had quite a journey since she joined the Warm Heart family 11 years ago, in 2009.
New was born in a remote village – inaccessible during the summer rainy season – to two subsistence farmers. Her parents had no education themselves but wanted their two daughters to have every opportunity possible; they wanted them to get an education and find careers outside the village.
With no school within the village, New, when old enough, started studying in a one-room schoolhouse 30 minutes away. The teacher, teaching in his/her native Karen dialect, did the best they could but the children fell behind. And, the only hope they had for an effective education was to learn Thai and attend the primary school in the valley.
For her betterment, her parents agreed to let her come live at Warm Heart and New started school in the valley. Her parents also asked a relative in the village to come as a house mother for her and two other village children, to make sure they were all well cared for. Over a decade later, there are 40 children who call Warm Heart their home and the house mother is still here ensuring that it remains one.
When New finished high school in Phrao, she had majored in languages – English and French and a bit of Chinese. Having been very shy and lacking in confidence her entire life, New was still unsure of the path she wanted to chart for herself – however, she was learning towards becoming a tour guide.
Then tragedy struck and her father died after a short illness, thus leaving her mother to tend the crops and care for their farm animals alone. Torn and conflicted, New turned to her Warm Heart family to guide her. Warm Heart came together with key village members and found a way for New to continue on to further her education. A cousin of hers decided that his wife and child could come live and work at the Children's Home while he went to assist New's mother.
New then applied to the state university in Chiang Mai, was accepted, and went on to major in languages and tourism.
As much as she had always been a leader of the younger ones at Warm Heart, she had not been out on her own ever before. At first, the city of Chiang Mai terrified her. But getting out into the world was the challenge she needed to find her confidence and chart a path for herself.
She built a network of friends who helped her get a range of part-time positions in local restaurants and hotels – and realized that what she deeply wanted was to be a tour guide.
Then she faced another trial. Scheduled to graduate in June 2020, New was set to start an internship at a large hotel, when COVID-19 struck. Hotels started closing and her internship and job prospects started fading. She found a few days of work as a tour guide intern before that closed as well. Luckily, she had the credits she needed to graduate, but the future looked uncertain.
So, she decided to come back home. She came back to Warm Heart and has been helping us translate content from Thai to English for our volunteers and supporters around the world. She is also teaching English to the Children's Home students and spending time with the elderly and disabled in our community.
She just received word from a hostel in the city that she can start as soon as they have some guests, but till she starts her next adventure we could not be happier to have her back home.