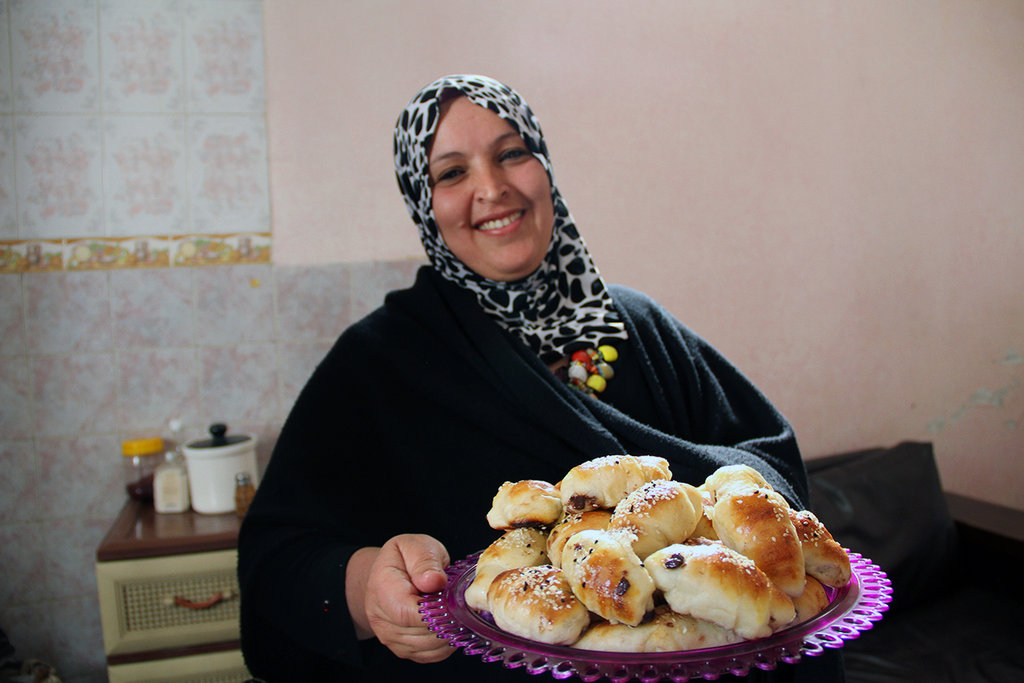 Ilham holds a tray of Mo'ajanat, a rolled pastry sweetened with dates, baked as part of her food processing business in the West Bank. With training, support, and startup grants from the Near East Foundation, women in the West Bank are developing professional business plans and launching businesses.
Through your generous support, women like Ilham have now launched over 73 new or expanded businesses in the West Bank. NEF provides participants with training in microenterprise development, offers support in the development of professional business plans, and helps to secure funding for new projects.
Ilham first learned about NEF's project through her local women's association. Hoping to expand her baking business and gain new clients, she reached out to participate in the project . With new skills from training sessions, a professional business plan, and financing, Ilham was able to invest in and expand her business. She has seen much success in her expanded business, increasing her income and supporting her family.
"Now not only can I buy raw materials and supplies, I also have money to pay for my personal needs and wants, and I can give my children daily pocket money," Ilham said.
Learn more about Ilham's story through this video.
The project's support does not end after businesses are launched; NEF continues to provide ongoing monitoring and coaching to women entrepreneurs in their first years.
While the work is ongoing, this month marks the end of our campaign on Global Giving. Our work in the West Bank continues – and we hope that you will continue to follow our activities and the impact of our projects through our website, Facebook page, or Twitter feed.
THANK YOU for your ongoing support and for helping women like Ilham to grow their businesses, help their families achieve financial independence and benefit their community. We hope that you will continue to follow NEF's work! For more on Global Giving, consider NEF's work in rural Armenia.
Links: