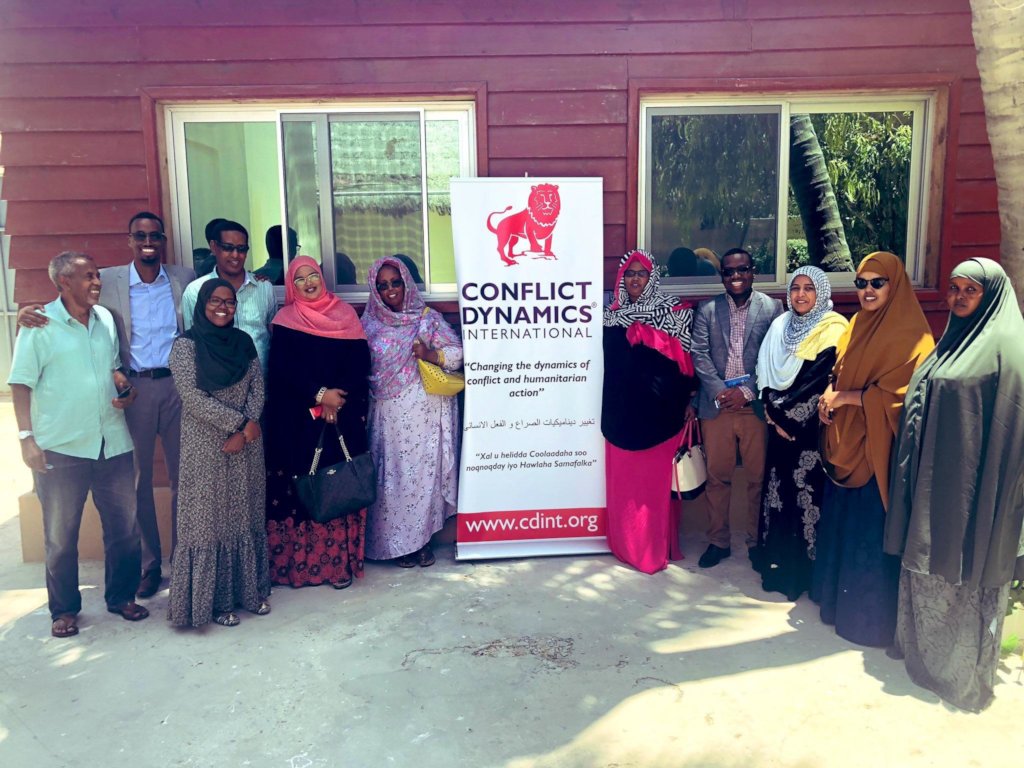 Thank you to all of our GlobalGiving Donors from around the world who have accompanied us on our year-long journey to build a more peaceful Somalia through its strong, passionate, and capable women!
Sixty-three of you joined forces and helped us raise $6,442 dollars which went directly to helping Somali women and men in their communities to solve conflicts peacefully and handle gender-based issues sensitively at their root cause and location.
Through your generosity, 123 Somali women from 17 districts of Mogadishu attended trainings to address the challenges women face when participating in the political and peacebuilding process. The women exchanged vital information and created important connections with each other. Additionally, your donations allowed women from rural regions outside the capital to take part in peace committees within their communities, learning skills on how to peacefully resolve conflicts.
As you have read in our quarterly reports in 2019 from Rukiya, Hodan, and Hama; Conflict Dynamics along with the Somali Youth Development Network, brought together women from all over the country to work together to make women's participation in the peacebuilding process safer, and more effective with a stronger female voice in the discussions. Women from different levels of politics, various civil society groups, and local communities addressed the different challenges they face in their professional and domestic settings to learn from each other's past successes and challenges.
Somali women were trained on topics they identified as priorities as well as essential skills for community-based peacebuilding, including:
Issues of gender-based violence
Leadership skills
Training and group facilitation skills
Conflict and analysis tools such as conflict mapping, early warning & early response, negotiation and mediation, etc.
Community-Owned Peace Structure
Trauma healing
Resilience and forgiveness
From women living in small communities to women who serve in Parliament, they confidentially shared similar challenges they face including clannism, favoritism of men, and lack of support services. Validation of the similarity of challenges and solutions across the social spectrum created a network of empowered women to help those in all communities begin to break down these barriers.
THE PLACES WE'VE BEEN AND THE PLACES WE'LL GO
Although we are concluding the year-long Hidden Figures project, our commitment to supporting Somali women will continue and your legacy will live on! Together, we have provided women peacebuilders with indispensable tools that they have put to the test and continue to use every day in their work. These skills which you have helped us share with women from all over Somalia were responsible for solving 60% of the 1479 conflicts brought to district peace committees in 2018. Imagine what can be done now that they are in the hands of women peacebuilders all over the country! Women in Somalia are resilient peacemakers, 99% of respondents to Conflict Dynamics' survey stated that they had the ability to contribute to conflict resolution and were confident in their peacebuilding efforts. They are ready to rise to the challenge, thanks to your support.
This is the end of the funding for our Hidden Figures project, but not the end of our story. Our Somali Team remains in Mogadishu working with women to address their unique challenges and provide them with the support they need. Throughout the year, our colleagues will be drafting a gender-training manual which will be used to train all members of the district peace committees throughout Somalia. It is crucial to have male allies to support women in peace and conflict management, and Conflict Dynamics will work with men to ensure that they understand the intricacies of gender-based issues within their own communities and how to handle them appropriately. The networks of women peacebuilders will continue to support each other through the unique hurdles they face, continuing to meet on a rotating basis and sharing their experiences in a safe place.
This is the final project report for Hidden Figures but we hope that this is not goodbye. We invite you to visit our website, subscribe to our newsletter, and support our Somali Team or other projects. Thank you for your help and commitment to preventing and resolving conflict and alleviating human suffering!