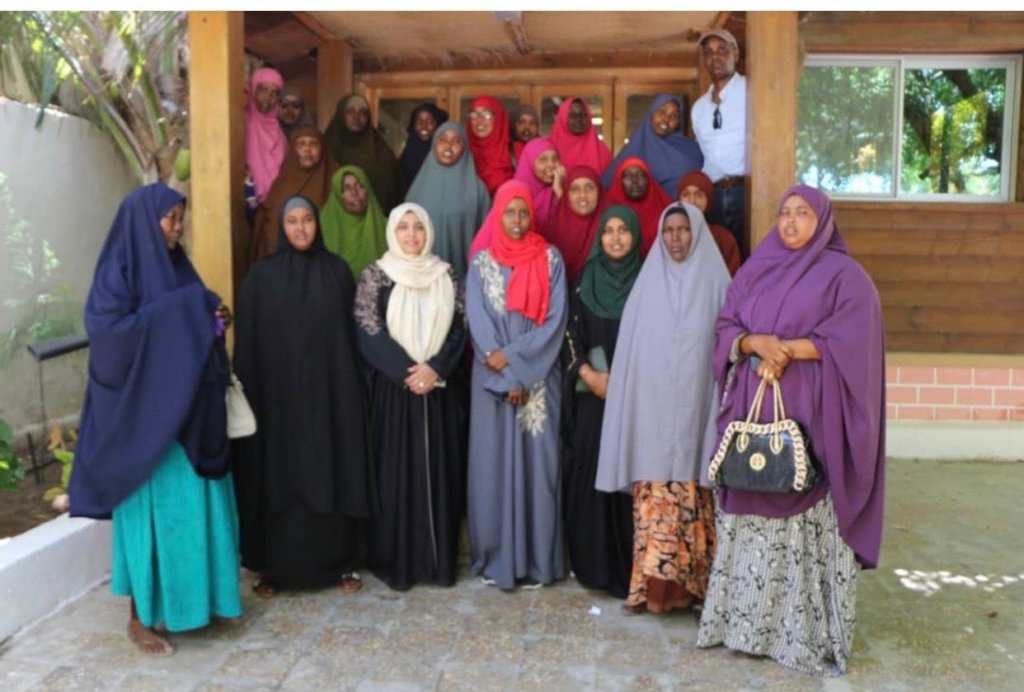 Thank you, Global Giving donors. Your contributions have helped Conflict Dynamics International staff like Rukiya and Hodan (pictured below) travel to Mogadishu to support the training of women members of District Peace Committees with the help of our local partner, the Somalia Youth Development Network (SOYDEN).
Though decades of civil war have damaged many of the city's buildings, Mogadishu is still a beautiful city. In the past, the Mogadishu districts/neighborhoods like Waaberi and Abdiaziz (where our trainings took place) have been isolated. Many people tell us that until recently they had never crossed the city in which they were born or seen its beautiful beaches. The pearl of the Indian Ocean is regaining its luster thanks to the relative peace and calm of recent years and the work of homegrown peace and reconciliation processes.
District Peace Committees (DPCs) play an important role in conflict prevention and management where people live. We ensure that women are included in these peace committees and help them to participate more effectively. There is a lack of strong and effective formal justice and security mechanisms in Somalia. When conflict breaks out, as it often does over land, resources, water, or just daily misunderstandings, Somalis have relied on traditional justice to resolve them. Traditional justice mechanisms have generally excluded women given Somalia's history as a patriarchal society, but this is changing.
Thanks to your support, in the districts where CDI and its partner work, women now represent ONE THIRD of the total number of DPC members and they actively participate in conflict resolution and peacebuilding efforts. Furthermore, in a majority of the peace committees, women occupy leadership positions and serve as chairs, deputy chairs, secretaries, and treasurers. This is because of the training they receive as peace committee members. In these trainings, they learn to better express themselves and also mediation, reconciliation and trauma healing skills. These skills allow them to contribute so valuably to their communities.
During the last three months, twenty three women in four districts [Baardheere, Diinsoor, Waaberi and Abdiaziz] were trained in conflict resolution, trust building, and early warning for conflict. These skills are precious in places where conflicts escalate rapidly. Although the Districts of Baardheere and Dinsoor have been liberated from the brutality of Al Shabaab, the extremist group is never far away. This makes the bravery of the women who join and work in the peace committees so incredible. The women DPC members were also trained on the use of a peace diary to record incidences and monitor response initiatives. The peace diary is a learning and documentation tool that enables peace committee members to record conflict incidences, how members followed up on the conflicts, and success stories. We will be sharing these stories in our next report. The trainings we intend to hold with your support in 2020 will continue to focus on these incredibly brave women and their work in the cities where they live.