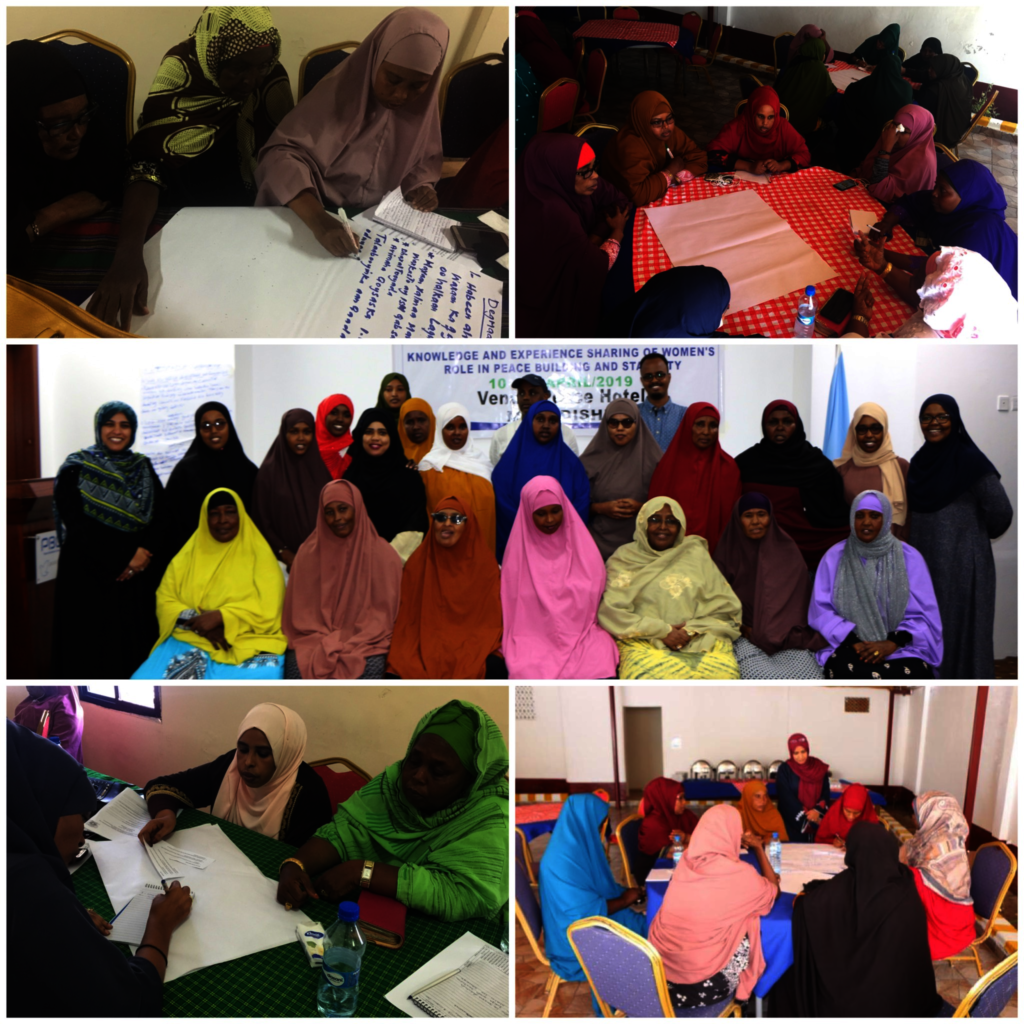 There are hundreds of women working hard in communities throughout Somalia for a safe and peaceful future, but this work is far from easy. Conflict Dynamics, worked along with the Somali Youth Development Network, to gather 123 women from district peace committees, federal parliament (both upper and lower houses), civil society, the health sector, and the security sector together to share their experiences working in peace, to tackle their challenges, celebrate their successes together, and strengthen their personal and professional relationships with each other. The workshops in Banadir, Somalia provided a glimpse into the sacrifices and obstacles that woman peacemakers deal with on a daily basis.
Rahma, Secretary of the Warta Nabada peace committee, works hard every day to solve the issues and conflicts of her community in a peaceful manner. Unfortunately, not everyone is supportive of her admirable work and some do everything they can to prevent comprise while fighting for control and power. Earlier this year, Rahma was tragically injured in an explosion near the office of Warta Nabada district commissioner. Although she is healing slowly and on a long road to recovery, Rahma has not been deterred from her peacebuilding work. She is still an active member in her community and continues to work together with diverse members of her district to come together and resolve their different interests in peace. We are inspired by her determination and strength!
Stories like Rahma's are not rare. A participant of our workshop mentioned a scary experience of hers, "I was held at gunpoint by masked men who asked me to stop engaging in peace work. As a result, I had to give up on DPC [peacebuilding] work for some time. At the end I decided to continue my work, I still get threats. Despite all the threats and risks to our families, we are committed to bring peace and stability to the country". Women are very active in their roles as peacebuilders, driven by the fact that they bear the brunt of conflict through horrible events such as rape, gender-based violence, and the loss of the heads of household. Peace is important to them and must be achieved at all costs.
Whether direct threats against them, lack of security in dangerous parts of the country, or an increase in gender-based violence and crimes committed against women, the Somali women that Conflict Dynamics works with continue to overcome treacherous adversities in search of peace and stability. In order for these women to achieve their goal, Conflict Dynamics, and it local partners, is committed to supporting them where they need assistance just as they remain committed to their peacebuilding work.
Activities like Conflict Dynamics' experience sharing workshop aims to create safe spaces for these strong women leaders from all different walks of life to come together and support each other. Safe spaces also offer women in Somalia an opportunity to build knowledge and exchange vital information by creating important connections with fellow women. Currently, the team is preparing to implement experience sharing workshops with women in four more states including; Hirshabelle, Jubbaland, Puntland, and SouthWest. It is important that women from all over Somalia have the opportunity to come together, share their experiences, and learn from each other's successes and challenges. A strong network of powerful women leaders is the key to effective peacebuilding, Conflict Dynamics will continue to work with women leaders and strengthen their knowledge on priority issues to ensure they have the tools needed to be successful.