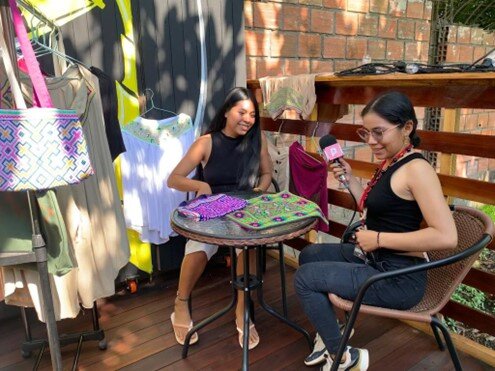 After a well deserved rest, we are starting 2023, hopefully the year the pandemic is over, with much energy and thrilled to start working towards bigger goals. For that, the first step is to renew and give maintenance to our equipment, which has been worn and torn, especially over the intense last months of work.
Over the last months of 2022 - Festival and fair:
We collaborated with other local brands in putting together a fashion show during the Asalto Cultural festival, on its first edition since the beginning of the pandemic. With the aim of promoting the consumption of local products and produce, each outfit was conceptualized on the basis of a distinctively Amazonian fruit or vegetable: it's specific taste, color, smell or texture. Co-organizing this event was a very important source of experience for us.
We also took part in an independent Christmas fair in Lima, where we managed to showcase and sell some of the new accessories and clothing pieces we worked on over the last months of the year. This was an amazing opportunity to make our products known amongst young, fashionable people who also take an interest in knowing how and where what they wear is made.
Jun to Sep 2022 - Empowered Indigenous Woman by Ethical Fashion Markets:
A very talented Shipibo young woman has been coordinating and leading the project. She has inherited from her grandmother her Shipibo name which means Yellow Guacamayo: symbol of hope, solidarity and good energy. Feeling proud of her personal and professional growth, she is a girl with many ambitions in life and is looking forward to see the Kené Néte brand growing successfully, supporting and inspiring other Shipibo girls whom may have the same dream of gain economic independence through Shipibo-Konibo art, straighten and revaluing our culture through ethical fashion.
Her achievements were:
- Focus on the production:
First we were working on the creative concept of the collection with the goal of producing unique pieces of greater value and other pieces of more massive production that can be sold for a lower price. Doing it in this way we ensure that we will have products for a more diverse clientele.
- Collaborative Creation together of a group of artisan mothers:
These shipibo mothers who normally only create the common traditional textiles have now had the opportunity to collaborate with us and create ethnic fashion by embroidering the pieces we design and produce. This practice has enriched us in many ways, not only because it is a powerfull intergenerational exchange where we can grow and learn a lot from each other, but also because they have also been financially compensated for each piece they embroider, generating income for a greater number of Shipibo families.
- Showrooms and Events:
During these months we have been participating in various local showrooms and festivals, for example in the Shipi Fest - a Music and Art Festival organized by a Shipibo Youth Collective, which has allowed us to sell directly our products as well as make our brand more visible by forging alliances with local businesses.
-Marketing strategy:
With the support of some volunteers we are developing a new marketing strategy to position the Kené Néte brand solidly in the Pucallpa's market. Now we have more presence in our social media.
See our work on:
facebook.com/kenenete.shipibofemalecollective
instagram.com/kenenete/
Feb to May 2022 - Reorganization and Reopening of Kene Nete / A New aproach to a post-pandemic reality:
Pandemic hit us hard in Peru. It's been a real challenge and we had to learn how to survive while the world was literally ending. Our cultural knowledge revealed to be our most valuable ally: our plants, our traditional medicine, our ancestors, our environment, our art and our way of living reassured us and showed the rest of the world how important indigenous peoples are.
All eyes are now looking to the Amazon rainforest since saving this environment can be the only hope for saving the rest of the planet. But we cannot save the Earth without protecting the culture of people who know how to live respecting nature, people who are one with nature: those are the indigenous.
In this new approach of Kené Neté, after the pandemic, we set down and spoke (a lot), we reflected, we swam in the river, we drank matecitos (herbal infusion), we walked all over town, we collected herbs, we chewed coca leaves, we went through our old creations, we allowed ourselves to sleep and dream and we asked what do we, as indigenous peoples in general need, what do Shipibo people need and what does the world need.
We came up with the answer that what we are all eager for is healing. People from different parts of the globe come to Pucallpa looking for healing and Shipibo people provide that through traditional medicine, a process that is bonded to art ­— in amerindian societies health and art are pieces of a same indissociable net — and we are also looking to heal ourselves, from all our losses to Covid-19, from all the poverty it left behind, from all the pain it caused.
We have a lot to share. Colors, plants, wisdom, dreams, art. But we hope we can make a decent living out of it, and by that, we can heal people from all over the world. Because what Shipibo people do is healing art: it is a magical process that touches hearts and spreads hope.
Our new products are coming, aligned with this healing speech. Everything in Kené Néte is as greener as possible, as sustainable as possible, as natural as possible. And if we are looking to heal, we need to have the means to sustain ourselves too.
So in this first moment of our new phase we need your help to provide our 3 indigenous women staff a fair payment: one Quechua, who is already a professional and two Shipibo, who are in university right now. Our goal is to progressively enhance staff payment, make Kené Néte grow and later generate more jobs, which are so much needed in Peru.
The production will happen anyway (we have a small funding for materials, manufacturing, workshops, etc) but we need human resources to make the initiative long-term sustainable.
Finally, we want to make a request for solidarity expressing that our goal is to be, in less than 2 years, a solid, recognized and self-sustaining brand for young Shipibo. We would be very grateful if you can be part of this dream by supporting our initiative. Thank you *