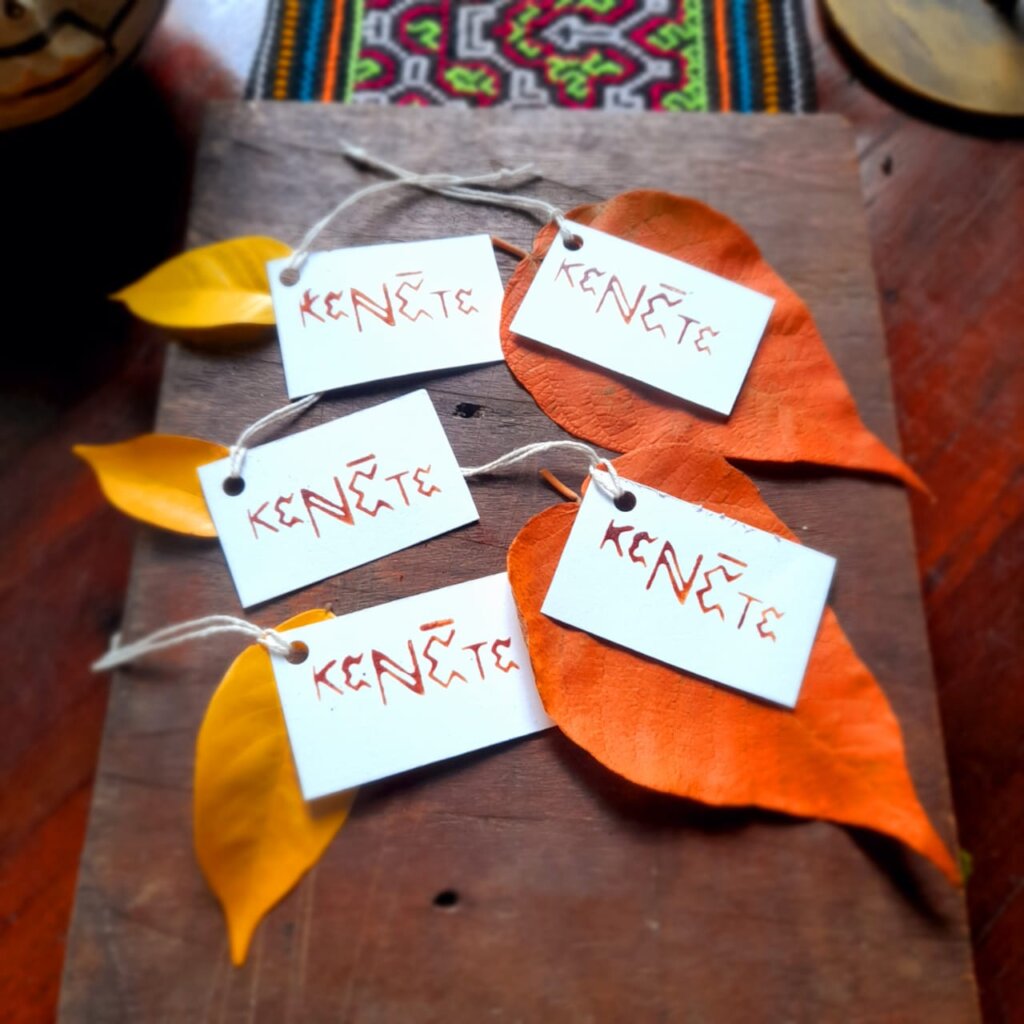 Pandemic hit us hard in Peru. It's been a real challenge and we had to learn how to survive while the world was literally ending. Our cultural knowledge revealed to be our most valuable ally: our plants, our traditional medicine, our ancestors, our environment, our art and our way of living reassured us and showed the rest of the world how important indigenous peoples are.
All eyes are now looking to the Amazon rainforest since saving this environment can be the only hope for saving the rest of the planet. But we cannot save the Earth without protecting the culture of people who know how to live respecting nature, people who are one with nature: those are the indigenous.
In this new approach of Kené Neté, after the pandemic, we set down and spoke (a lot), we reflected, we swam in the river, we drank matecitos (herbal infusion), we walked all over town, we collected herbs, we chewed coca leaves, we went through our old creations, we allowed ourselves to sleep and dream and we asked what do we, as indigenous peoples in general need, what do Shipibo people need and what does the world need.
We came up with the answer that what we are all eager for is healing. People from different parts of the globe come to Pucallpa looking for healing and Shipibo people provide that through traditional medicine, a process that is bonded to art ­— in amerindian societies health and art are pieces of a same indissociable net — and we are also looking to heal ourselves, from all our losses to Covid-19, from all the poverty it left behind, from all the pain it caused.
We have a lot to share. Colors, plants, wisdom, dreams, art. But we hope we can make a decent living out of it, and by that, we can heal people from all over the world. Because what Shipibo people do is healing art: it is a magical process that touches hearts and spreads hope.
Our new products are coming, aligned with this healing speech. Everything in Kené Néte is as greener as possible, as sustainable as possible, as natural as possible. And if we are looking to heal, we need to have the means to sustain ourselves too.
So in this first moment of our new phase we need your help to provide our 3 indigenous women staff a fair payment: one Quechua, who is already a professional and two Shipibo, who are in university right now. Our goal is to progressively enhance staff payment, make Kené Néte grow and later generate more jobs, which are so much needed in Peru.
The production will happen anyway (we have a small funding for materials, manufacturing, workshops, etc) but we need human resources to make the initiative long-term sustainable.
Description of the pictures attached:
Tags we made from reused paper, achiote (Bixa orellana) natural paint, leaves from our garden and raw cotton.
Achiote paint and our logo stamp
Lucía (Quechua) and Eva (Shipibo) working on the tags
Lucía (Quechua) and Eva (Shipibo) working on planning, goals, strategies.