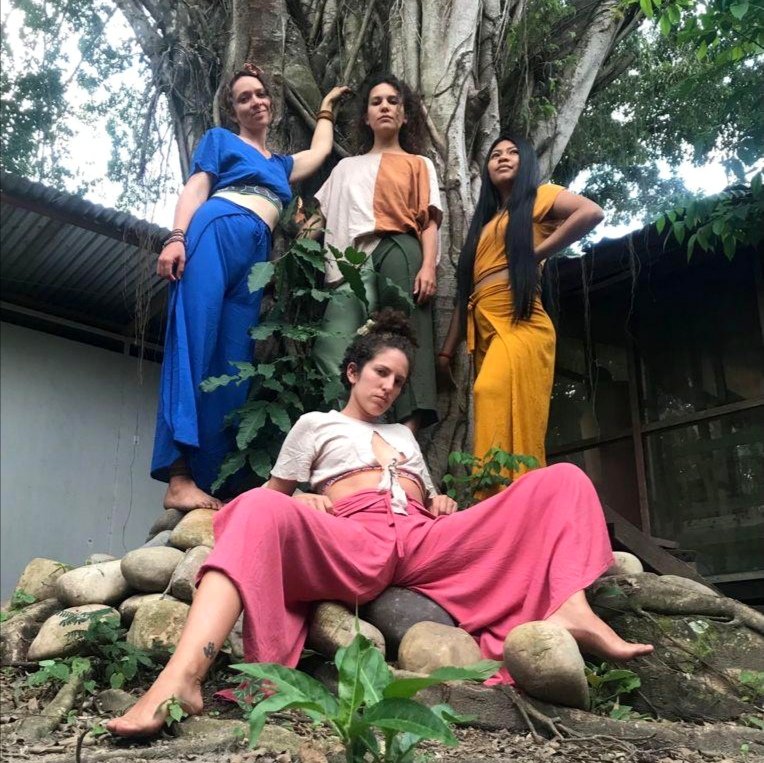 Today, though still facing the difficulties brought by the worldwide Covid-19 pandemic, and approaching what seems to be a third wave for Peru, we are starting to work on the plan we elaborated as our guide to reactivate and keep working up until the end of 2021. Though there are some supplies and materials that are impossible to acquire in Ucayali, we are innovating and working with what we have and can get.
As Kene Nete, a collective of Shipibo-konibo artisans, our main goal as Kene Nete is to have a finished mini collection by the 13th of October, anniversary of the capital of Ucayali, Pucallpa. We plan to be able to show around 10 different outfits, comprised of embroidered, hand painted and screen printed garments, as well as a diverse accessories, all featuring traditional and current interpretations of our ancestral designs: kené. Given the conditions, we hope to showcase this collection in a fashion show as part of the celebrations of the city's anniversary.
We currently are building local connections with independent fairs, as well online resources to be able to sell this collection not only in Pucallpa, but also in different cities in Peru and the world. As soon as we have enough funding, we also plan to engage in formative workshops to better our sewing, dyeing, screen printing and embroidering abilities. This will allow us not only to continue working despite the setbacks we have been facing, but also to better our work, so that we can continue to grow and thus benefit more and more Shipibo youths and their families though the promotion of sustainable fashion and our culture.
Recently, we were invited by the Municipality of Coronel Portillo to participate in the International Folk Art Market in Santa Fe, New Mexico, where our work will be showcased among the production of other indigenous artisans and artists of the province. We have already turned in our best pieces to the office in charge, and are eagerly waiting for upcoming news and results of our presence there.
Hopefully we will soon be able to show all of our supporters the results of our hard work.