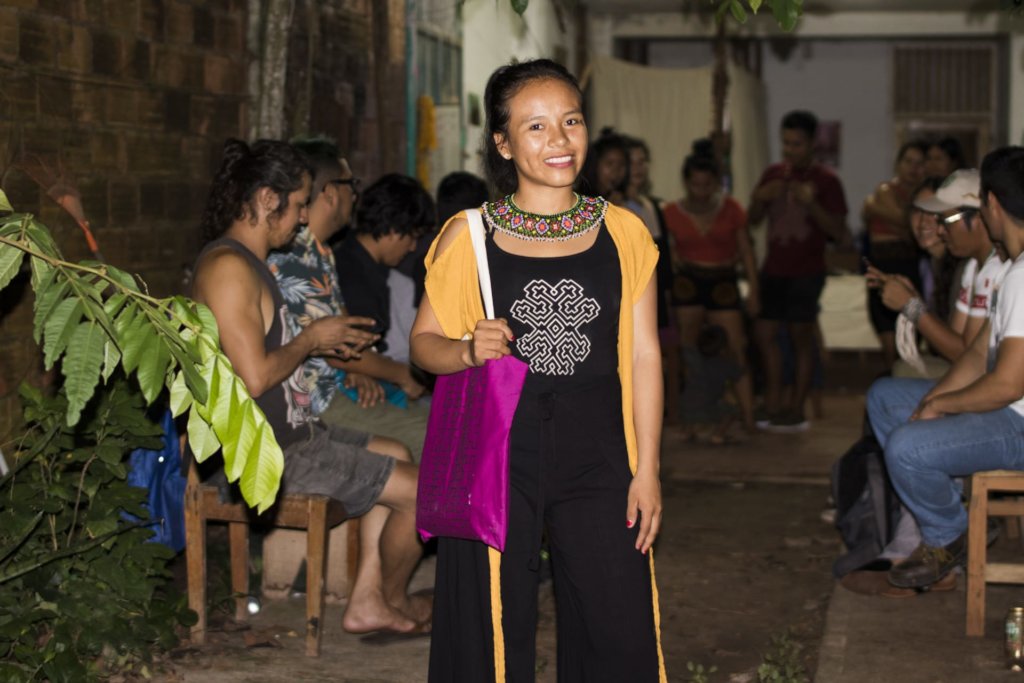 November was a month full of surprises and events! We worked a lot while perfecting the practice and learned new things.
The firsts professionals and originals products were ready: tee-shirts and bags!
The volunteer Camerina proposed a clothing reviving consisting of DIY t-shirt cutting, which demonstrated the transformation of making old clothes into new. The youth enjoyed this free and creative moment: scissors and chalk fought a joyous battle in the workshop!
The group had tried a new print technique: engraving. The principle of this practice is to remove material (wood or linoleum) to make the image appear in negative. Using cutting tools, patience and concentration as a creating requirement, we can apply a thin layer of ink with the help of a roller. We are ready for the final step of the process: gently add pressure to make a precise print.
Then we deepened a bases of sewing, where we learned to make fabric cutting patterns for inclusive unique clothing sizes with a standard of crossing: tee-shirt, kimono and a long skirt.
Two by two worked through troubleshooting how to make, and at the end of two lessons these forms were in the graph paper ready to try in the fabric.
We held three workshops: a workshop of silk screen printing for the Shipibo mothers, and the second we taught the foundation of sewing by making reusable sanitary napkins in the community of Santa Clara. Finally the youth taught 16 Americans students the process for making a natural dye and design workshop. All of these experiences were very beautiful to witness and rewarding for the Shipibo youth.
For closure of the current year, the Shipibo youth were proposed with a one week challenge to prepare a little fashion show : it was time to enforce our knowledge to create a first mini collection. In true fashionista spirit the group headed to the market to purchase fabric, after a preparatory workshop on pattern cutting on skirts, a kimono, shorts, tops, and trousers.
This first fashion show was a huge success and for the youth a first indicator to a promising future as designers.
Step by step this youth project evolves at the same time as the youth.
It's a real pleasure to see this growth in the work as well as in their personalities!
Thank you so much for your role in making dreams a reality.