Project Report

| Sep 12, 2018
"No one will mock me again." Meet Rehema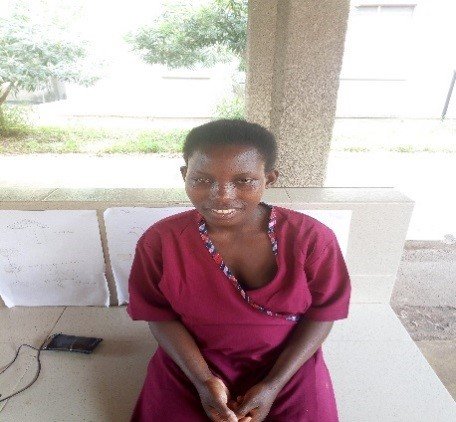 "I was sitting with the other women on a chair when a nurse asked me to wait outside on the grass. She told me to never sit on the clinic chairs, because my fistula will get them dirty."
This is where CCBRT fistula ambassadors first met 23-year-old Rehema.
She was attending a clinic in north-western Tanzania with her 3-month-old baby. Her obstetric fistula, a devastating yet preventable and treatable childbirth injury, had left her chronically incontinent. Leaking urine, a nurse sent this new mother outside to sit on the ground, while other mothers waited on chairs inside, shielded from the East African heat.
Rehema developed fistula while delivering her second child. There was a complication, and she did not have access to high quality emergency maternal healthcare. The good news was that her baby survived the complicated delivery; an estimated 90% of women living with fistula lose their baby during the traumatic birth. In the months that followed, Rehema struggled to live with chronic incontinence and daily stigma and criticism, while also taking care of a newborn.
Our dedicated colleagues presented Rehema with treatment options and assured her that her transportation and treatment at CCBRT could be provided free of charge. They arranged for Rehema to spend a night in a hotel near the bus station so she could easily take the bus to CCBRT early the next morning. That night, when a team member went to check on Rehema, they found her sleeping on the floor with her baby. She had been given adult sanitary underwear so she could travel while leaking, but three months of living with fistula had left a psychological mark. When asked why she was on the floor she replied, "I'm afraid to wet the mattress."
The next day, Rehema and her baby left for Dar es Salaam. A few days later, the fistula team that referred her visited her in CCBRT's fistula ward. She was beaming and was almost a different person than the one they had seen in a hotel room days before.
"I'm so thankful that you referred me here," she told the team. "When I go back home no one will mock me again. Fistula kept me from going to the market, the farm or to [community events like] funerals, but after this treatment I'll be comfortable mingling with other people. I really thank CCBRT for this help; I could not have afforded this treatment on my own."
Rehema's story is one of hundreds that we see each year. Without you, our donors and partners, we could not help women like Rehema. Without you, we could not make the necessary investments in strengthening maternal and newborn healthcare in Tanzania to prevent more women from developing obstetric fistula in the first place. Your generous donations change lives every day. Thank you.
We won't stop until we've eradicated fistula in Tanzania. Join us on this journey. At midnight (ET) on Wednesday, September 12th, our partners at GlobalGiving will launch a Global Bonus Day, running for 33 hours to accommodate time zones. Donations up to $1,500 per unique donor will help us earn a portion of the $50,000 Incentive Fund. Your donation will help unlock funds from 12:00am ET on Wednesday, September 12th until 8:59am ET on Thursday, September 13th. Your donation means we can reach more women like Rehema with the care they need, and ensure more women don't experience the pain that Rehema endured.
Asante sana (thank you very much) for your support.
Abbey Kocan
P.S., Check out Kupona's 2017 Annual Report to read more stories of the lives you have changed!