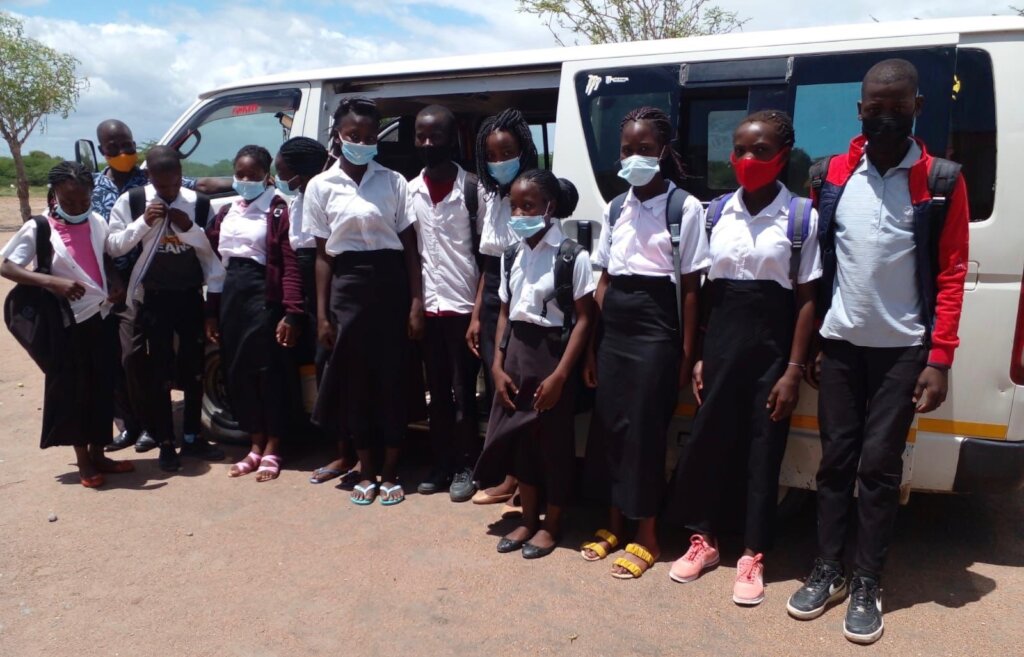 Our girls school bus program has become a reality!
Logistics
Thanks to your support, we launched the first two school buses in February 2022, serving rural students from six primary schools. We hired two existing transporters (minivans and drivers), one to cover four primary schools (relatively smaller schools) and one to cover two primary schools (relatively larger). MSLI pays each bus driver $12.60 per student per month – a very cost-effective solution! The buses make multiple trips every day in order to transport all of the students. The students also continue to benefit from our school lunch program, receiving a hot lunch at their local primary school, which also serves as the pick-up and drop-off point for the buses.
Impacts
To date, this project has already succeeded in more than doubling the share of students transitioning to eight grade in the target rural communities. Of these students who enrolled in eighth grade in 2022, 89% of the students from Chate and 69% of the students from Cumba are using our free school buses! Furthermore, many students who had dropped out of secondary school have reenrolled thanks to the school buses. In addition to the 46 eighth grade students who passed seventh grade in 2021, we are also transporting 45 eighth graders from other years (who had previously been out of school), 28 ninth graders, 19 tenth graders, and one eleventh grader. In the coming years, we expect the school bus to greatly contribute to secondary school retention and completion rates by making it easier for students, especially girls, to go to school. In total, almost two-thirds of the students using our school buses this year are girls!
Mentorship
In addition to the school buses, in April 2022, we started a mentorship program to support the girls going to high school. Each village has a "girls club", which meets every week with our coach who works directly with the girls to motivate them and help them navigate the challenges of adolescence and high school. Since most of these girls are the first in their families to go to high school, having a good role model they can turn to for support and advice can make a big difference in keeping them in school. We will continue to provide more updates on this aspect of our program as the months go on.
You have made a difference
Your donations have directly contributed to making the dream of a high school education a reality for these girls. Thank you for your support!