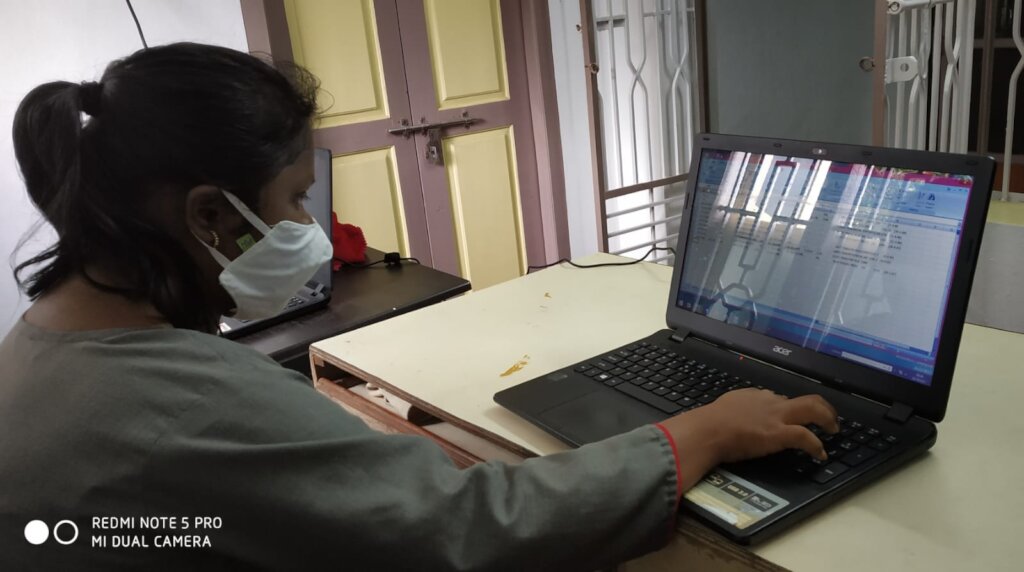 AMBA is an Ashoka Fellow driven Social Enterprise, a registered Trust since 2004.

AMBA REGISTRATION DETAILS:
80G Registration Number: DIT(E)BLR/80G/158/AABTA4764G/ITO(E)-1/Vol2011-2012
12A Registration: DIT(E)/12A/Vol.IV/A-1021/W-1/05-06
FCRA Registration: 094421635 (SBI Accounts opened in Delhi as per the new requirements of GOI)
Trust Deed: GAN-4-00068-2004-05
Registration under Ministry of Corporate Affairs to enable CSR Partnerships: CSR00001671
AMBA over the last 18+ years has built collaborations with Special Institutions, has set up 475 hubs for Alternate Learning leading to Employment for adults with moderate to severe intellectual disability across 25 states in India. 80% are from Rural India. 37% of our work force are now women.

AMBA curriculum with Copyright© status Pan India, is adaptive, visual and functional using the computer as a tool to enable back end services, meeting Service Level Agreement ((SLA) of the Client. The process of fine tuning the curriculum, has evolved so many one of its kind processes, that have added huge value, to indirectly mainstreaming this community.

Challenges with work post Global Automation is still a struggle and we invite Individuals and Private Sector Organisations from India and Overseas to come forward to help us generate more opportunities of work to match the scale of Training. In the Financial Year 2019-20, 105 ACPCs (AMBA Certified Partner Centres) are scheduled to start Live work. 83 ACPC's from Rural India where bringing employment in general is challenging.

AMBA has leveraged Technology to enable Alternate Learning and Employment to adults with moderate to severe intellectual disabilities pan India. It took us 12 years to develop and fine tune the AMBA 'Copyrighted' Curriculum within 31 pilots, using Peer Driven Processes. This resulted in functional usage of the computer to outflow accurate data processing, meeting service level agreements of the client.

The cost per beneficiary is just Rs. 30,000/- all the way into work to include the laptop, training and monitoring using ICT and physically visiting and abetting progress.

Better internet connectivity to 80% of the AMBA partnerships in small towns and villages to abet productivity. Dongles are core productive than wired connectivity in most places Back end jobs from the Telecommunications, Banking, Passport, Insurance sectors to the AMBA Core Center in Bangalore to route work to the AMBA Certified Partnerships across India.

AMBA's GOALS:
1) To revive 3 stage training using remote access software for the ACPCs for FY 2022-23.
2) To revive simulation and live work training to prepare the ACPCs to go into live work tentatively in the FY 2023-24/25
3) To continue developing business to meet the above requirement
AMBA's KEY ACHIEVEMENTS IN FY 2020-21:
At the onset of Corona Virus, AMBA strategy meetings with Core staff derived solution for beneficiary-community to stay connected with their core competence and deliver excellence from home. Therefore, from working within supervised environments they were guided/trained to work from Home, training/monitoring using remote access software and WhatsApp.
Despite disastrous closing of ACPCs, Team AMBA has been productive throughout the Pandemic, reaching out successfully to enable productive work training to 756 beneficiaries within 60% of 63 ACPCs who are now ready to start Live work.
AMBA signed the contracted Agreement with Bombay Stock Exchange (BSE) to start the first phase of Live work, data processing Bhav Equity forms for the years 1990, 1989 & 1988. Again to keep in parallel with mainstream thinking and execution AMBA is executing the data processing in partnership with an AI Data processing organisation, with the QC and final insert of required logic executed by our Peers at the AMBA Core Centre. In the second phase 756 beneficiaries from 63 ACPCs already trained will be given the opportunity to do the same work to become contributing members of their Home and Society. For enabling QC and Logic using peers, AMBA has with the help of volunteers under the Leadership of AMBA Director Technology evolved an appropriate software to initially do the QC and thereafter the software on submit automatically inserts the Logic required by BSE.
Behaviour challenges at Home are resolved by keeping beneficiaries occupied doing AMBA Training for most of the day, 5 days in the week. Team AMBA connects with groups using WhatsApp Video calls to keep their spirits up!
Team AMBA has started to evolve a New Virtual curriculum to complete training for the 412 closed ACPCs in a much shorter period of time and from Home if necessary. The ACC when it gets a small reprieve from the Pandemic will complete development of the Virtual Curriculum.

SOCIAL IMPACT:
The impact is multi-fold:
1)A. So far : Regular people feel privileged to be part of the IT World therefore the Impact on our beneficiaries is huge. They love that they are now part of the IT World also.
B. Current : Socially integrated and working from home.
2) A. So Far : The parents and siblings now feel extremely proud of their huge achievements and stop calling them the labels society has given them. They call them data operators.
B.Current: Working from home with the help of parents supervised by the Mainstream and Peer trainers from ACC.
3) A. So Far : The stigma that follows the family due to the beneficiary disrupt is completely eradicated. Society now looks at them differently and gives them the dignity and respect they deserve.
B. Current: Families and society at large have a higher regards since this community has aligned with and integrated with mainstream nuances of training and working from home.
4) A. So Far : The beneficiary is no more a drain on the family and is now a contributor to their home and society.
B. Current: BSE First phase completed using ACC.
5) A. So Far : The ACPC is also now hugely empowered and draws much more support from the community around their vicinity (no ACPC has come back to AMBA for support in scale).
B. Current : The situation has changed completely as all 475 ACPCs close down during the pandemic, having acute difficulty finding CSR partners.
6) A. So Far : Funding and Business Partners see themselves in a Win-Win situation because of all of the above.
B. Current : ACPCs having trouble finding funding partners. ACC has so far successfully found CSR partners for the first 63 ACPCs holistically with Technology, Training, Monitoring and Monetary requirements.
7) A. So Far : AMBA has been recognised and validated by the UNHQ and Ashoka Innovators for the Public for generating a Curriculum appropriate for Adults with Moderate to Severe Intellectual Disability which has opened opportunity of work for this community Globally using the Computer and Peer Driven Processes.
B. Current : Limited contact with the outside agencies like UNHQ during pandemic as AMBA's focus was to meet the necessary changes and requirements to survive the Pandemic, successfully!
8) A. So Far : AMBA has spoken nationally and internationally at Events in India, UNHQ NYC; Out Reach Programme at the university of Oklahoma, CONGO Conference in Korea; Global Citizen International Invited the AMBA share the same with their community in Geon sang in Korea.
B. Current : All interaction have been done online during the Pandemic
Beneficiaries are now truly integrated with the mainstream, working in parallel from home. Enabling work immediately eradicates the 'stigma' attached to this community
AMBA also invites similar partnerships for Funding to AMBA Core Center for the next three financial Years 2022-2025. Approximately summing up to INR 10 crores…to abet our ACPCs in scale.
ACCOLADES: AMBA has been endorsed locally, nationally and internationally for the AMBA Concept and the employment it has and can generate. However, in the big picture, this is a small beginning, with miles to go...
Rotary Club of Bangalore McIver Award, Bangalore, 2020 (Peer Recipient - Winner)
Ms. Sugandha Sukrutaraj Senior Citizen Entrepreneur Award 2020 – Runner-up
CII Woman Exemplar 2017 (Peer Recipient Runner - Up)
CII Woman's Exemplar Award 2013 for Education (Peer Recipient - Winner)
AMBA - Digital India Award in the category 'Good for India-Digital Innovation in Skills and Employment solutions'
AMBA - The Collaboration between Oklahoma University, UNHQ & AMBA to take AMBA Global (beginning 2017-18)
AMBA - Best NGO-KARNATAKA –2016
AMBA - Empanelled under United Nations Development Program (UNDP)
AMBA -Associate Member, CoNGO (The Conference of NGO's in Consultative Relationship with the United Nations).
Helen Keller Award 2016 (Peer Recipient);
AMBA - Helen Keller Awards 2015
AMBA -Global Sourcing Council 3S Awards under Impact Sourcing category presented at the United Nations Headquarters, New York.
AMBA - NIMHANS Felicitation
AMBA - DeRozio Award 2007
Ashoka Fellowship 2007

A residential solution in the parents' lifetime. We really need support to enable scale in continuity, to enable a movement to ensure scale even beyond us:

The Social impact in giving them the dignity of becoming contributors to their home and Society is amazing to witness.

Now more than ever, we need you to put your faith in AMBA.