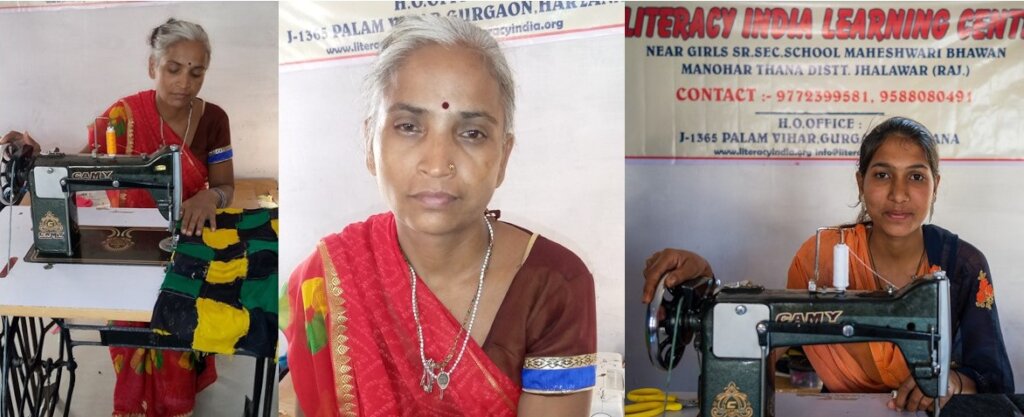 Project Karigari – provides youth & women with livelihood options through various vocational training in the areas, based on beneficiaries' preferences and aptitude. Under Karigari 150,000 youth and women have been trained during year across India. Literacy India has turned 25 this year and since inception our primary beneficiaries have been Girl Child, Young Girls and Women. Scores of Successes in gender equality has been due to overwhelming response from them. United Nation`s SDG 2030 Treaty wherein 17 nations including India signing up in later years confirmed our work in this area before SDG came in force. However recent setback due to Pandemic demands aggressive work in creating livelihood options specially for Youth and Women. We firmly believe that if we "Empower one Women we help not only her Family which includes health and education of her children we in turn empower the entire community".
Our Karigari Program helps to improve the status of Women / Youth in the society by providing them with livelihood opportunities through vocational training in the areas based on beneficiaries' preferences and aptitude.
Computer literacy offered at our centres allows beneficiaries to build careers in IT related fields like BPO Centres, Data Processing Units and lately in UID centres etc. especially in the cities like Delhi, Gurgaon & Kolkata, hence creating entrepreneurs.
Stitching & dress making, Embroidery, Beauty & wellness, Block Printing, Tie & Die, electrical Training, Mobile Repairing & Computer Hardware etc enables beneficiaries to get employment in the garment industry or set up their own stitching and tailoring units.
Vocational training in driving encourages beneficiaries to build careers as drivers in the automobile, transport and travel industry or seek self-employment as professional drivers.
Community based skills like kitchen gardening, Goat Rearing and organic farming empowers people to sustain themselves in their community.
The opportunities created in the following manner:
Step 1: Conducted survey of the area and identified beneficiaries
Step 2: Assessed the skills/ trainings that would benefit them most
Step 3: Set up and installation of equipment and machines
Step 4: Invited beneficiaries for an orientation session
Step 5: Regular ongoing training till completion of the program as per the module
Step 6: Workshop on business development and motivational sessions
Step 7: Support to set up business models and provide ongoing support to sustain the business
Step 8: Assistance for Job placement
Name : Pooja Bai( Name Changed) Rajasthan Age : 46
In a country dominated by patriarchy and age-old customs, Pooja Bai is breaking the rules and charting her own path towards financial independence. A few years ago, Pooja left her husband and moved back to her father's home with her two children. Her action was motivated by the safety and well-being of herself and her children. But this bold move had no improvement in her life. Pooja's father lives in Manoharthana village in Rajasthan. As a daily wage labourer, his economic condition is poor and he struggles to make his ends meet. The arrival of his daughter and her sons only further increased the dire condition of the household.
To improve their living conditions, Pooja completed a course with Literacy India and started working as an Indha artisan. She was trained in patch-making and stitching to help her get financially stable.
But the arrival of COVID-19 changed the circumstances of many families, including Pooja's. Rising cases and extended country-wide lockdowns left daily wage earners helpless and pushed them further to poverty. With her newfound skills and knowledge, Pooja started stitching masks, ladies' suits, blouses, and petticoats for local customers. Literacy India provided her with a sewing machine to carry on her work without any hindrances. As a result, Pooja successfully managed to support her family by earning INR 2500-3500 in a month during the lockdown. Her resilience to learn and grow, irrespective of her age, is commendable.
Links: