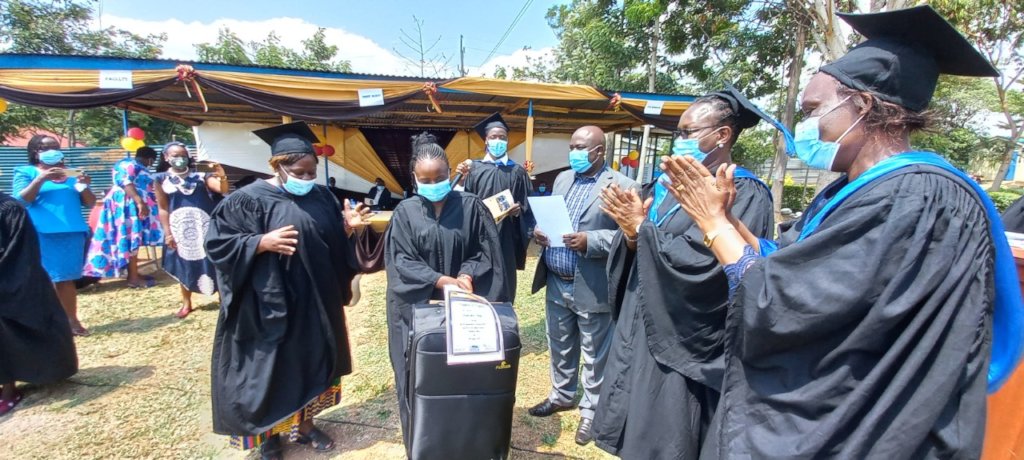 If you were standing at the gates of WISER just a few weeks ago, you may have spotted several students leaving campus with brand-new suitcases. Dressed in graduation robes, surrounded by just a few family members, all sporting face masks, you may have guessed that they were carrying home a few last textbooks or uniforms.
You may not have realized that those suitcases are empty. And the fact that a WISER girl is carrying one is proof-positive that, provided the resources they need, girls can accomplish what might seem impossible.
WISER's 2020 Graduating Class had the beginning of their final school year in 2020 cut short by the COVID-19 pandemic. They participated in distance-learning, completing assignments on their phones and communicating with teachers via WhatsApp, while also caring for family members and coping with the economic and psychosocial implications of COVID-19 lockdowns in rural Kenya. They came back to campus and took their final exams with brand-new physical distancing, masking, hand-washing, and student interaction policies in place, with the ever-present possibility of renewed COVID-19 lockdown.
And their scores were some of the best in WISER's history.
In a year of almost unimaginable upheaval, 100% of WISER students not only passed their exams: every single student in the Class of 2020 has been accepted into a tertiary education program. WISER students were more than twice as likely to be accepted to university than any other student in Kenya. They continued to excel in STEM subjects, including the brand-new subject of Computer Science. They are going on to study engineering, agriculture, social work, mathematics, communications, hairdressing, and more.
So why the suitcases?
WISER has a graduation tradition of giving luggage to high-scoring students so that they can pack for college. Before WISER existed, the chance of a girl graduating secondary school and going on to college or university was slim to none. This year, student after student left campus with suitcases in toe.
The suitcases were empty, but they won't be for long. And you may not have been able to see through their face masks, but these WISER girls are smiling. These girls represent something WISER has known for a long time. Given the resources that they need, students can succeed. WISER girls have overcome gender-based violence, material poverty, and, now, a global pandemic, and have gone on to pursue their dreams. This is possible because of their immeasurable resilience and courage, and because they have partners like you.
When you give to WISER, you are providing the key to unlocking students' potential. You are providing the resources that WISER students need: from textbooks to teachers, menstrual hygiene products to face masks, nutritious meals to comfortable (socially-distanced) dormitories.
Just two weeks ago, Migori County officials who inspected WISER and surrounding schools shared that WISER was the best example they had seen of effective COVID-19 prevention, and that it will serve as a model for schools going forward. It simply would not be possible to have implemented our COVID-19 strategy without the funds we raise on GlobalGiving because of supporters like you. The Class of 2020 could safely return to school thanks to your generosity. And when they did, they excelled. With their needs met, WISER students can do anything they set their minds to. Even the (almost) impossible.