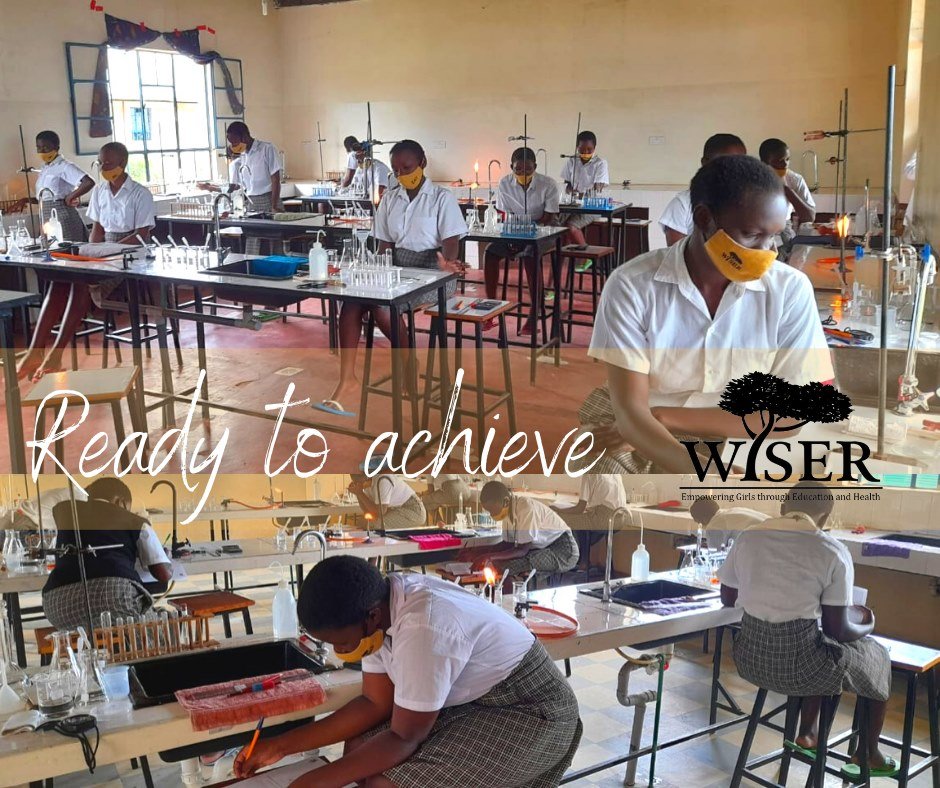 Spring has sprung at WISER!
We are deeply grateful to report that as of April 25th, WISER completed it's first full term with our entire student population since COVID-19 forced the shutdown of our campus over a year ago. As mandated by the Kenyan Ministry of Education, our full population of students returned in January 2021 as part of an ambitious re-introduction schedule that staggers campus time for new and returning students to get back to a normal calendar year school year in 2023.
While WISER did not have control over the government decision to return students to school, we did have agency over how our students returned, and are proud to report that we have done so without any staff or students needing to be isolated or treated for COVID-19 symptoms. We are incredibly fortunate to have renowned infectious disease researchers, public health and public administration officials, engineers, Kenyan Red Cross leaders, and more on our board and staff to help us safely navigate this new challenge. We have utilized every single resource available to us to ensure that our students, faculty, and staff are healthy and safe, including:
1) Continuing our successful "learning pod" structure - Each grade level is split into two to three "learning pods," meaning that students eat, sleep, learn, and spend leisure time with the same small group of students. This design allows students as normal a school experience as possible–providing continued interaction with peers–and also provides a structure for contact tracing among students and staff should needs arise.
2) Universal masking and hand washing and sanitizing stations - Everyone on WISER's campus is required to wear a mask at all times, other than sleeping and eating, and all students and staff are provided with enough masks for a daily rotation. Additionally, there are hand washing and sanitizing stations at the entrance to every classroom and indoor space.
3) Physically-distanced dining, learning, and sleeping accommodations - Our campus has been redesigned to allow students and staff at least six feet of distance from one another at all times. Our multipurpose/dining hall has transitioned to a dormitory with spaced-out bunks, and many meals, assemblies, and meetings are taking place outside whenever possible. Our classrooms are already designed for maximum airflow to prevent other airborne diseases such as tuberculosis–and we've taken physical distancing one step further to keep our students and staff safe. And our dedicated teachers have transformed their own staff room into classroom space to support these efforts.
4) COVID-19 safety trainings and response teams - All students, faculty, and support staff received a comprehensive COVID-19 training before beginning to learn and live on campus again. WISER has also begun implementing COVID-19 response teams, one comprising 19 students and one comprising 7 teaching and support staff members, which are tasked with monitoring physical distancing, hand washing, masking, and other safety precautions among their peers. This peer-to-peer accountability structure ensures that each of WISER's COVID-19 protocols are being followed.
5) Temperature monitoring and quarantine/hospitalization plans - In close partnership with the local medical clinic, WISER has implemented a symptom monitoring system that includes daily temperature screenings for students and staff and screenings at the gate for the few visitors to campus. WISER also has created spaces for quarantining on campus should needs arise, as well as comprehensive plans for supporting students and staff with safe travel to the clinic or hospital for COVID-19 treatment.
6) Setting an example for Vaccine uptake - like in many places, there is a great deal of misinformation about the COVID-19 vaccines, which has led to hesitancy to "get the jab." We are fortunate to work closely with the local health clinic who received a stock of vaccines for educators and other frontline workers, and in true WISER fashion, our fearless leader Principal Dorcas was one of the first in line. She shared photos of her vaccine experience, and has worked tirelessly to urge all WISER teachers to follow her example. We are proud to report that our educators are following suit, and most importantly, all of our elder and vulnerable teachers have gotten at least their first dose.
As a result of these measures, not only have our students and staff remained healthy, but they have been able to get back to what they do best: living, learning, and being WISER! We look forward to celebrating the indomitable class of 2020 who recently completed their incredibly challenging and competitive national exams after over a year of disruption. We expect the results of these exams - that determine eligibility and funding for tertiary education - in the coming week. As always, we are in awe of their tenacity and resilience. They truly embody the charge for which WISER was founded: to remove barriers and provide opportunities for the hardest to reach girls to overcome the challenges they face and reach their full potential.
We look forward to what the next few months hold, and we are grateful that you are a part of the WISER family!