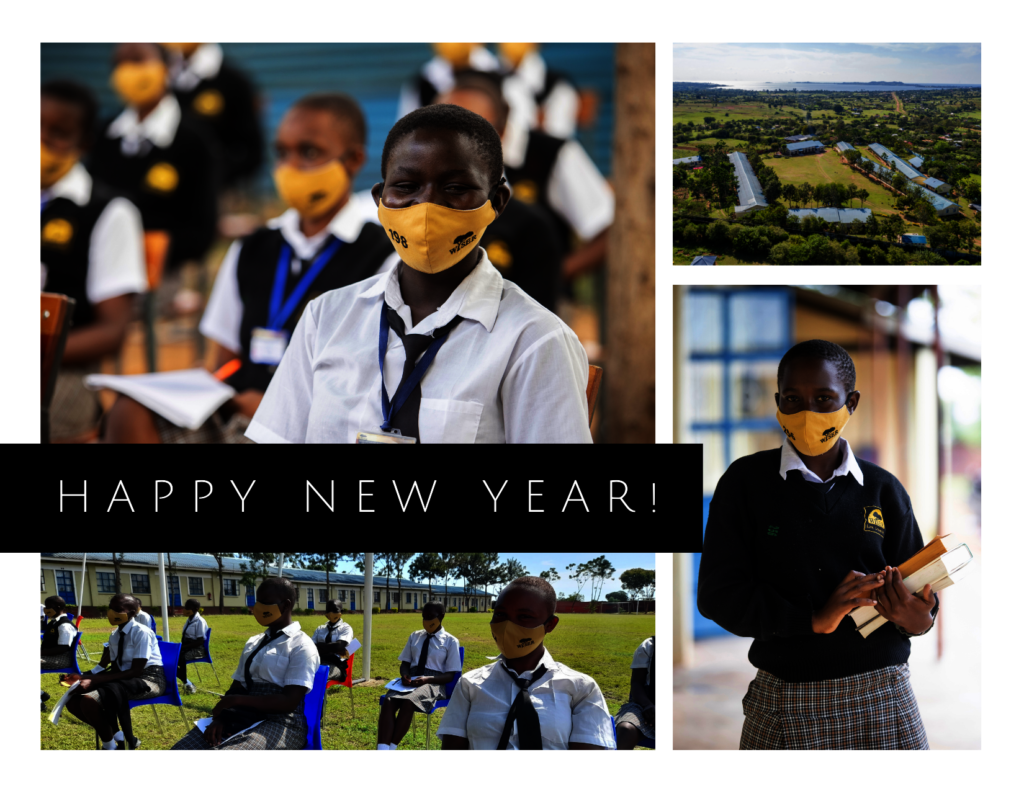 Happy New Year!
We at WISER are grateful to welcome 2021 and the hope it brings for ending the COVID-19 crisis. We are also grateful that, despite the fact that we would not have chosen to do so without government mandate, we are preparing to welcome back all 240 students as early as next week.
As we have reported to you, Kenyan schools have been closed since March. Since then, WISER has continued to support our students with a robust distance-engagement plan that included over 28,000 pounds in monthly relief packages, continued psychosocial support, regular wellness visits, and remote learning which nearly 90% of our students successfully engaged in. In October, Form Fours - or Seniors - were directed back to campus by the Ministry of Education, and WISER was able to safely welcome them with additional handwashing stations, twice-daily temperature checks, COVID-19 hygiene and safety training, a "pod" learning and living model to decrease potential spread of the virus, and a clear quarantine and healthcare protocol. Although Kenya does not have sufficient tests to screen for the virus asymptomatically, there have thankfully been no indications of COVID-19 on campus. This month, the Ministry of Education is launching its school re-opening plan that aims to recoup the 2020 school year by slowly reintroducing and then staggering campus time for all students.
As always, WISER has put the health and safety of our students first, re-configuring the campus to allow for safe distancing while students receive the basic necessities, education, psychosocial support, and healthcare we are known for. The cafeteria has been transformed into a dormitory, and a breezeway has been built to allow students to access washrooms without having to go outside. Temporary structures have been built to allow more classroom space, and the teachers have given up their own staff room to this cause. Temperature checks, masking, and handwashing continue successfully.
While we cannot know what is next, we are confident that we are far exceeding Kenya health and safety recommendations with the support of our wide network of infectious disease specialists and global health practitioners. As we invest in ensuring a smooth re-opening, we are also looking toward challenges ahead. The re-introduction schedule that launched this month includes prolonged breaks from school for some classes as new students are staggered in. These breaks away from campus will present similar challenges that students have faced throughout the pandemic, including food insecurity, poverty, pressure to marry or engage in transactional sex to support themselves and their families, and heightened risk of diseases including COVID-19 along with other endemic illnesses. These disruptions risk generational impacts on the status, success, and independence of women and girls in Muhuru Bay.
One result is staggering new rates of adolescent pregnancy - in one peer school, nearly 90% of girls became pregnant during lockdown. While WISER students are showing a pregnancy rate of under 5% thanks to our comprehensive and affirming SRH training and peer-education programming, we understand that the threat is not yet passed. Additionally, most schools in Kenya will turn girls away who have become pregnant, disrupting or ending their education and destabilizing their lives just when they need support the most. WISER has always committed to supporting young mothers with healthcare and the ability to finish their education, and we are preparing to provide this care potentially at higher rates as girls return to campus.
WISER is grateful for the support of our GlobalGiving family that allows us to respond flexibly and comprehensively to the underlying and emerging needs of our students and our community during this crisis. Thank you for investing in WISER, and we wish you and yours a peaceful and joyful new year!