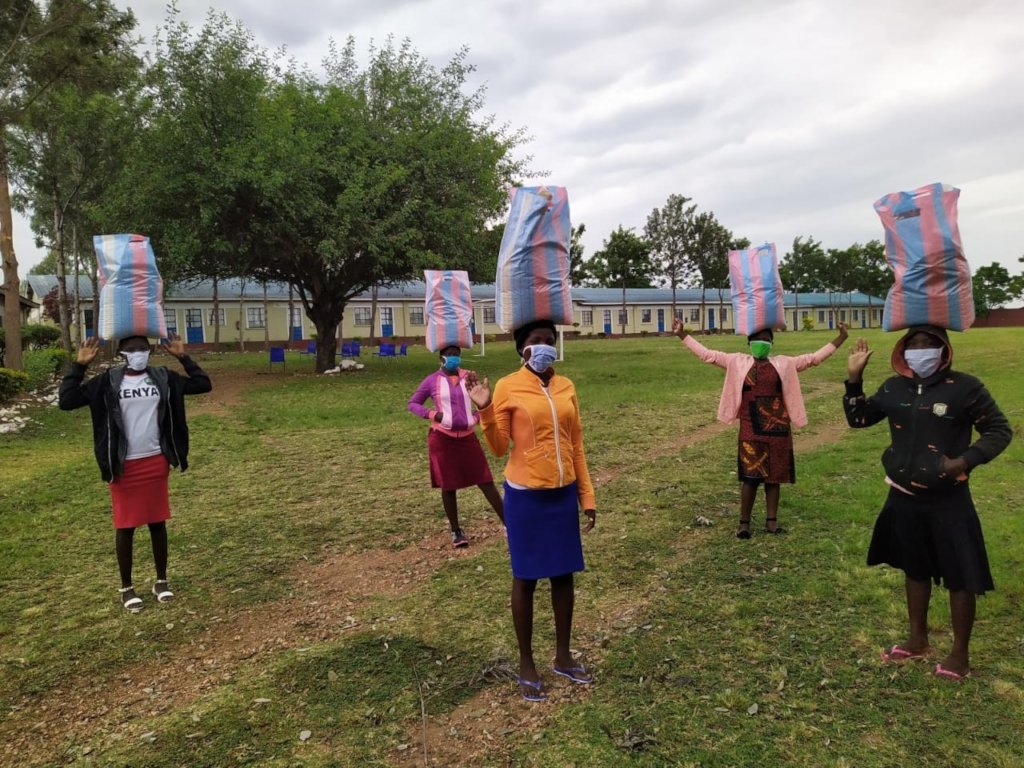 When communities around the globe began shutting down this spring in an effort to stop the spread of the novel coronavirus, WISER sprang into action. Closures of schools, nonessential businesses, markets, and borders immediately exacerbated existing inequities--of access to food, employment, healthcare, and other vital resources--in Muhuru Bay and all over the world.
So WISER got to work.
With the help of WISER's global network of support, our community was able to raise enough funds to provide over 20 pounds of nonperishable food items and soap to every WISER girl who needs them--and their families. WISER was also able to continue employing faculty and staff at full capacity, despite widespread layoffs across the country.
But WISER's support for girls didn't stop there--and it won't stop now. On July 7th, 2020, President Uhuru Kenyatta announced that Kenyan schools would remain closed until January of 2021. Across Kenya and across the globe, long-term school closures are leading to more girls having to engage in transactional sex in exchange for essential resources, or having to marry early to create economic opportunities for their families. One community in Kenya reported over 400 girls becoming pregnant over the course of the pandemic shutdowns.
With little end in sight to this global pandemic, food insecurity, healthcare disparities, and gender violence are going to continue limiting the life chances of girls across the world. Short-term relief efforts are not enough; nor is it enough simply to provide students with distance-learning options without support in meeting their basic needs.
That's why WISER has developed thorough, sustainable, and long-term support programs for our students.
We've continued to distribute essential supplies--over 600 packages, or 6 metric tonnes, so far. Students receive cost-free, socially-distanced transportation to campus for relief package distribution, which include mandatory mask-wearing and temperature checks. WISER faculty and staff also conduct regular wellness checks outside students' homes for students, and coordinate cost-free medical care as needed. These safe, regular, face-to-face interactions are vital in maintaining the wellbeing of our students. WISER has continued to maintain its regular under-18 pregnancy rate of less than 3%, and that is in no small part thanks to the continued support of WISER staff and faculty.
WISER has committed to continuing to employ our creative, resilient faculty and staff, as well as our alumni interns. At the request of our ever-dedicated students, WISER faculty and interns have successfully transitioned to distance learning--and we're currently the only educational program in the area to do so. Despite challenges across Muhuru Bay, at least 90% of our students are actively engaging in distance learning. This distance-based academic work entails more than just assignments and content review, as our teachers serve as a reliable source of mentorship and comfort throughout this turbulent time.
The fact that almost all of WISER's students are continuing to learn and to thrive is a testament not only to their remarkable determination. It's also a testament to the fact that WISER's support efforts have kept them as safe, fed, and supported as possible in a time of insecurity, fear, and upheaval.
That support is critical, and it will only become more critical as the pandemic and its effects continue to wreak havoc across the globe. We are only able to support our students because of the support we receive through GlobalGiving. We could not be more grateful.