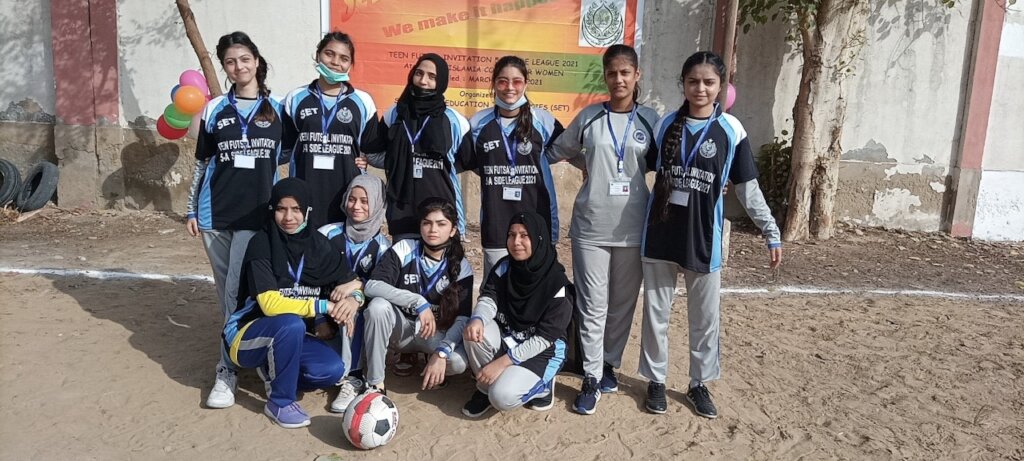 Girls playing sports is not just about winning gold medals. It is about self-esteem, learning to compete, realising how hard you have to work to achieve your goals.
At Khadija Girls College, the students are equally interested in sports and other extracurricular activities. Due to the ongoing pandemic and limited academic period, colleges were instructed by the Ministry of education to restrict their extracurricular activities. Here is a short update of some extracurricular competitions our girls took part in.
1st Position in Qirat Competition
Last year our student secured the 1st Position in the Qirat (Recitation of Holy Quran in a beautiful voice) competition organised by Government College Korangi No 4.
Semi-Finalists in Inter-College Football Tournament
Our college participated in the Inter-college football tournament. We played against eight teams and managed to reach the semi-finals.
3rd Position in Inter-College Song Competition
Another one of our brilliant students won 3rd Position in the Inter-college song competition held at Abdullah College.
1st Position in Inter-College Poster Competition on Global Warming
Fatmiyah College organised an Inter-college poster competition on "Global Warming, pollution and other environmental issues", where KGC won 1st Position and brought home a trophy and a laptop.
In previous years, before the pandemic, Khadija Girls College has conducted annual student weeks during which cricket and football tournaments, quiz and debate competitions, cooking, painting, card making, Qirat, singing contests and other sports activities were conducted. We are committed to continuing these extracurricular activities as a platform for student development.