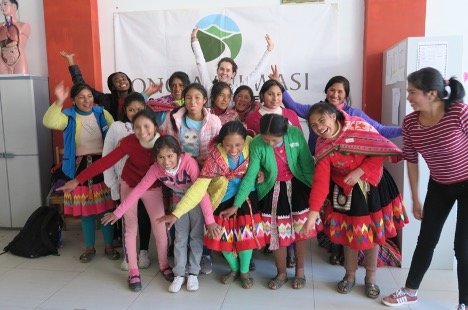 March 15th, 2020, nine days after Peru's first confirmed case of COVID-19, the Peruvian government sprang into action, swiftly implementing a comprehensive country-wide quarantine. As of now, Peru's quarantine will last until June 30th. During this time, the SVH office is closed and training programs are paused. As staff work independently from home, the evaluation of the Adolescent Girls Empowerment Initiative has been completed. Our evaluations have shown how much the participants learned, the personal impact, and how we did planning and implementing the pilot.
With each training, the participants did a pre- and post- knowledge quiz. The average rate of knowledge gain over the pilot was 80%, with the younger group (12 and 13-year olds) gaining more knowledge than the older group of girls (14 – 16 year olds). The difference in knowledge gained was attributed to the differences in lessons among the two groups. The lessons in the older group were based more on facts in topics such as reproduction, sexually transmitted infections, and family planning. This required learning new words, scientific facts, and the ability to memorize new concepts. Also, many of the older girls had some knowledge in these topics, making the pre- and post- quiz scores similar. The younger group's content focused more on interpersonal and behavioral topics, concepts that have some flexibility in them as people, relationships, and situations are different. Another important piece of data from the program is 100%, every girl that started the program completed it!
We also completed focus groups and observations. With this, we learned about how the participants experienced the program, what was successful and what they felt needed changed for the full program. Feedback was overwhelmingly positive: participants said their peers are interested in being in the program;, they suggested several new topics that would easily fold into the existing curriculum; the participants believed every topic taught was valuable; and lastly, participants said that the program is important to help girls learn about their own development, how to care for themselves, and to gain confidence.
Unfortunately, because of the pandemic, planning for the full program has paused indefinitely. Thank you so much for following the AGEI Program. SVH is grateful for all of the support that made the AGEI pilot program possible. When SVH operations can resume, we hope to reach even more girls with a well-crafted full program. While the global health crisis has shifted timelines, your donation will help make sure the full AGEI program will happen!