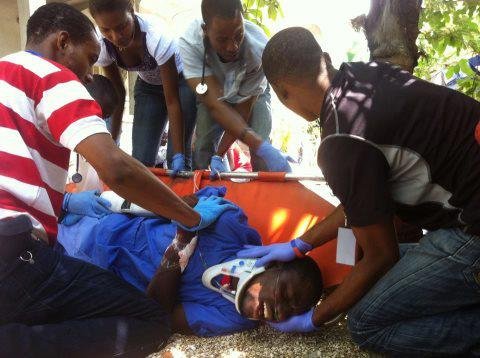 Dear supporters,
It has been a very busy year for the members of EMPACT Haiti. First, we are honored to welcome Mr. Hubermann Alceon as the new USA director of EMPACT Haiti. Hubermann is an original member of EMPACT Haiti as a key translator and logistics supporter in Haiti. He is one of Haiti's first graduating EMT's in his country's history. He now resides here in the Pacific Northwest and has become a valuable leader of our efforts in Haiti. Our focus for the remainder of this year is the complete transition of EMPACT Haiti administration and its operations to our Haitian Colleagues. Pierre Duckens, the Executive Director, has formed a governing board and pending government recognition as a Haitian Non Governmental Organization (NGO).
Meanwhile, the EMPACT EMT's are now working and educating other EMT's via a partnership with Project Medishare/Bernard Mevs Hospital. This small hospital based group of EMT's work in the countries busiest trauma and critical care center. EMPACT Northwest is committed to the continued growth of EMS in Haiti via these important partnerships.
Ayisyen Rezo Medikal members are also seeing great success. Haitian organizations such as GAI and the HNP have been training hundreds of laypersons in first aid, CPR and even First Responder courses. There also has been growth with the National Ambulance system introduced this year by the government. Members of EMPACT Haiti, Project Hope, GAI, Banshee, Team Rubicon and Global Dirt have been instrumental in the education of these new EMS providers. In short, our small grassroots efforts are gaining traction! Most importantly, Haitian organizations are forming and directing the future of Haitian EMS.
EMPACT Northwest will be supporting EMPACT Haiti and the combined efforts of Rezo Medikal by providing continued administrative and technical educators. Our focus for 2013 will be the continuation of a self sustaining logistics and education base (EMPACT House). In the past, EMPACT Northwest operated all logistics and finance for this project. Starting in 2013, all deployments and its proceeds will be in control of the Haitians who formed the EMPACT Haiti governing body. EMPACT Haiti members will manage the EMPACT House and use the proceeds to operate EMPACT Haiti.
EMPACT Northwest will also send EMS educator missions to Haiti from the US. However, these deployments will be based on the needs and requests made by the members of EMPACT Haiti and the new EMS community.
How you can help: EMPACT Northwest has pledged to raise enough funds between NOW and December 31 of 2012 to pay the lease on EMPACT house. Together with some general operational expenses, the projected need for our friends in Haiti is approximately $8,000. Again, this amount would ensure a new annual lease for the EMPACT Haiti house, some minor fixture upgrades and a small budget for misc. needs as determined by EMPACT Haiti.
Remember, 100% of your donations go directly to our friends in Haiti.
Thank you for all your past, present and future support. Many of you personally know our Haitian friends. Many of you know of their dedication to this project. With your continued support, your efforts are truley making changes in this small nation...of big futures.
Thank you.