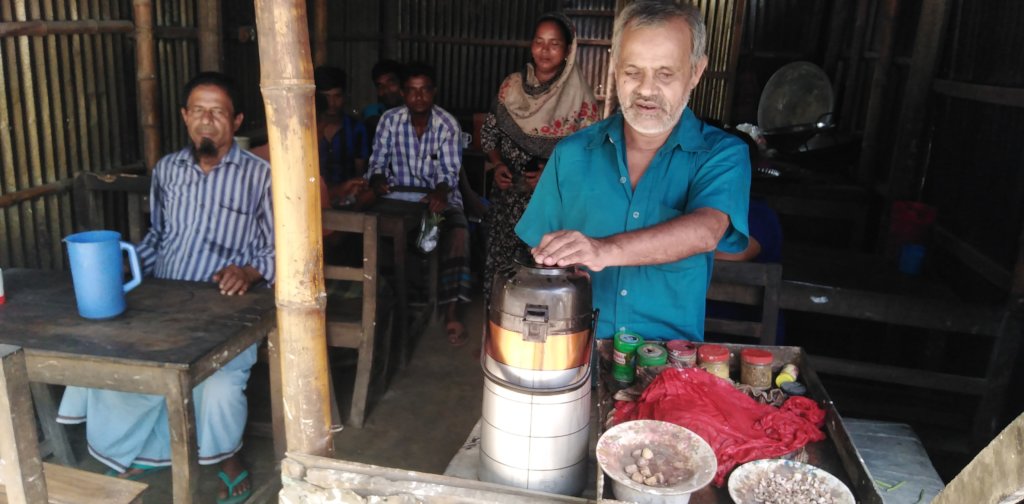 Destroyed Basic living needs on Corona Pandemic Situation
Salam is an Person with Visually Impairment and lives in shapmari Village union of Hativanga Under Dewangonj upazilla under Jamalpur district ,Bangladesh. It is northern part of Bangladesh. In this areas are every year erosion and over flood by Flash flood. He is a visually impaired by born and he was studied SSC level due to financial constraint he cannot forward his education and married neighbors girl friend. His wife sacrifices to her life for husband. They are started small business with tea stall in their local market. After marriage four children comes in their family and their family expenses running from this tea stall earn money.Beside Salam involve in our organizational activities as Well wishers and promoting rights of the Person with Disabilities. Mr. Salam received leadership training through our organization for formation of Community based disable people organization and after forming CBO he is selected Chairperson of Apex body (advocacy body) Mr.Salam activity recognize in the community and his business running good for livelihood. He is the Icon of the Community and our national TV channel 24 broadcast as successful story of salam,s family livelihood and involvement of the community activities. Please visit the Link . Please consider telling your staff members, friends and family about our organization.
From In middle march 2020 start Corona Virus COVID-19 pandemic has caused devastation across with our Bangladeshand also our project areas . Economies have taken a huge hit for our countries shutting transportation, market Place and declare keeping quarantines.His tea stall has beenjust begun to closed business and the job losses are many peoples, especially among the daily wage workers like Salam and others family of Children with Disabilities. Presently salam is jobless due to business closed last seven –Nine month and spend their deposit money and invest money in to their tea stall . They have need help basic living needs like food, medicine, mask, hand gloves ,hand sanitizer and others daily needed goods for survival of the family members. He wants to started tea stall newly but he have no way for running their tea stall.
With our financial limitations we are trying to solve food crisis and create awareness through leaflet distribute, Hand wash Practice and Provide Masks, hand Gloves, hand sanitizer and provide food package into our quarantine families of Children with Disabilities in our Project areas .
We understand that we are in this for the long term. if we can taken initiative together to help in our community survive this Corona virus pandemic and come out stronger. Finally this project activity will help them to recover from covid-19 impact.
During this time is distress, save the livelihood of 500 moderate and severely physically challenged daily workers and Children with Disabilities families to your timely donations and this will help them acquire their basic living needs for survive and started business newly .They can be return normal life and enjoy fulfill life
Md.Rafiqul Islam
Partner