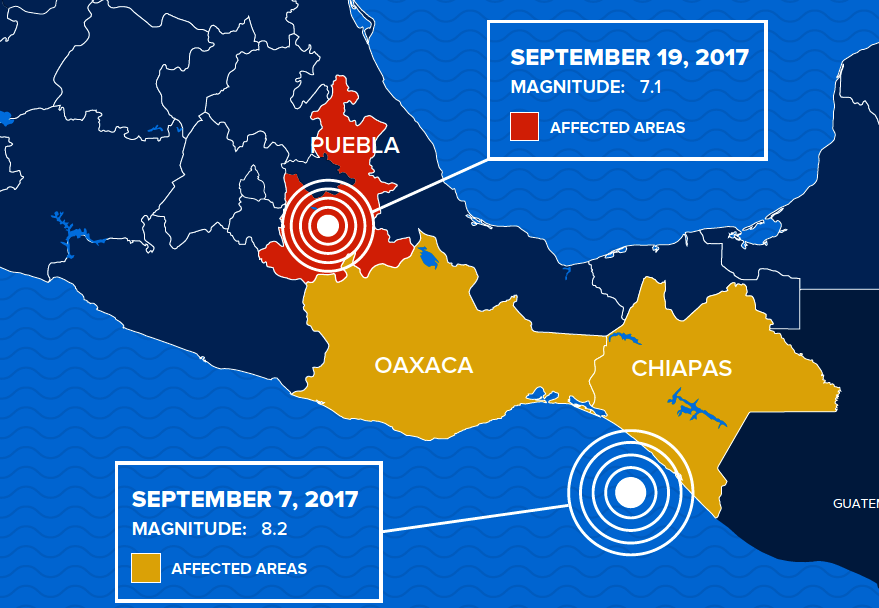 With 175 health facilities damaged by the two earthquakes that struck Mexico in September 2017, International Medical Corps is prioritizing the rebuilding of health structures in the quake-affected state of Puebla. Before the second earthquake on September 19, 30% of individuals in the state already lacked access to health services, with only one health worker for every 700 people; the earthquake only further compounded this need for health care.
Based on assessments and meetings with local authorities, our teams have targeted Chietla, a municipality of Puebla, which suffered significant damage in the earthquake. Together with local partner Instituto de Estudios Superiores A.C. (IES), an affiliate of the Benemerita Universidad Autonoma de Puebla, we are rebuilding six health structures known as Casas de Salud, benefitting a population of more than 18,000 people. Our team is rebuilding these health structures with sustainable materials and utilizing local and traditional construction methodologies with the community's involvement to promote long-term development.
Regarding their future impact, Josh Balser from our emergency response team notes, "For many community members the Casas de Salud cover 90% of their regular health needs. It has been over a year since these facilities have been out of operation or limited as a result of the damage. Restoring these Casas will revive community health activities in these six localities and reestablish critical emergency health infrastructure wiped out by the earthquake."
For the majority of the community, the Casa de Salud is the only immediate health service available to them and can meet the vast majority of routine health needs, free of charge.
Casas de Salud primarily serve children under five, pregnant women, and new mothers. Within one month, Community Health Workers will reach between 60 to 500 patients depending on the size of the community they serve.
Each Casa de Salud's trained Community Health Worker provides preventive health care, including family planning, vaccinations, environmental health education and disease surveillance, in addition to delivering first aid and infection control for minor wounds. These health workers can also detect the symptoms and give treatment for respiratory diseases, diarrheal diseases, and diabetes, and, when higher medical attention is required, transfer or refer patients to the nearest health center.
We thank you and the GlobalGiving community as we continue to build back better in Mexico.