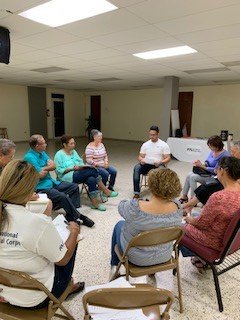 After the devastation caused by Hurricanes Maria and Irma in Puerto Rico, International Medical Corps helps to improve mental health and reduce stigma by providing training opportunities and facilitating stress relief and emotion management sessions for both professionals and affected community members. We are also addressing an urgent need for suicide prevention.
The Línea Primera Ayuda Sicosocial, the only mental health support hotline available on the island, noted an 83% increase in calls to their suicide prevention hotline between January 2017 and January 2018. The Department of Health in Puerto Rico also reported that there was a 29% increase in suicides from 2016 to 2017 – compared to a global increase that was nearly negligible at 0.73%.
As a result, with generous support from the GlobalGiving Foundation and its community of donors, we will facilitate urgently needed suicide prevention programming in Puerto Rico.
Our teams in Puerto Rico plan to train health personnel and community members on suicide prevention strategies and how to cope with suicidal ideations. The trainingwill include both role play simulations and group exercises and cover topics like the normalization of mental health issues, myths, risk factors, signs that someone may be suicidal, crisis intervention strategies, stigma against mental health and referral mechanisms.
Following the training, we will support referrals for higher levels of care and professional support to help people know where and how to connect individuals in need with increased care.
Our approach to suicide prevention will include supporting arts-based activities in coordination with local facilities and organizations, like Centro Medico Hospitals and the Servicio de Tratimiento Residencial para Adolescentes.
The arts-based activities will help patients receiving psychiatric treatment learn how to manage their emotions and use positive coping skills, instead of turning to suicide. At the culmination of the program, we will host an art exhibition at a museum in San Juan to raise awareness of the needs surrounding suicide among patients, community leaders and local organizations.
International Medical Corps thanks the GlobalGiving Foundation and its community of donors for supporting our response to mental health needs in Puerto Rico.