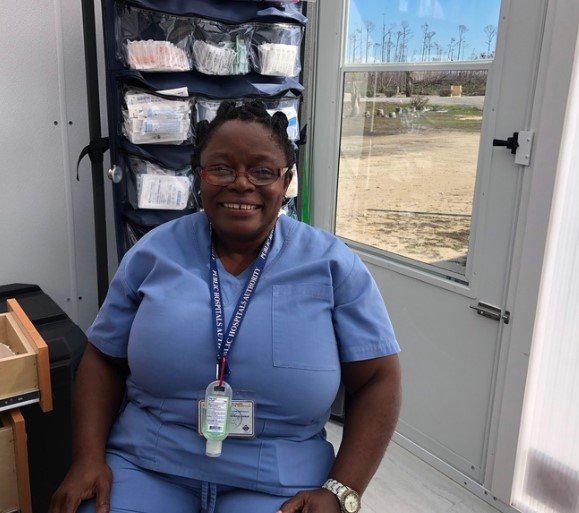 When Hurricane Dorian hit her home, Christine—a nurse from Freetown, Grand Bahama, who works for the Public Hospitals Authority—says she and her two children were the luckiest in their neighborhood: they only had to endure four inches of standing water in the house. Christine remembers empty boats floating between homes, and—thinking about the storm surge that hit the shorelines—what seemed like "25, maybe 30 feet of water."
She goes on: "The storm was not moving. At one point, authorities said it was moving at one mile per hour. The storm stayed for three days. We thought everyone further on the eastern side''—which includes the towns of Freetown, High Rock, Pelican Point, and McLean's Town—"was dead."
When the storm finally moved on, she says, "it was like Freetown had become a different place." Some neighbors had between four to five feet of water in their homes. Some—like her cousins, who moved in with Christine—lost their houses entirely.
Before the storm, Christine was a nurse at the Health Clinic based in High Rock, having joined the staff there in 2007. Hurricane Dorian completely destroyed the clinic. Today, Christine is working at health facility that International Medical Corps teams deployed and set up right across the street, days after the storm hit, to ensure that local people in need could continue to access healthcare. She also provides health services around other areas of the eastern part of the island, including Pelican Point and McLean's Town, seeing about a dozen patients each day.
Nearly six months since Hurricane Dorian hit, power is still not fully restored in High Rock. Though many have moved away, the people who remain continue to need the healthcare services provided at the International Medical Corps' High Rock Clinic, including medical care, mental health and psychosocial support, and water, sanitation and hygiene (WASH) services, including access to potable water. "We're very grateful for the support from the US and other countries," says Christine.
Thank you to the GlobalGiving community of donors for helping provide Christine, and her fellow healthcare professionals, with a place to continue providing urgently needed services in the Bahamas.