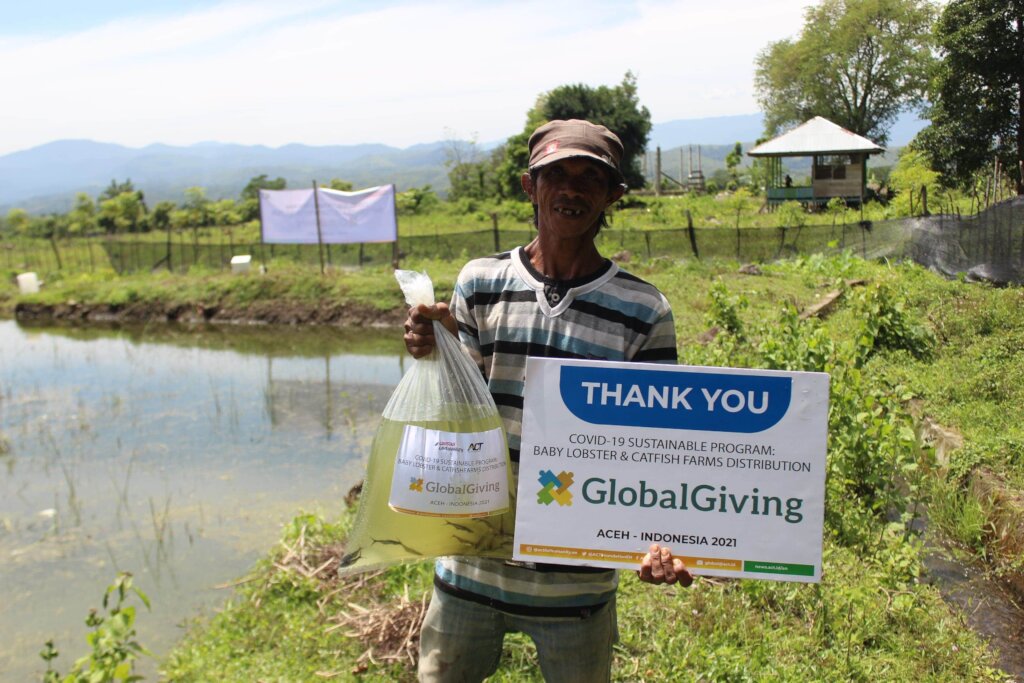 Dear
Our respected donors across the globe,
I am reaching you again to deliver the updates on Covid-19 aid distribution in Indonesia. The ground team have been delivered baby lobster and catfish for the farmers in Tsunami and COVID-19 affected the small business sector in Aceh, Indonesia.
The Micro, Small and Medium Enterprises (MSMEs) sector has emerged as a highly vibrant and dynamic sector of the Indonesian economy over the last five decades. MSMEs not only play a crucial role in providing large employment opportunities at comparatively lower capital costs than large industries but also help in the industrialization of rural & backward areas, thereby, reducing regional imbalances, assuring more equitable distribution of national income and wealth. MSMEs are complementary to large industries as ancillary units and contribute enormously to the socio-economic development of the country.
Now, there is a sector of a society reeling from the ravages of the COVID-19 pandemic. Due to the swift and undefined changes, micro, small and medium enterprises (MSMEs) have become vulnerable. Like the laws that protected the orphans and widows of old, regulations must be put in place to ensure that MSMEs thrive in a challenging milieu.
Aceh is a province in Indonesia that is located at the northern end of the island of Sumatra and is the westernmost province in Indonesia. The high unemployment rate and poverty rate in Aceh are some of the consequences of various factors. For years, it has been identified as the poorest province in Sumatra. Even though in March 2021, it was recorded that there is a decrease in the number of poor populations by 0.02 per cent, Statistics Indonesia (BPS) notes that the quantity of poor people in Aceh has actually expanded as much as 5.1 thousand individuals. In March 2021, it is recorded that the number of poor in Tanah Rencong was around 814.91 thousand people. It can't be denied that this is such a big number that a province should take care of.
As also reported by the Head of the Office of Cooperatives and Small and Medium Enterprises of Aceh Province, there were 102,000 MSMEs affected by COVID-19 or it could be said that 100% were affected. Microbusinesses were affected due to shortages of raw materials and also marketing during the pandemic which resulted in decreased production capacity and decreased income of micro business actors. MSMEs are also greatly exposed to the economic downturn resulting from COVID-19 because of their size. For example, they typically have relatively low cash reserves and thus only a small cushion with which to weather an economic shock.
Mr. Ardi (40 years old) one of the beneficiaries thanked GlobalGiving for the baby lobster and catfish distribution. Mr. Ardi is unable to work during COVID-19 due to social restrictions. Mr. Ardi then started to build a business in order to survive by raising lobster and catfish.
Finally, it is incredible support from GlobalGiving donors who always support the Indonesian community at any condition, we hope that the Covid-19 could end as soon as possible. Please stay safe and healthy.