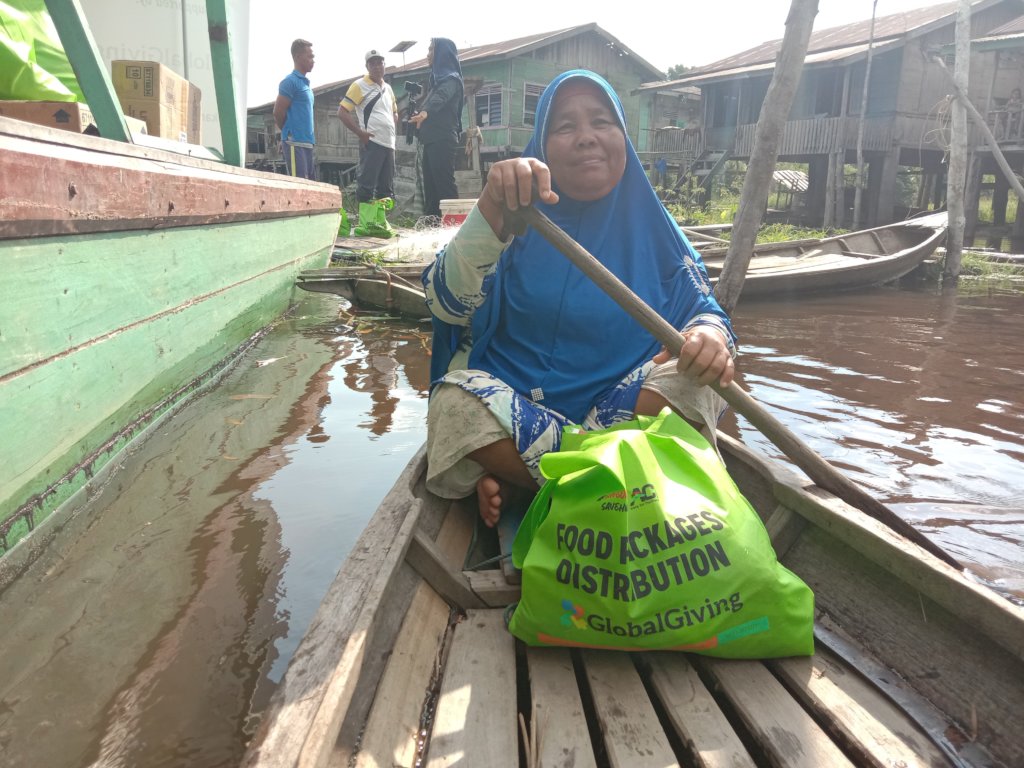 Dear
Our respected donors across the globe

I am reaching you again to deliver the update on our Covid-19 aid distribution.
The ground team move forward to Central Java to deliver 205 food aid packages for vulnerable families who live in Semarang, Purwoketo and Solo.

Central Java is a province on the Indonesian island of Java, with a strong Buddhist and Hindu heritage. It's home to the 9th-century Borobudur Buddhist temple, a national icon carved with thousands of relief panels and Buddha images. The Prambanan Hindu complex, erected about a half-century after Borobudur on the border with Yogyakarta, contains more than 200 temples featuring stone spires, sculptures and carvings.

Semarang is the capital and largest city of Central Java province in Indonesia. A major port during the Dutch colonial era, and still an important regional center and port today. The city has been named as the cleanest tourist destination in Southeast Asia by the ASEAN Clean Tourist City Standard (ACTCS) for 2020–2022

Purwokerto is located in the mid of Java Island within the province of Jawa Tengah (Central Java) near the base of Mount Slamet, the second-tallest volcano in Central Java. The city is bisected by the Kali Kranji (Kranji River).

Surakarta (also known as Solo) is a city and historic royal capital on the Indonesian island of Java. The 18th-century Keraton Kasunanan was the royal family's residence and today is a museum of heirlooms, while Mangkunegaran palace has an elaborately painted pavilion. Surakarta is also a major center for dyed batik fabric, which is displayed at the Danar Hadi museum

The aid packages as a special gift for the vulnerable famlies who still living at uncertain time. Most beneficiaries are daily labour who just earn under $1 per day and the Covid-19 outbreak is making the vulnerable families more difficult to survive. One of beneficiaries said that:"I highly thank you so much for the aid package, I am very happy to receive it and you may get reward for your good deed"

Suparno who used to sell "kids-snack-seller" in front of school said that It has been 7 months did not sell "kids-snack" in front of school because the school is closed until further notice. I just sell kids-snack in front of my house and sell around the villagers unfortunately lack of buyers, and he is very happy to receive the aid from GlobalGiving donors.

Furthermore, another 400 food aid packages distributed in Riau and Pekanbaru Island. Riau is an Indonesian province on the central eastern coast of Sumatra, facing the Strait of Malacca. Hilly Pelalawan regency is a vast area that's home to rivers, forests and palm oil plantations. Sumatran tigers and elephants roam the rainforest-covered Tesso Nilo National Park. To its northwest, the ancient ruins of the Buddhist Muara Takus brick temple complex sit in a jungle clearing by the Kampar Kanan River

Pekanbaru is the capital of Indonesian province of Riau, and a major economic center on the eastern part of Sumatra Island. Its name is derived from the Malay words for 'new market' ('pekan' is market and 'baru' is new). It has an area of 32.26 km2 (12.46 sq mi) with a population of 1,035,834 at the 2010 Census, and 1,121,562 according to the latest official estimate for mid 2019.Located on the banks of the Siak River, which flows into the Strait of Malacca, Pekanbaru has direct access to the busy strait and long known as a trading port. Pekanbaru was originally built as a market by Minangkabau merchants during the 18th century.
It was Friday, November 13th, 2020, the ACT-Duri team started our journey from Duri City to Dumai City. Our journey went through 86 km via the Duri-Dumai crossing to West Dumai Sub-district, it took one and half hours to get to our destination. The team departed to the location at 08.00 WIB (Western Indonesian Time) and arrived at the location at 09.30 local time, we distributed 50 food packages at the area that had been recorded by one of our volunteers in Dumai City. One of the beneficiaries stated that he is pleaseful for the food aid from GlobalGiving donors.

On Saturday, November 14th, 2020, the ACT-MRI Duri Team continued their journey to Pangkalan Pinang Village in Rupat Sub-district to distribute 50 food packages. Rupat is one of the islands located in Bengkalis District. The journey started from the city of Duri at 06.00 am local time and reached Dumai at 09.00 am, then continued to cross by ferryboat to Rupat Island that took time in around 50 minutes. Once they arrived at Rupat Island, the team continued the journey to the village of Pangkalan Pinang to the distribution location point that took about 2 hours by car. After reaching at the location, ACT-Duri Team was welcomed by the surrounding community.

The distribution continued on November 15th, 2020, we went on the journey to Panipahan Village that took approximately 7 hours through the land and sea by using a speedboat. At that location, we distributed 50 food packages to the widows, the elderly, and other pre-prosperous communities.

One of beneficiaries is 60 years of age, she is a resident of Panipahan Village, Pasir Limau Sub-district, Rokan Hilir District. a widow who has 4 children. She has history of skin disease and is now in paralyzed and powerless condition to carry out her daily activities. She lives unaccompanied in an old hut, where its condition is unsafe to age. Sometimes when it rains the roof is leaking because it is already rotten. Her children are currently working as fishermen, occasionally just enough for their daily needs. Other beneficiaries from Dumai City, he cannot do any kind of heavy activities due to his aging. He survives by only receiving assistance from the surrounding community for his daily needs.

Finally, it is incredible support from GlobalGiving donors who always support Indonesian community at any condition, we hope that the Covid-19 could be end as soon as possible. Please stay safe and healthy.