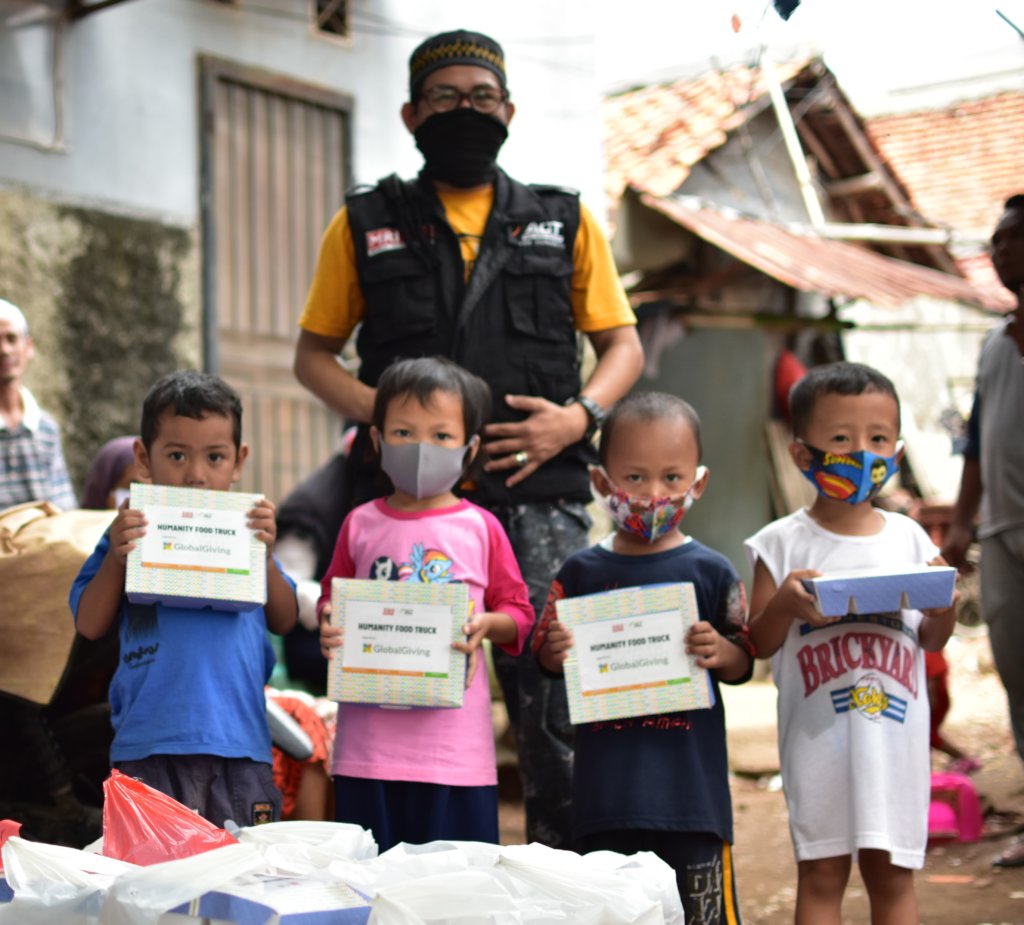 Dear our respected donors across the globe,
I am reaching you out today kindly to updates on our humanitarian assistance, especially COVID-19 Aid Distribution in Indonesia. In Indonesia, all 34 provinces are facing COVID-19 and it is very sad that until now there is no vaccine have not been invented yet. During the COVID-19 circumstances in Indonesia ACT Foundation keep humanitarian mission continue to support unfortunate people or communities who have been affected by COVID-19 and the fund have been ditributed to 3 provinces in Indonesia are Jakarta, West Java and North Sulawesi.
Today, I will inform the aid distribution on cooked meals / hot meals that we distributed in Jakarta. The Hot Meals Project implemented on 24th until 28th of May 2020, in 6 different locations in Jakarta. The total of Hot Meals set distributed was 3,000 packages.
On the 24th of May 2020 in the morning, the team has begun cooking and prepared the first 2,000 packages of hot meals in ACT's central kitchen in Megamendung, Bogor. At 1 o'clock in the afternoon, the team was divided into 4 groups to distribute the hot meals packages in 4 different locations. The first location was Fatmawati Hospital in South Jakarta, which is also one of the referral hospital for Covid-19 cases. 500 packages were distributed in the hospital area dedicated for the medical staffs, the hospital crews and the family of the patients.
The second location was in RSPI (Hospital for infectious disease) Sulianti Saroso. The hot meals set distributed were also 500 packages. Those were given to the medical staffs, hospital crews and the family of the patient who visited at that time.The third location was Kampung Muka in Jakarta Utara. The hot meals set distributed were 500 packages. Kampung Muka is one of the crowd areas with low per capita income. The hot meals packages were distributed to affected people by the Covid-19. The last distribution spot was Kemang Utara. There were 500 hot meals packages distributed to the neighborhoods that were also affected by the Covid-19.
On the 26 th and 28th of May 2020, the implementation of this program was continued in Cipinang, South Jakarta and in Tomang, West Jakarta. The hot meals sets were cooked beforehand in the same place, in ACT's Central Kitchen in Megamendung, Bogor. The hot meals packages were then distributed in Cipinang and Tomang. Those were delivered to the people, who couldn't afford their daily life, while most of them are irregular daily workers. This pandemic has worsened their life because they have got no income.
As of Friday (17/06), 41.431 Covid-19 positive cases were found in Indonesia. 16.243 people were recovered and the remaining 2.276 people died. To cope with the massive spread of corona outbreaks, the government urged people to carry out activities such as work, school and worship at home. As a result, economic activity is disrupted. Various shopping centers have been closed because people's income has dropped dramatically. Various workers from the informal sectors also experienced an income decline or even no income at all. A number of companies have terminated their employment (FLE). Indonesia's Ministry of Manpower (Kemenaker) said that as of Thursday (04/16) there were 1.5 million people lost their jobs due to the Corona outbreak.
The Covid-19 pandemic has unfolded the dilemma for everyone, particularly for they who have irregular income to afford their daily needs. The people who are only daily workers had to experience the worse scenario. With this hot meals distribution program, at least they could be helped a bit. The hot meals were dedicated not only to the medical staffs), but also to them, who were in needs while affected by the Covid-19 pandemic.
Sumari (67), collected junks and sell them for life. Nowadays in this Covid-19 pandemic, there were not many junks left, because people's activities were restricted. She then could only hang her hope up to the neighbor's help, because the money she had weren't much enough to buy the rice and the side dishes for her daily life. This iftar program has at least helped her, because she didn't have to worry what she would eat next.
Anton is an online motorcyle taxi (ojek) driver. His income decreased because of the covid-19 pandemic. It was normal for him to get Rp. 200.000,- a day, but sadly in this pandemic he could only get maximum Rp. 30.000.
Finally, Thank you very much for your amazing support that benefit to Indonesian people.
Warm regards,
Mohamad F. Amrullah