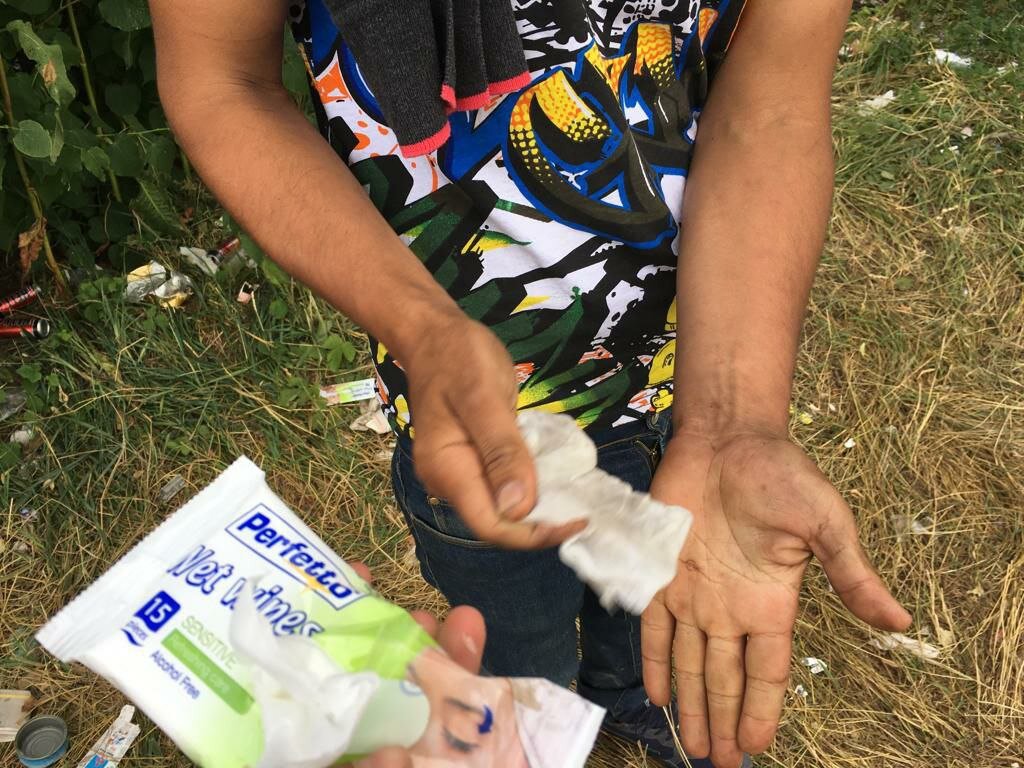 Providing wet wipes might sound like a rather symptomatic solution for hygiene issues. Sadly, on Europe´s borders, it's often the only quick and necessary solution available. People on the move lack access to showers and proper sanitation and sometimes can not shower for weeks and even months. Wet wipes provide ways to clean oneself more efficiently than soap.
Our partner, No Name Kitchen, says "Wet wipes are our most popular hygiene item and we receive feedback from people saying they are most grateful for the packets as they can pack them in their bags. This means that the distribution of simple but effective hygiene products can make a big difference at the moment."
After a failed border crossing attempt, H came back with a wound on his arm. Not significant in size, but extremely dirty. Staying in a squat with no access to water for cleaning wounds, this small wound could easily have turned into a highly unpleasant arm infection. However, being able to provide H with hygiene items when asked he was able to take care of his wound enabling him to avoid infection and giving him time to heal.
We have been able to support No Name Kitchen supply these much valued and needed hygiene items to the people on the move in northern Bosnia thanks to your continued donations.
We will always need to raise more money for these projects to carry on but we are really pleased we could help in this way so far.
Thank you for being with us on the fight for humanity, not hostility, to refugees in Europe.
Photos: forRefugees & No Name Kitchen.