Project Report

| Jul 21, 2023
Humanitarian relief in Chernivtsi - mid 2023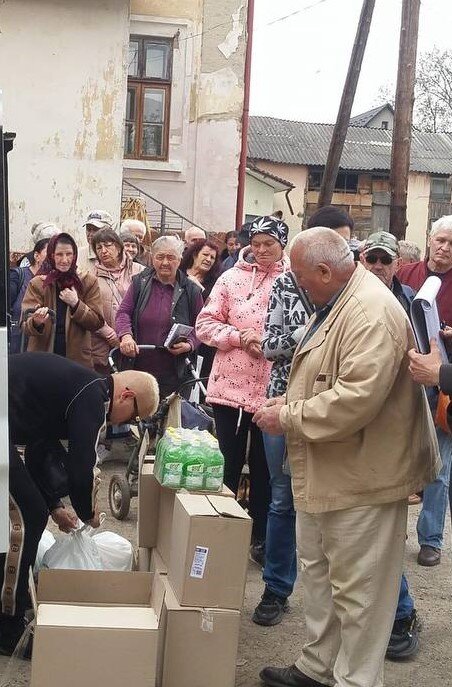 The support to the Internal Displaced People and most vulnerable Ukrainian population in Chernivtsi continues.
During the last months we have been responding to needs arising from the war in Ukraine in cooperation with the Ukrainian association "Dobri Liudi Bukovinu" based in Kitsman (Chernivtsi Oblast).
The support was given both by GlobalGiving and by other private and public donors.

Humanitarian assistance to the population affected by the ongoing conflict, was given through the provision of essential goods and services, as follows:

1. Distribution of food
Between the month of January and May 2023, throughout the regions of Chernivtsi, a total of 4.500 food baskets and 2.900 vouchers for the purchase of food products have been distributed.

2. Distribution of hygiene kits
Parallel to the distribution of food kits, essential personal hygienic and sanitary items were distributed along with 3.000 vouchers (with a 500 UAH face value) for hygiene/sanitary products.

3. Distribution of play, school and childcare materials
School and playing material were distributed in rehabilitation centers, orphanages and IDP collective centers hosting children in Chernivtsi.

4. Distribution of winterization kits
In Chernivtsi, a total amount of 1.200 blankets were distributed between December and March 2023.

5. Coverage of basic diagnostic and medical expenses
Packages of health services have been granted for most vulnerable people in Chernivtsi (children, women, elderly people and People with Disabilities), for a total of 689 beneficiaries. The medical screening allowed for the early diagnosis of a relevant number of serious medical condition in patients that have undergone checkups. In Chernivtsi, along with 8 cases of cancer detected, the checkups allowed for the early detection of 2 serious stomach diseases, 1 serious liver disease, and 1 serious blood disease. In addition to medical check-ups, 150 beneficiaries were given vouchers for pharmacy products.

6. Psycho-social support and recreational activities
A total of 206 children and adolescents (divided into 21 groups over 73 lessons/sessions) were reached. The team of psychologist and educators carried out music therapy, art therapy, to help the children express their emotions through drawing, painting, use of modeling clays, sand, and some physical activity.
Besides this, activities targeted to adults who have suffered trauma were organized, coved a total of 154 adults (IDPs and locals, families with children with disabilities). The topics developed in the sessions were: Body therapy; Music therapy; Art therapy and other practices for finding emotional resources and accepting and coping with the conditions of the loved ones.
And next?
Having finished the school the children have nothing to do, especially those who live as refugees in small villages where there are no activities for them. Dobri Liudi Bukovinu has identified villages in need of support. Therefore, for the summer months we are organizing recreational activities for children in Chernivtsi area.
Last but not least, we would really like to thank you for your support, through which we can continue to help the people in need.