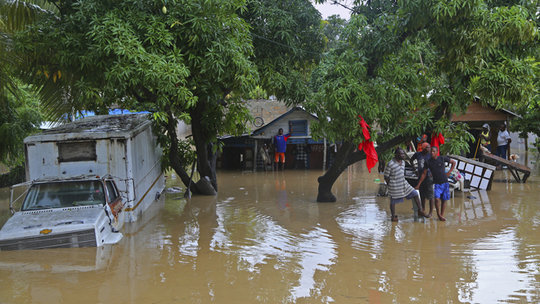 Dear GlobalGivers,
Sometimes it seems as though the natural disasters in Haiti will not stop. From the horrendous earthquake that struck more than 3 years ago to the massive flooding caused by Hurricane Sandy and most recently, regional droughts that have hindered planting and harvesting efforts. Yet there is hope. With your support, organizations such as the Lambi Fund and Partners in Health have been able to continue their work in capacity building.
Farming is difficult in Haiti as a result of the unpredictable weather leaving much of the land either flooded or barren. The Lambi Fund works with local organizations so that farmers are no longer at the mercy of the land. Resources such as irrigation canals and water pumps help the people cope with current weather situations while relief grants provide the people with seed and fertilizer. Not only does this help them get back on their feet, but they can also store food and grain for when future storms or droughts hit.
A member of the local organization AFDL explained that, "Before relief funding from Lambi Fund came, people weren't sure when they could plant and harvest again. This was a major concern for everyone. The Lambi Fund of Haiti helped us till the land again…we have gardens again. The emergency relief was an opportunity for us. Hurricane Sandy came during planting season and we weren't sure how we were going to repair the land. With Lambi Fund's support, we re-tilled the land and planted again. Now we have corn, nuts, and black beans and harvesting has begun."
Partners in Health is also helping to provide critically needed resources, one of the most important being electricity. Having recently finished the construction of a national teaching hospital, Hôpital Universitaire de Mirebalais (HUM), they're now working on sustainable solutions to keep it up and running. Across the roof of the 200,000 square foot hospital are 1,800 solar panels meticulously arranged in order to produce more energy than HUM will consume. To put this into perspective, before the hospital was even open to the public, these solar panels produced 139 megawatt hours of electricity. This is enough energy to charge 22 MILLION smartphones, and offset 72 tons of coal and more than 140,000 pounds of carbon emissions. Using solar energy is expected to cut $379,000 from HUM's projected annual operating costs. The environmental and financial benefits that these solar panels provide for Haiti are countless!
While you may only see heart wrenching stories about the people in Haiti on the news, there are so many more stories of hope and joy. This is why we provide you with these reports so that you can read about the inspiring things our partner organizations are doing on the ground. It is because of the support from donors like you that these organizations can continue their groundbreaking and catalyzing work.
One such story of hope comes from a Haitian doctor working with International Medical Corps. Raised in Port-au-Prince and the second child of four, Virginia was a witness to Haiti's extreme poverty. The lack of health care and large inequalities struck a chord in her which solidified her decision to earn her medical degree. The earthquake hit when Virginia was still in her residency in the southern part of Haiti. She rushed back to Port-au-Prince to find her family who thankfully were unharmed. Yet being a doctor could not have prepared her for what she saw. Patients "without hands and legs; with broken eyes" and the crumbled streets "smelled dead."
Life circled around survival. There was a constant flow of patients coming to her, begging and pleading for help. Her mind was "without energy." She returned south to treat victims, yet everyone was always on high alert. Explains Virginia, "you just keep wondering when something will happen." This psychological impact ran deep in the Haitian people's minds. The survivors constantly wondered why they were alive when their family and country was in ruins. But Virginia refused to give up. "You have to fight – with everything you have. Otherwise, you will lose your mind."
After finishing her residency, she applied for many jobs in Port-au-Prince, but found nothing. She expanded her search to areas outside the capitol and was flooded with responses from several NGOs including International Medical Corps. The match between IMC and Virginia was perfect. After one month, she became the supervisor of one IMC site, and then another, until finally her work took her back to Port-au-Prince. She constantly moved up in the organization where today, she is a capacity building manager. She says she sometimes does miss patient contact, but she knows that she is "helping lay the groundwork for more."
Virginia describes her work: "If you work in a clinic, you may deliver a beautiful baby girl. But I get to fight for something else: to have more health facilities where women can give birth safely and hygienically, more trained OB/GYNs; places where a mother can take her child if it has disabilities."
Today, Virginia believes that the earthquake literally shook Haiti to move forward, to rebuild in a more equal and sustainable way. "I think the earthquake brought something to us. We started to realize that the way we used to live was not correct, and that we have to integrate into the world. If every Haitian can think like this, I think that everything that happened to us will serve to progress us; to bring something different for the next generation. There is a lesson. We have to push to enter into life; to not be separate."
Without your help, these inspiring stories from our partner organizations would be far and few. Every donation makes a difference and helps tell a story. From us at GlobalGiving to Haitian nationals like Virginia, we thank you for your support from the bottom of our hearts.