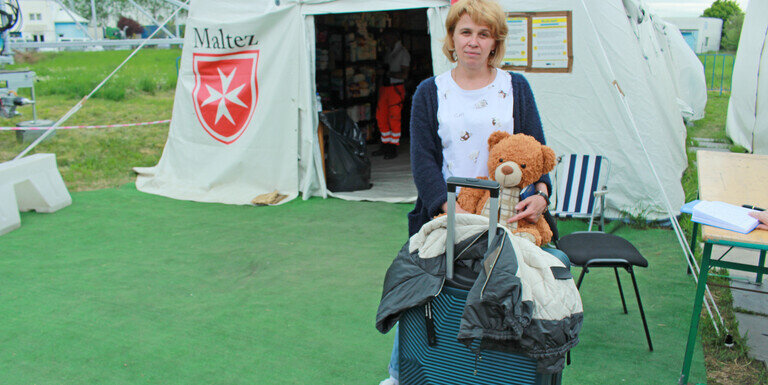 The war in Ukraine has forced 14 million children, women and men to leave their homes. Many are seeking protection in neighboring countries such as Romania.
Aktion Deutschland Hilft is also providing emergency aid there. With food, drinking water, medicines - and sometimes simply with places of security.
You can read here what people from Ukraine report about escape and help. Thank you for giving hope with your donation!


Olga: "We are Ukrainians and we live!
A large plush teddy bear with a checkered scarf is sitting on a small hard-shell suitcase. He looks a little lost at the hustle and bustle at the Romanian border crossing at Siret, where refugees from Ukraine arrive every day.
A blonde woman approaches the suitcase, clutches the handle and says, "This is all that's left of our life in Mariupol." Her house is in ruins. Roof, windows, doors – everything was destroyed in the hail of bombs. "We had no water, no electricity, no gas and had to cook on an open fire," says Olga (48).



Escape from Ukraine: Loved ones stayed behind
"We wanted to go somewhere where no shots would be fired, further, further and further, by car, by bus, on foot." Olga's daughter Olesia joins them. Her father, her friends - they all stayed behind in Ukraine.
"I'm so worried about them," says the 15-year-old girl. Despite everything, like her mother, she exudes great strength. "Of course, we are Ukrainians and we live!" they say, and they even manage to smile. Mother and daughter enter the Malteser tent and stock up on the essentials for the onward journey. Biscuits, sandwiches, water, juice, toiletries. 
The helpers from the alliance organization of Aktion Deutschland Hilft are present directly at the border crossing and give people a friendly welcome.
 


Humanity gestures at the border
"Helping is addictive," says Dumitru (46), a Romanian employee of Malteser. "People are so grateful, some have tears in their eyes, when we give their children chocolate or a stuffed animal." Humane gestures that do good. 




"Thanks for letting us refuel"

 
"Thank you for letting us recharge our batteries here," say Olesia and her mother. They leave the tent and continue into their new, strange, uncertain life. A Romanian fire brigade bus takes them to the night train in the capital, Bucharest. Olga's second adult daughter is waiting there – with a visa for England. "I want to try to earn money there so that we can rebuild our house." Before she gets on the bus, Olesia hugs her teddy bear. "It accompanied me throughout my childhood. I can't sleep without it." 




Lala: "My children give me the strength to endure it"

 
"My three children give me the strength to endure it, otherwise I would have gone crazy long ago," says Lala . The 36-year-old mother fled the war-torn Ukrainian city of Dnipro to Romania to bring her children to safety.
Serhan, her three-year-old son, seeks her closeness. The boy with the big dark eyes doesn't understand why he suddenly has to be in a strange place, far from home. "He misses his father very much," says Lala with tears in her eyes.


"War is like a nightmare"
"We were very scared. For me, this war is like a nightmare," she says, letting her little son climb onto her lap. She currently lives in Transilvania with her children. A local partner of Johanniter, Tasuleasa Social, took them in there.
The Johanniter, an alliance organization of Aktion Deutschland Hilft, also provide help for the people from Ukraine in Romania. "Now I feel safe. I'm very grateful for the support here, we get everything we need," emphasizes the woman, who was born in Azerbaijan and lived in Ukraine for 15 years.


Her dearest wish: to be able to go back home
The morning after her arrival in Transilvania, her husband called her to ask if she had arrived safely and if everything was alright. With a view of the soft green landscape, she replied: "I don't know if we're alive or dead, because we're in paradise here."
Nevertheless, Lala has only one wish: "I want to go home as soon as possible."



Our alliance will stand by the people in the long term. Thank you for helping with your donation!